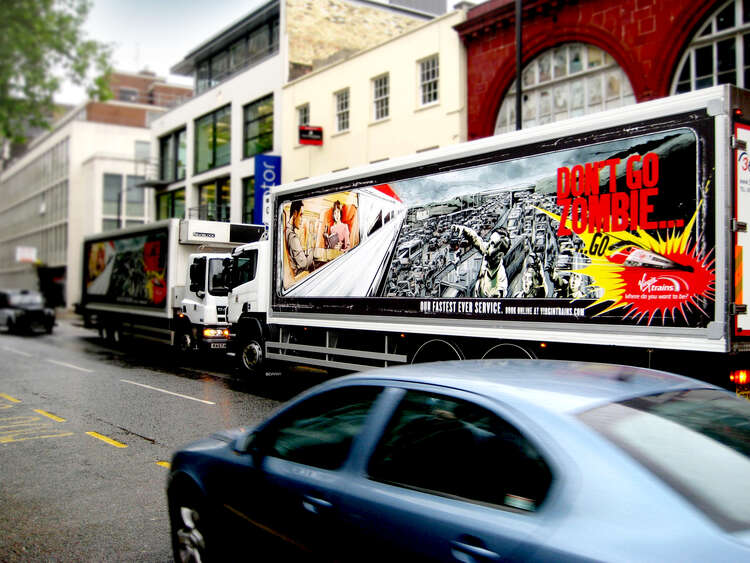 3663 selects Aura Brand Solutions & In Your Space for vehicle advertising service
June 05, 2010
Aura Brand Solutions is delighted to have been appointed vehicle frame supplier to 3663 First for Foodservice. This venture was a first for 3663 and after extensive market research and a stringent tender process, Aura Brand Solutions — the UK's leading vehicle graphics company — was identified as the right choice for 3663.

We have now equipped 40 vehicles within the 3663 fleet with the Traxx™ Vehicle Frame System, with 35 of these vehicles now carrying an advertising campaign for Virgin Trains. The campaign was secured by In Your Space Ltd, Europe's leader in truck advertising, and will run for three months so look out for the eye catching 'zombie' campaign.

Jonathan Bramley of In Your Space commented "3663 has a very high profile fleet and the geographical locations of the depots combined with the huge miles the vehicles cover make them a fantastic broadcast platform. The campaign brief was to target Central and Greater London and the 3663 fleet certainly delivered that! We also loved the campaign message and it had such a relevant fit with today's busy road networks. Aura Brand Solutions offers a comprehensive service and reacted really well to the tight deadlines of this campaign. I am always impressed by the high levels of service they provide".