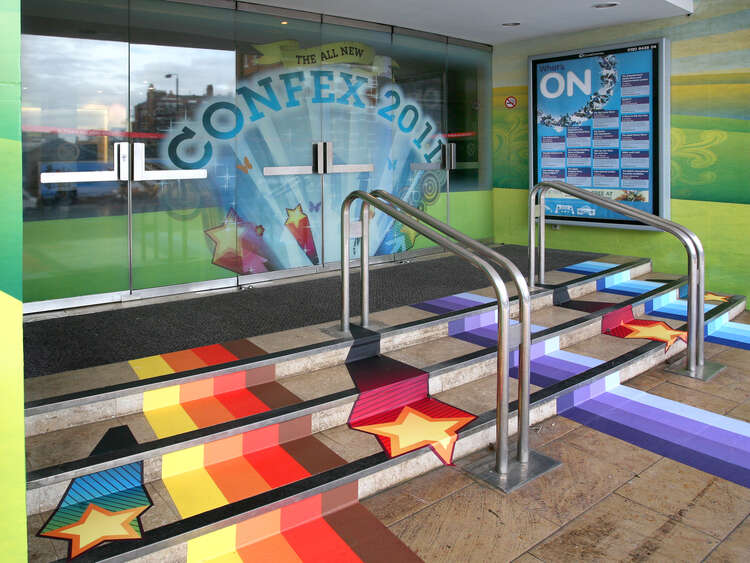 Earls Court gets a face lift with Confex Event building wrap
March 08, 2011
It was back in May last year we were approached by UBM Live (the largest business event organisers in the UK) to decorate the front of Earls Court for its "event for the event industry" – Confex 2011, that took place 1-3 March.
In September 2010, after several scoping meetings and a few changes of ideas to meet budgets the hard work began. The branding of Earls Court using self-adhesive vinyl had not been done before or even entertained by the venue. It took a considerable amount of time for Confex and ourselves to convince Earls Court to allow us to do it.
Many project meetings and site surveys took place to work out what could and couldn't be done. We also had to prove the materials we were specifying would be suitable to meet health & safety requirements and that they would remove from the surfaces without damage after the event.
"The team worked seamlessly to delivery a first class service to Confex 2011. It was a tough challenge to transform one of the UK's most iconic venues to deliver the WOW factor to the event industry, but the buzz and excitement was phenomenal, quite literally, everyone was talking about it!  Thanks you for a most professional service and making our event one to remember!"
-Director, International Confex - UBM Live
Once we made it through these stages, the project could gather significant pace. All the measurements for the walls, doors and floors for the front of the venue were taken and translated by our studio into working templates for Confex's design agency to take their concepts and produce final artwork. With the building wrap design received, our designers then had another huge task of making all this artwork ready for large format print. During this stage testing was also taking place on a new window film – 3M 8150 Clear View – that would be used for the graphics on the glass doors.
As well as the planning and production stages, installation of the graphics was to be another significant phase. In fact critical, as great graphics are only as good as their application. This took a lot of organising from our graphics application team, as we had just 5 days to apply around 1000m of graphics to various substrates, whilst dealing problems the weather of late February might throw at us. Of course there were some issues on the ground, but the teams worked tirelessly to get everything completed in time and to the high standards demanded.