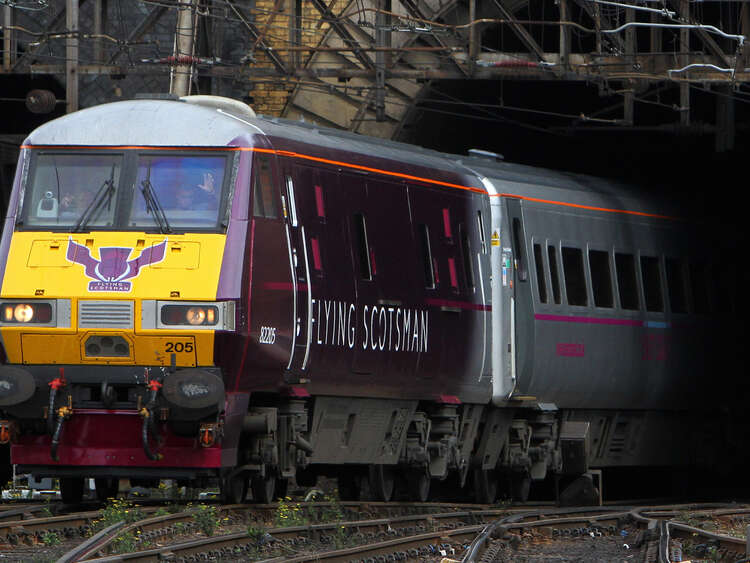 Fast track train graphics for the Flying Scotsman
May 30, 2011
East Coast – a division of Directly Operated Rail managed by the DFT launched their new spring timetable on Monday 23rd May. To mark the occasion they resurrected the iconic Flying Scotsman brand in a bid to offer a new service for passengers to travel between Edinburgh and London in less than 4 hours.
The move by East Coast is to provide an alternative to the airlines, with an improved journey experience benefiting from improved checking in, security checks and no need for further transport being necessary from the airport to get to the respective capitals. The company also offers Wi-Fi on the train and catering facilities providing complimentary meals for 1st class passengers.
As part of this experience, Aura Brand Solutions were asked to wrap two existing GNER trains in the Flying Scotsman brand. The work was to be carried out over a weekend in Edinburgh to meet the timetable launch. Our scope of work included preparation, painting and graphic installation for a full cover image. Due to the tight deadline and a change of train at the last minute, our application and paint teams rose to the challenge in true Aura Brand Solutions style, working from early in the morning until late into the night to get the trains completed by the 5.00pm deadline on the Sunday.
Paul Gentleman of East Coast overseeing the project was highly praiseworthy of our efforts and focus to deliver successfully on time. Paul commented after the launch event, which took a party of dignitaries from Scotland's capital to London, that the Company Chairman, Elaine Holt was very impressed by our efforts.
He added further, "The steely determination and reliability showed by Aura Brand Solutions was a credit to the company." These comments underline our success in this sector where customers are looking for a committed quality service from a 1st class supplier.