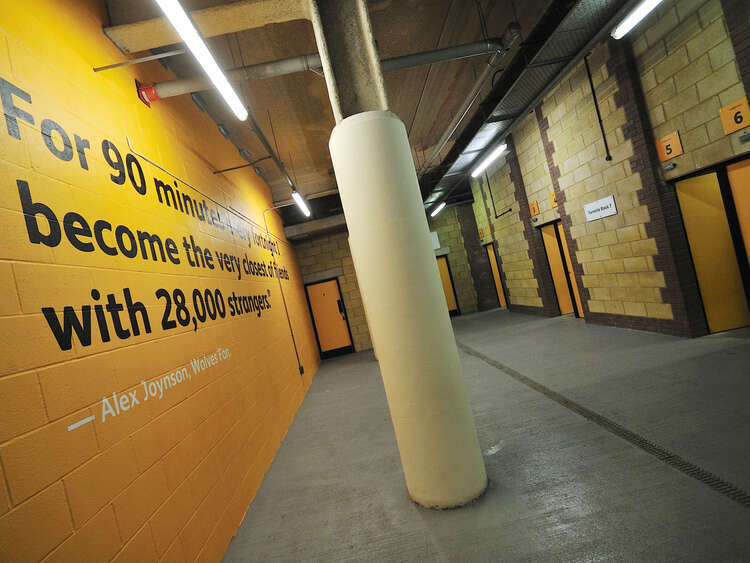 Architectural wrap for Wolves Walls
November 02, 2012
Aura Brand Solutions carried out a large branding project on the Billy Wright Stand at Wolverhampton Wanderers FC's home ground, Molineux with the aim to quickly transform vast swatches of blank uninspiring block walls with wall graphic solutions.
Football stadiums all have their fair share of stories to tell. From rivalry and revelry to triumphs and tears, the memories made within stadium walls are there to be celebrated and quite literally written on the wall. By using a clear and concise brand message incorporating fans' quotes and club history and facts, we brightened up the concourses, turnstiles and stairwells improving the fans' experience within the stadium.
All of the concourse super-graphics were produced and project managed by Aura Brand Solutions. After carrying out a thorough initial survey and creating a bespoke specification for the concourse areas, each of the wall graphics were printed on a removable premium cast self-adhesive vinyl that hugs every dimple in the brickwork. This large scale installation of over 400 square meters used the 3M Textured Wall (IJ8264) product and was printed at our Lowestoft site. The material was applied by our team of specialist fitters who heat, stretch and roll the vinyl so each piece is perfectly shaped to the wall. Using this graphic film creates the illusion of paint, but allows for more detailed designs, including images and crisp text to be achieved with greater speed.
The transformation of Wolves' stadium is a working example of how considered design, quality craftsmanship and fan collaboration can create a quality visitor experience with a real sense of pride and place. The installation of large scale graphics improves stadium aesthetics and brand connection to help create an immersive and engaging fan experience.