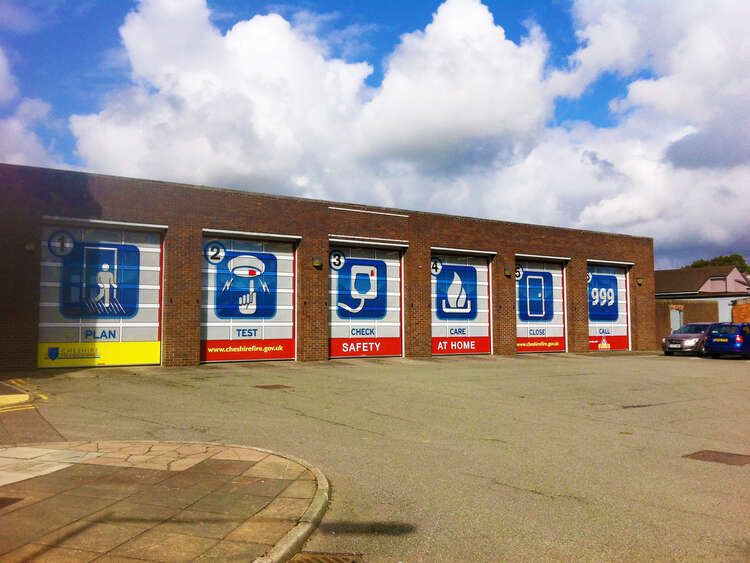 Architectural graphics help Cheshire Fire & Rescue raise awareness inside & out
March 10, 2013
Aura Brand Solutions has been working with Cheshire Fire & Rescue Service for a number of years, using our skills in architectural graphics to communicate important messages inside and out of its buildings. This project helped them to express an important safety message not to be ignored.
Interior branding at Cheshire Fire HQ
At the Services Chester Headquarters we have produced and installed high quality printed graphics in and around the Incident Command Training Suite & Media Briefing Room.
Graphics demonstrating the incident management model and images of the fire crews in action were printed onto self-adhesive film suitable for building interiors and protected with a matt laminate that reduces reflections and any imperfections on the wall surface.
Transforming areas of blank wall space into a giant storyboard has created an informative display that is full of impact.
External graphics grab attention
After helping Cheshire Fire promote its "6th Sense" awareness campaign on its vehicles, firefighters at Chester Fire Station came up with the idea to extend the campaigns to the exterior of its buildings.
This great project created a vibrant and attention grabbing visual landmark on a major road into the city centre seen by thousands of people every day.
The result had two major positives. Firstly it's a unique and high impact way to communicate an important safety message. Secondly, it gave this tired looking fire station a brand new facelift with minimum cost and effort.
Aura Brand Solutions printed and installed graphics specified to withstand the elements, incorporating the use of a special window film to ensure continuity of the image and maintain visibility & safety.