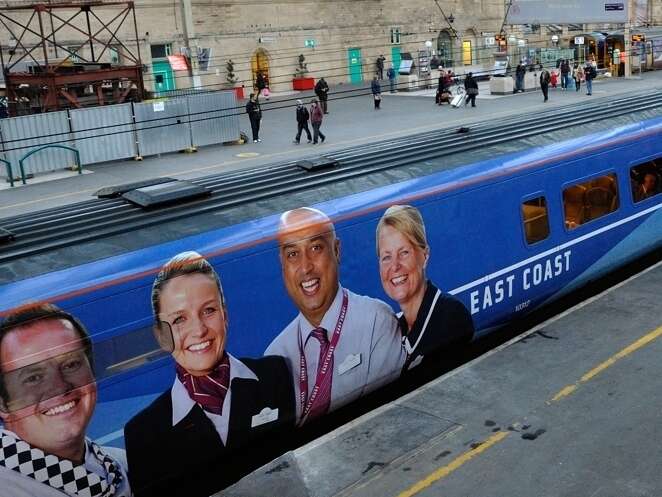 Aura Brand Solutions are "All Aboard East Coast Trains" for Sky 1 HD Train wrap
December 08, 2013
Following the huge success of the James Bond SKYFALL train wrap last year, East Coast asked us to do the same again. This time it was to advertise a fly on the wall documentary about the running of East Coast Main Line being shown on Sky1HD.
The unique set of vinyl wraps for the 'SKY 1 HD' set were commissioned especially to promote the Sky 1 HD TV series 'All Aboard: East Coast Trains' which began its 10-week run on Tuesday 12th November 2013.
There were nine carriages and two power cars to be fully wrapped in just five days. At times we had to have over 20 installation technicians on site at any one time in order to finish the job before the deadline. The entire train was wrapped in self-adhesive vinyls depicting several of the East Coast staff who starred in the original series. The idea behind this wrap for East Coast Trains was to have a focus on the people at the very heart of its approach to delivering a consistently high quality customer service.
The eye-catching East Coast electric train promoting the TV series is on the operator's busiest routes, which link London King's Cross with Leeds, Bradford, Skipton, York, Newcastle, Edinburgh and Glasgow.
Promotional train wraps are becoming more and more common place as marketers see the value in being able to reach a large and targeted audience. The mobile billboards are so big it's hard to miss them and when you get a good design people certainly start talking about it, making it advert recall high too.