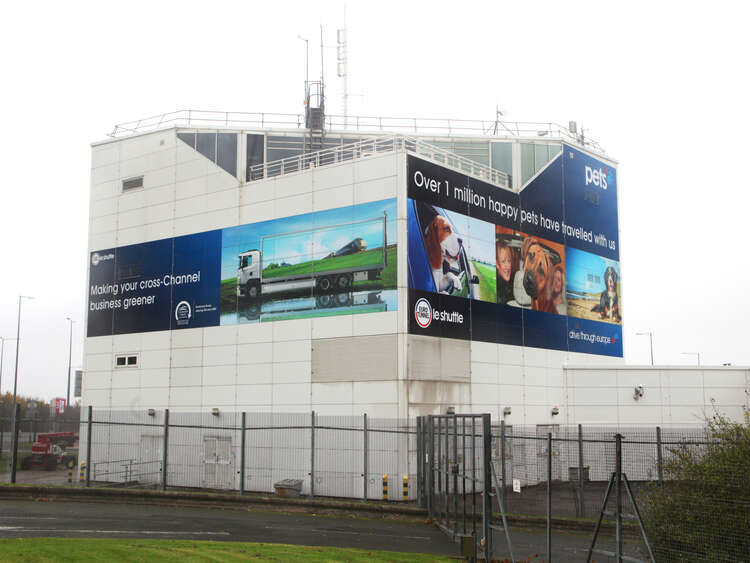 Exterior branding for Eurotunnel's towering building wrap
September 10, 2013
The Aura Brand Solutions Installation Department have successfully installed many unique Eurotunnel projects including installing graphics to the Pet Reception building as well as several double deck loaders. Our latest project for Eurotunnel was the removal and replacement of over 220 square metres of old graphics that we installed three years previously to the TTC (Terminal Control Centre) Tower.
The old graphics were replaced with 500 square metres of new 3M 180-10 and 3M PMWF (Perforated Window Marking Film) graphics with a full MCS / Scotchprint warranty. The digitally printed self-adhesive film was then applied in 241 individual panels, wrapping the whole way around the exterior of the building. Oh, and did we mention that all this installation was taking place 28 metres off the ground! Working at this height meant that health & safety was paramount to the project. Our project managers provided the full documentation for the project to support planning, application and consent for this installation.
Our graphics installation technicians had to deal with a number of obstacles including extremely poor weather conditions, which meant we needed to call in additional assistance if we were to finish the project by the deadline. The job also called for the use a total of five cherry pickers that could only be used when the wind speed dropped. The weather conditions were so appalling, it rained solidly for the whole five days we were on site and typically as were leaving, the sun decides to come out!