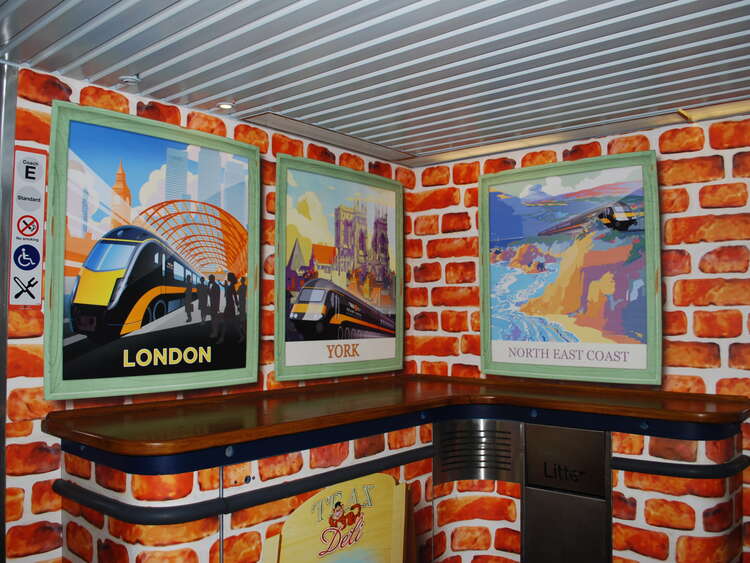 Grand Central trains get an interior graphics refresh
December 05, 2013
As part of a multi-stage programme to refurbish the interior of Grand Central's rolling stock, we recently completed the initial phase, which included specially design hard-wearing graphics for a total of eighteen carriages as well as the vestibule ends at buffet areas.
We stripped out the interiors and fully prepared the internal surfaces before masking floors and windows in readiness for a complete respray. Using our developed and industry approved mobile extraction system we carried out a full paint refresh at the customer's depot without the need to move the trains to special facilities.
After refurbishing the interior surfaces using paint, including sanding down and varnishing the buffet counters, we turned our attention to the graphic elements.
We created detailed templates of the carriages to ensure the production and application of our proprietary sub-surface AuraFlex graphics and the new suite of passenger warning and information labels were accurate in both quality and fit. All our graphics are manufactured to the highest quality standards and on materials that have all the necessary fire-test approvals that are so important in the rail industry.
The information and safety labels were completely redesigned by our design studio and a comprehensive positional guide was compiled. These new labels also have an individual printed product code to identify the specific labels, making reordering a simple process.
In the next few months we will turn our attention to phase two, which will entail the interior refurbishment of the first class rail carriages.