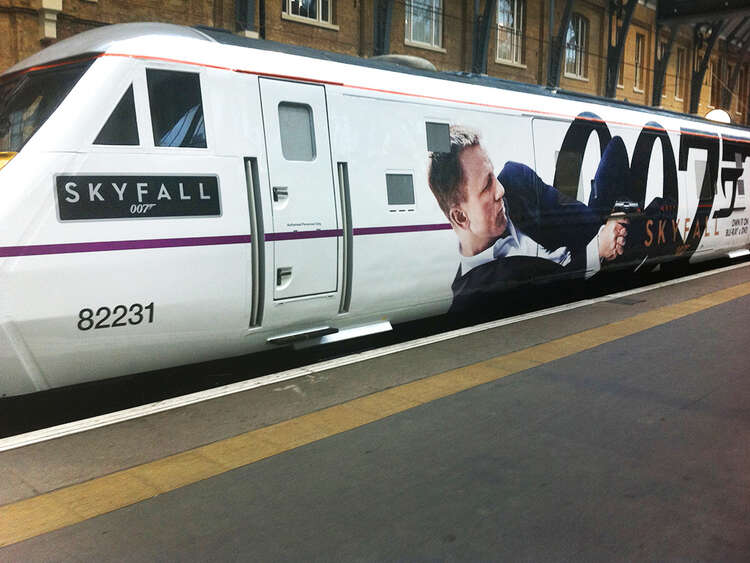 SKYFALL Train Wrap - The train's Bond...James Bond
February 16, 2013
In true MI6 style, we've been busy over several months working in top secret with East Coast Mainline, Premier PR, MGM, 20th Century Fox and the James Bond 007 franchise to plan the high-profile launch of the new SKYFALL train.
The train was unveiled this morning (Saturday 16 Feb) at London King's Cross station and named SKYFALL in anticipation of the film's release on DVD on Monday.
Last week saw final preparations put into place as we tweaked the designs and printed the self-adhesive film ready for our highly-skilled agents to fully wrap the train. Our teams have been applying the 007 wrap to the Class 91 Locomotive (renumbered 91007), nine Mark IV carriages and a DVT, over the past few days, finishing in the early hours this morning before the big launch. Mission accomplished.
As well as the stunning specially designed exterior train livery, we decorated the train interior with table top graphics and also wrapped the 007 cocktail bar in the buffet car.
Actress Naomie Harris, who played an MI6 agent in the film was at the unveiling on Platform 007, with a host of others involved in the film and a gathering of media and journalists.
SKYFALL, the first train in the UK to be named after a film, left King's Cross at 8:33am on the "Flying Scotsman" route to Edinburgh for its special invitation only first journey; celebrating the success of the 23rd Bond adventure and launching the DVD & Blu-Ray releases to the international press.

Watch the official launch event video: