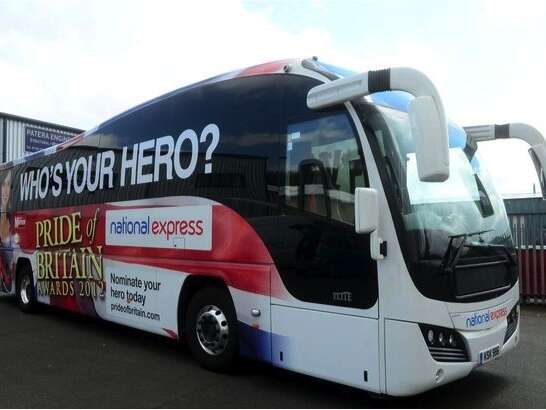 The Pride of Britain hits the road with fully wrapped National Express Coach
July 06, 2013
Key partner, The Daily Mirror is taking the Pride of Britain to every corner of the country in their biggest ever quest for nominations. For the biggest event of its kind in the UK, what better way to do it than a bus tour of the UK, covering hundreds of miles across England, Scotland and Wales in search of unsung heroes.
In July, the unique Daily Mirror Pride of Britain National Express bus, specially decorated in red, white and blue was at ITV headquarters in London, where the search for this year's nominees was launched on Daybreak. It then set off on its 900 mile tour which included visits to shopping centres, children's hospitals, Army and RAF Camps as well as famous landmarks, where they gathered nominations for the award ceremony. We were happy to support Daily Mail and National Express in its quest to recognise inspirational people from all walks of life who have done some outstanding things.
This is third time we have printed and wrapped the coach livery for this event and is one of many special bus wraps we complete for National Express across the UK.