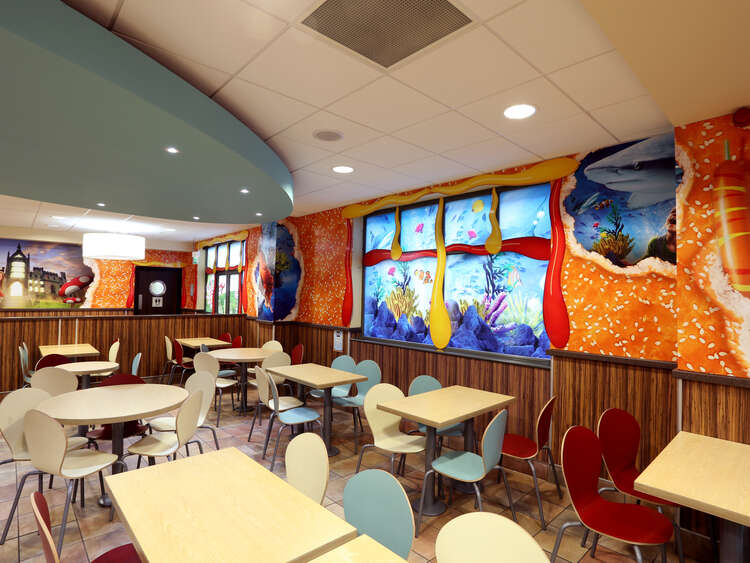 Alton Towers' Burger Kitchen undergoes a complete rebrand with imaginative printed graphics
April 27, 2014
Following on from previous projects with Alton Towers, this year they asked us to completely refurbish the interior graphics of their Burger Kitchen Restaurant.
We decorated the walls and columns of the restaurant with vibrant self-adhesive graphics including images of hot dogs and burger buns as well as pictures of Alton Tower's most popular attractions. These were then finished with silicon beading to prevent lifting and picking from customers.
To the restaurant's windows, we applied a low gloss 3M window film with a clear adhesive film, which gave a fantastic translucent effect when the outdoor light came flooding in and really brought the printed window graphics to life. We also applied coloured Foamex to the window frames, cut to the shapes of drips and splats of ketchup and mustard, giving them more depth and sticking with the bright and colourful interior theme.
This is just one of many projects we have completed for the Merlin Entertainment Group, having also printed carpet for the HR Office, covered the Legoland Ninjago Training Camp with wall stickers and signs and applied printed graphics to the interior of one of the numerous hospitality suites, with dusted crystal film for its glass doors that feature cad-cut logos.