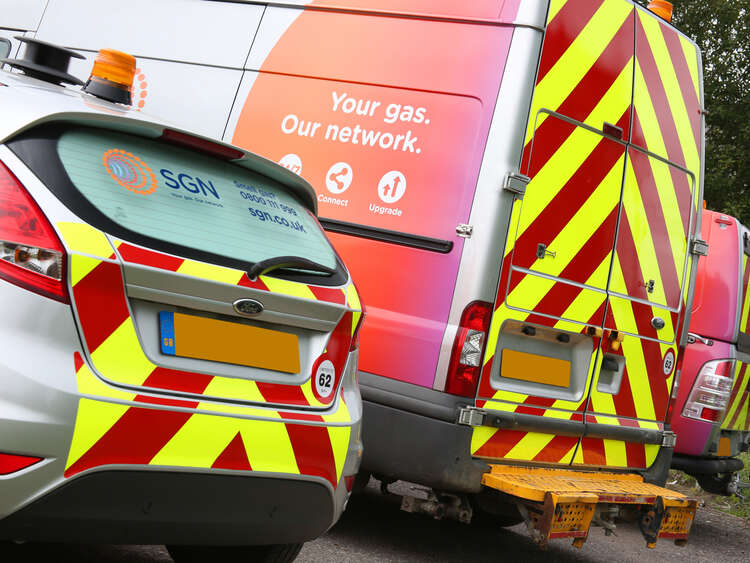 Aura Brand Solutions help SGN to rebrand entire fleet livery
December 02, 2014
We've recently completed an ambitious project, producing and installing vehicle graphics for a 1,600 strong fleet for SGN's corporate rebrand programme.
In September 2013, Scotia Gas Networks approached Aura Brand Solutions with a project which would involve a complete rebrand of their 1,600 strong fleet for both Southern Gas Networks and Scotland Gas Networks. The idea was to eliminate the regional aspects of their livery, to incorporate one "SGN" brand throughout the UK, as well as implementing Chapter 8 reflective safety markings to the rear of the fleet.
After several months of looking at various designs, in March this year a final concept was created and passed to us for prototyping. This was well received and it gave us the opportunity to start to look at the logistics of the project.
There were a number of challenges to overcome, making it the perfect opportunity for the introduction of our Brand Implementation Department (BID) to ensure the smooth set-up and delivery of the project. Requirements for the rebrand included the cleaning and valeting of vehicles and due to the mix of new and old, we also needed to remove existing graphics. Not to mention the need to source third party locations to carry out the work, which had to be finished in a very strict deadline.
After several meetings and numerous site visits, Aura Brand Solutions and SGN settled on leasing a premises in Bellshill, Glasgow for the Scotland based part of the rebrand, while in the South, we were provided with an area of land next to an SGN site in Horley, close to Gatwick Airport. Here we arranged for a specialist temporary structure to be constructed.
Both sites had to be large enough to accommodate 10 vehicles at a time and allow space for cleaning and valeting. During the height of the project we were completing 100 vehicles a week, allowing us to successfully finish the entire SGN fleet within a six month timescale.
Date published: 02 Dec 2014