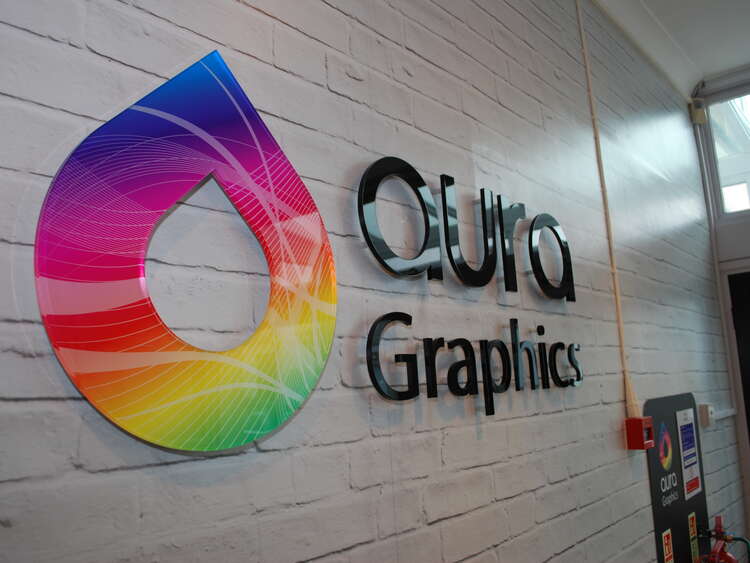 Aura install interior workplace branded graphics in HQ Offices
October 13, 2014
We have recently undertaken a refurbishment project with the initial phase of this enhancement programme being a complete makeover of the Lowestoft reception area.
Members of our studio worked on a number of design concepts that were considered by the management and marketing team. Once a preferred theme had been chosen work began refining the ideas and creating final designs. Much of the print work was completed at our Stoke production facility. Our Installation Department then came into install the many interior graphic solutions.
We used a multitude of products in our Lowestoft Office. This gave us the exciting opportunity to test out some of our latest products developments, including the CAD-cut acrylic lettering for our wayfinding and signage as well as our AuraFlex laminate film on the walls. On the windows and glass we applied dusted crystal film and 3M PWMF window film and for the floor we used branded interior floor graphic. The walls were covered in a full range of interior graphic solutions including non-PVC self-adhesive film, Digimura textured wallpaper and 3M Di-Noc wood grain film, which was used to fully refurbish the interior doors.
This project completely transformed the space into one that provides an interesting and vibrant environment for our employees as well as a radiant welcoming to our visitors and customers. It success has been evident, so much so that several customers have already asked us to look into using some of the products on their upcoming projects. Feel free to get in touch and organise a visit to our newly refurbished Lowestoft Office.