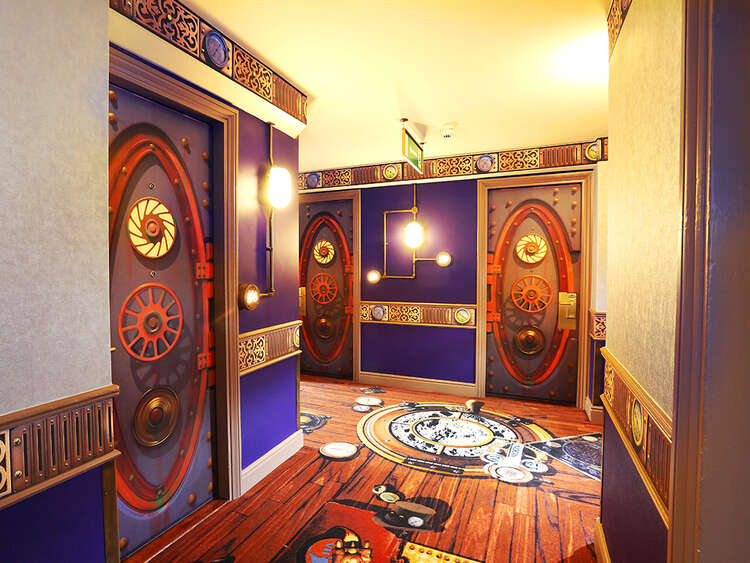 AuraFlex™ delivers interior graphic solutions for Alton Towers that are out of this world!
March 20, 2014
Following on from previous architectural projects for Alton Towers, this time we have been part of the first phase of the refurbishment of the Alton Towers hotel. We've implemented eye-catching images to the first of three levels in the hotel in order to delight the customer during stay with a complete fun-filled experience.
We printed and applied graphics to the fronts and backs of all the outer, and interior doors of the rooms, as well as panels on the bunkbeds, over the Moon Voyage themed floor of the hotel. These striking images meant that children could let their imagination go wild and believe that they're staying in a space ship!
For the refurbishment of Alton Towers Hotel, we used our AuraFlex sub-surface printed laminate. AuraFlex is a range of highly durable, self-adhesive film laminates, custom printed to virtually any pattern or design. For the hotel it was applied on site however it can be applied as part of the manufacturing process depending on the project specifications.
AuraFlex has a highly durable surface-finish which offers scratch-resistance and a long performance life, which in the case of children's bedrooms made it an ideal choice of product. It has been used with great results to cost effectively refurbish the tired door surfaces, at the same time as continuing the overall design scheme. The image quality achieved by printing the AuraFlex on the HP Latex is superb and brings great benefits to any graphic design.