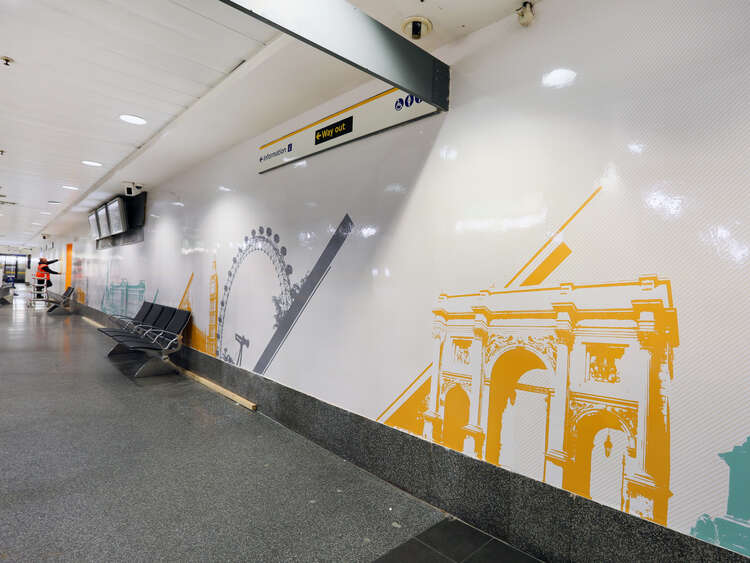 Interior graphics help enhance Victoria Coach Station
October 17, 2014
We've recently worked with Transport for London to improve the visitor experience and appearance of the Victoria Coach Station facility using images of iconic sights found in the city. Using our skills in architectural graphics we branded and enhanced the internal spaces that welcome users to this major transport hub. From the garage wall, where the buses and coaches arrive to the bathrooms in the main building.
We took the client's design concepts and translated them into something that would work in the physical environment. Detailed site surveys, material specifications and health and safety considerations were all undertaken to ensure the installation ran as smoothly as possible and was planned correctly. The actual application was completed by our expert teams working over night over two days to provide uninterrupted access, when the station was closed to passengers.
All the graphic elements were printed at our Stoke production centre. We used 3M inks and our HP Scitex Latex wide-format printer onto high quality 3M films, which were then laminated to provide maximum protection. This specification produces sharp images and excellent colour consistency combined with long-lasting performance and easy maintenance. It also comes with a comprehensive 3M Scotchprint warranty.
Certain areas of the project required the use of a specialist textured wall film that conforms to the texture of the surface substrate. This was particularly important for areas of brick on the garage wall and the tiled walls in the bathroom facilities. This flexible film is installed using a heated application technique and is ideal for any walls that aren't flat and smooth.
The end result has delivered a drastic transformation. Large uninspiring areas of white walls and cold toilet areas have been revitalised with colourful, interesting and modern designs that flow consistently through the building and create a unique and branded environment.
We know from experience that simple enhancement projects like this quickly and effectively create a more positive customer and user experience. More and more of our clients are using our graphics and surface enhancement products to brand and refurbish their building interiors with minimum cost and effort. Whether it is to communicate, guide, inform or simply decorate, big graphics and signs are a great way to do it with creativity, style and impact.