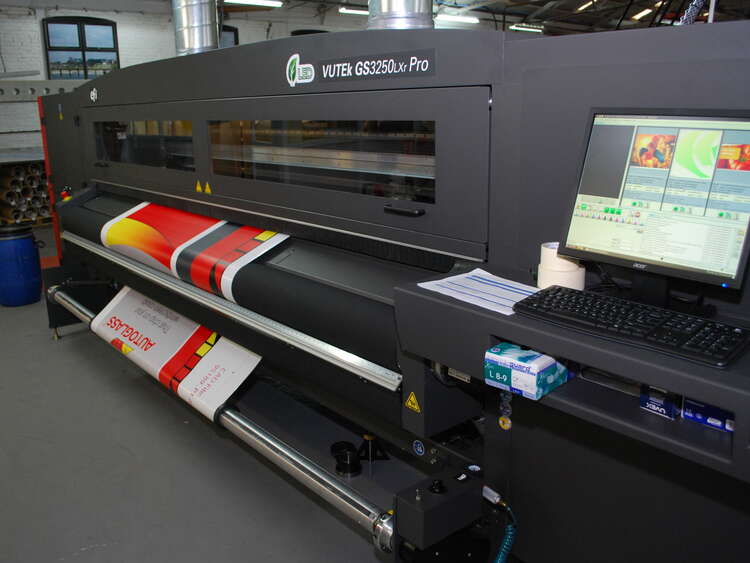 Super-flexible capabilities with Aura's new wide-format printer
October 27, 2014
This high quality LED SuperFlex UV Ink printer is ideal for the production of fleet and vehicle graphics and much more. The machine can produce fleet and vehicle graphics at 1,600 square feet per hour in 600 dpi, grayscale and light-smoothing mode. The six-colour ink sets are designed to have both excellent weather-fastness and flexibility over time, guaranteeing you a quality product. 3M and Efi have developed this machine and the ink it uses with the intention of overcoming UV technologies biggest shortcoming – the lack of conformability of the end product, essential when wrapping vehicles with recesses and complex curves.
Lowestoft Production Manager, David Lilley stated "Our initial impression of the new machine is very good. We have always been aware of the benefits and short comings of UV technology, however this new printer has exceeded our expectation in terms of print quality and speed. The purchase of this machine also allows us to offer our customers the benefits of all three main print technologies, Solvent, Latex and now led UV."
Benefits to the Green LED Technology include increased uptime and productivity whilst driving down operating costs. The new machine therefore uses less power consumption whilst also reducing waste. It does all that with consistent colour output and simple operation.
One of the other key attractions of this UV machine over others we looked at, is that is has been developed with and endorsed by 3M. With the graphics we produce on this machine, we can offer a 3M Scotchprint warranted UV package for up to 7 years, the highest MCS (Matched Component System) warranty available.