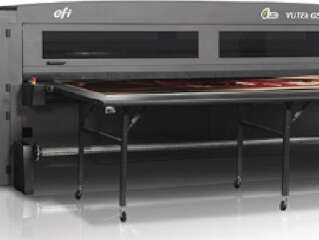 Continued investment into direct print & white ink provides world of opportunity
December 11, 2015
Aura Brand Solutions welcomes the opportunities provided by its latest investment in the EFI VUTEK GS3250LX Pro wide-format hybrid platform.
We consistently strive to give our customers the best in the business and with our investment in the latest hybrid print technology we continue to deliver. This super-wide inkjet printer operates at fantastic speeds and resolutions, printing on to both rigid and flexible media through its flat-bed and roll-to-roll capabilities. It provides a four level greyscale with two ink density levels creating exceptional smoothness in shadows and transitions making it perfect for producing high quality graphics for all applications, particularly graphics for architectural and retail interiors and exteriors.
The benefits don't just stop there. The innovative ink curing technology allows for printing to be done at cooler temperatures without sacrificing on adhesion, enabling us to digitally print onto various roll materials and rigid substrates up to 50mm thick. This diversifies our product range significantly and being UV LED cured, it is greener than other ink platforms, whilst maintaining high-levels of quality and durability.
The ability to print full colour alongside strong white inks allows us to create a huge array of new effects, increasing the possibilities and pushing creative boundaries. Printing white ink to clear films and substrates is a growing trend and this machine does it with aplomb. The range of substrates available to print on is almost endless too. Glass, ceramics, wood, fabrics, traditional self-adhesive media, foamboard, acrylic, cardboard; the list goes on.
Following on from last year's investment in the Efi VUTEk GS3250lxr Pro Roll-to-Roll printer, the GS3250LX Pro continues our aim to widen our capabilities and efficiency, whist improving our environmental performance by using greener inks, reducing waste and energy consumption through innovative technology. This platform delivers on all counts.