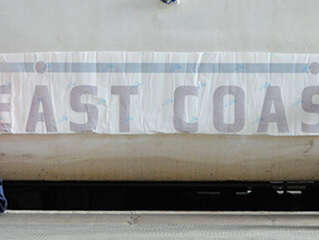 High-speed re-brand for Virgin Trains East Coast trains
March 07, 2015
East Coast Trains has been renamed to "Virgin Trains East Coast" and our speedy services were there to help ensure the internal customer messages were on brand.
Following a change in franchise ownership that came into effect from the beginning of March, East Coast Trains have re-branded their corporate image. We were asked to help with this re-brand by project managing and carrying out the change of all the internal carriage wayfinding and customer information signs including maps, menus, posters and paper leaflets on the whole fleet of trains.
We stationed our teams at Kings Cross Station ready to work 24 hours over two days to catch as many trains as possible to carry out this project. We also worked on site at Wabtec's depot in Doncaster, as well as re-branding three trains at the Bounds Green depot in London whilst they were there for maintenance.
We had two teams that worked on site Saturday and Sunday. As soon as the train had arrived on the platform they had to jump on the second the passengers jumped off! They then had to quickly remove all the existing leaflets and posters wearing the old brand and replace them with the new versions, recording all the changes to make sure nothing was missed.
It was tight at some times with unscheduled arrival times, but our installation team worked extremely hard to complete the switch with zero downtime to the fleets normal running.