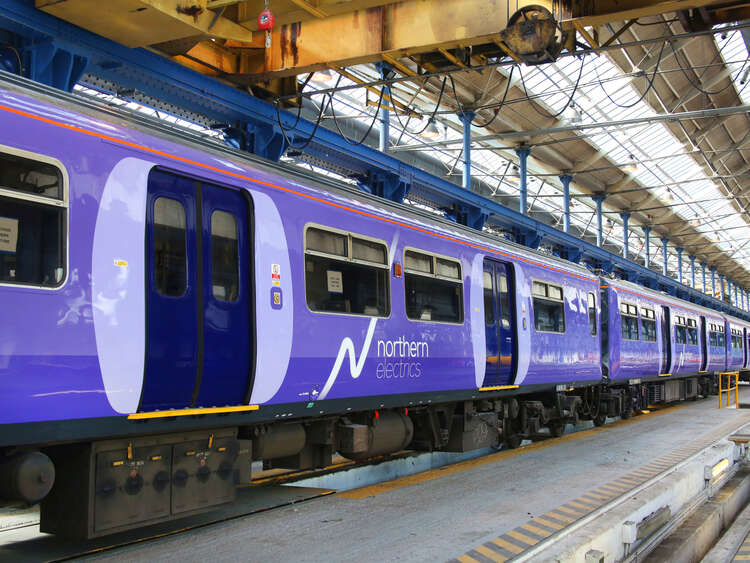 Rail refurbishment project for Northern 319s
May 19, 2015
All change for Northern Electrics new 319 trains as Aura Brand Solutions supplies and installs new exterior livery, labels and eye-catching interior graphics. 
We have just undertaken a refurbishment project for Northern Rail's 20 sets of newly acquired Class 319 trains from the former First Capital Connect rail franchise. This project included the complete renovation of the exterior graphics as well as the on-board bathroom facilities.
We helped refurbish the exterior rail graphics by producing the shapes that flank the passenger doors as well as applying safety labels and the all-important Northern Rail Electric branding to the outside of the livery.
The livery interiors were a separate task. Northern Rail wanted a solution to brighten up the bathroom spaces with the aim to reduce graffiti on the surfaces. We used a printed self-adhesive vinyl in a landscape design that through its colour reflects the corporate branding. The print was laminated with a tough anti-graffiti film over 90% of the covered area. The rest of the areas such as those with rivets and sharp curves were protected using our own anti-graffiti liquid coating - Aura Guard Surface Protection System™.
The initial stage of the project involved a template of the bathroom facilities. This was to ensure the application ran smoothly and the installation process could be completed within budget and in the allotted time period. It also helped the Production Team to make sure that the printed graphics matched panel to panel and to limit trimming and reduce wastage of the film.
The inside walls were cleared of any hand dryers, toilet roll holders, mirrors and bins, in order for us to have a nice flat surface to apply our graphics to. We then cleaned these areas before applying a surface primer, in order to achieve maximum adhesion. This is applied to areas where the film is being pushed to its limits and where customers may be tempted to pick at the graphics or edges that could be caught during cleaning. To give a seamless, water tight and professional finish, silicone was then applied around the sink basin and the toilet. After all this was completed, our site engineers then refitted all the wall fixtures and fittings into the cubicle.
This project is another great example of how refreshes are a quick and cost-effective way to refurbish train interiors to improve the passenger experience.