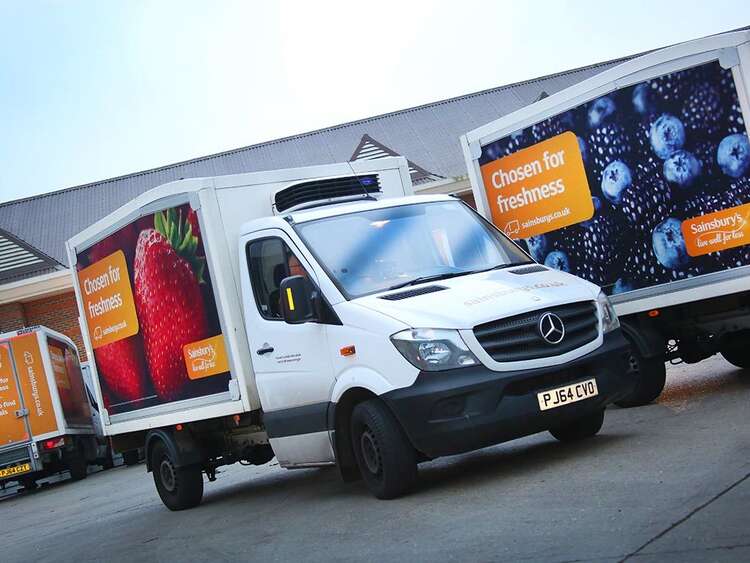 Sainsbury's Home Delivery Fleet are on right Traxx
January 21, 2015
Aura Brand Solutions print and fit graphics in the Traxx frame system for Sainsbury's Home Delivery Fleet Livery
As one of the two licensed UK distributors, we are helping Sainsbury's use its vehicles as a flexible media platform by supplying and fitting graphics. We're using the innovative Traxx frame system for a high-definition, ripple-free result.
Sainsbury's home delivery fleet currently consists of around 1,400 vehicles and is ever-increasing as the trend and success of home delivery grows amongst major retailers.
As well as the supply and installation of the printed banners, we are also providing a proactive and innovative maintenance service, Fleet Watch. This ensures that the fleet maintains its high standards of appearance and operational effectiveness on a day-to-day basis.
To achieve this, a team carried out a complete analysis of the fleet including looking at volumes, store locations (over 200 across the UK), damage frequency and type. This was an important process to create a strategy to manage what is a complex nationwide accident damage service that provides agreed service response times and online reporting. As well as this we've had to adjust the advertising system hardware and new skin inserts to work with the new curved vehicle profile that's recently been introduced.
In what was a tight time frame after securing the business from the previous supplier. All areas of our operation had to work hard to be ready to provide a seamless service and handover from day one. Our Lowestoft production facility manufactured the new skins for the old vehicles currently in service. This involved 5 types of vehicle in various designs. Our graphics installation department then worked on the frame hardware stocking and new build installations.
Our recently created Brand Implementation Team also helped to develop and implement a new online tool for managing and reporting repair jobs in the field. It's added services like these, many of which have been pioneered by Aura Brand Solutions, that are becoming incredibly popular in the industry due to their efficiency and value to all areas of the supply chain, especially the customer.