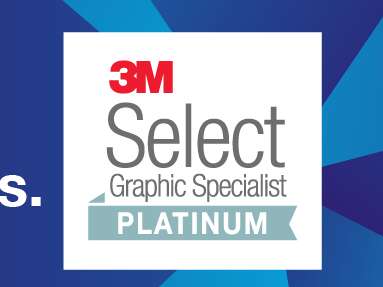 Aura Brand Solutions goes platinum in 3M Graphics Partner Programme relaunch
January 22, 2016
We're proud to have been working in partnership with 3M for over 50 years and to carry their new Platinum Partner seal of approval. Together we can offer you ultimate peace of mind and protection with the strongest warranty in the graphic industry.
3M Commercial Graphics Division has relaunched its partner programme for the printing and application of print wrap films in the rail and fleet graphics markets in the UK and Ireland. The programme, called 3M Select, replaces the 3M Scotchprint (SPGAM) and MCS programme, which Aura Brand Solutions has been top-tier member of since its inception.
The new programme in the UK has two levels: Platinum and Gold. Aura Brand Solutions is a 3M Select Platinum Partner and remains one of only four companies in the UK to hold 3M's highest level of endorsement for the graphics market.
Being a 3M Select Platinum Partner gives our customers the assurance of dealing with a qualified graphics manufacturer and installer backed by certification and a comprehensive warranty. Supported by the 3M Matched Component System, our Platinum Partner status means we can offer the highest possible 3M™ Platinum Partner Warranty.
Considered as the 'strongest warranty in the industry' it guarantees that all elements of a graphic (film, ink, adhesive and protective coating) will perform well together over an extended period and in the event of failure you're covered in full, not just for the material, but for the removal, remanufacture and reapplication of the graphics for the life of the warranty period.
To find out more about the 3M Select Graphics Specialist Partner Programme and what makes a Platinum Partner.
Check out the video below to see the possibilities using graphic solutions provided by 3M and Aura Brand Solutions: