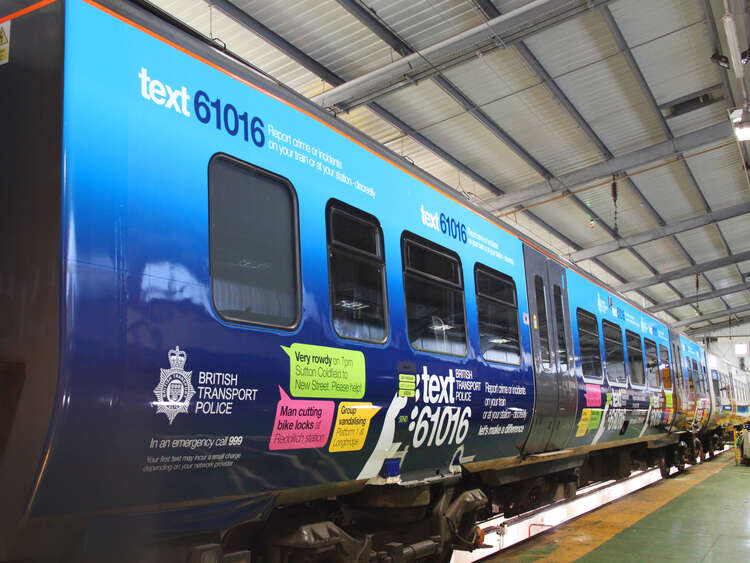 Special train wrap helps British Transport Police promote Text 61016 service
March 15, 2016
Our latest rail livery project has been wrapping the "SMS Express" train to help British Transport Police mark three years since the launch of its innovative Text 61016 service. Check out the making of the wrap video to see us at work.
Three years ago, British Transport Police (BTP) launched its pioneering and innovative 61016 text number. Since then the service, allowing the public to report non-emergency incidents on the railway discreetly, has received more than 32,500 messages from UK rail users. Its officers have responded to more than 5000 incidents and recorded around 2,300 crimes through the simple text message service.
To mark this three year milestone and further promote the service to rail passengers, BTP commissioned a special train wrap that can be seen running on one of London Midland's trains. BTP approached Aura Brand Solutions, as a specialist in rail livery and train wrapping, to bring its "SMS Express" into service
We helped with all aspects of the project including design consultancy to ensure compliance with rail industry regulations, full project planning and management and the production and installation of the wrap.
The full wrap, which took over 175 man-hours from conception to completion, was printed using our latest EFi Vutek press with special 3M Superflex UV inks on to 3M VHR film with an anti-graffiti laminate, one of the only fully approved material combinations for use on rail carriages in the UK. This specification allows us to provide a high-performance livery that will stand up to the daily routine of the train, protect it from vandalism and also give peace of mind with an all encompassing 3M Select Platinum Rail Warranty.
Before we could install the 80 metres of graphics to the train carriage, we had to fully prepare the surface, removing existing London Midland branding and in-fill painting window frames and other areas to ensure the wrap had a seamless and integrated appearance. Additional double-side printed graphics were also applied to the hopper windows to bring the Text 61016 message from the outside to the inside of the carriage.
Check out the video below to see the train wrap installation: