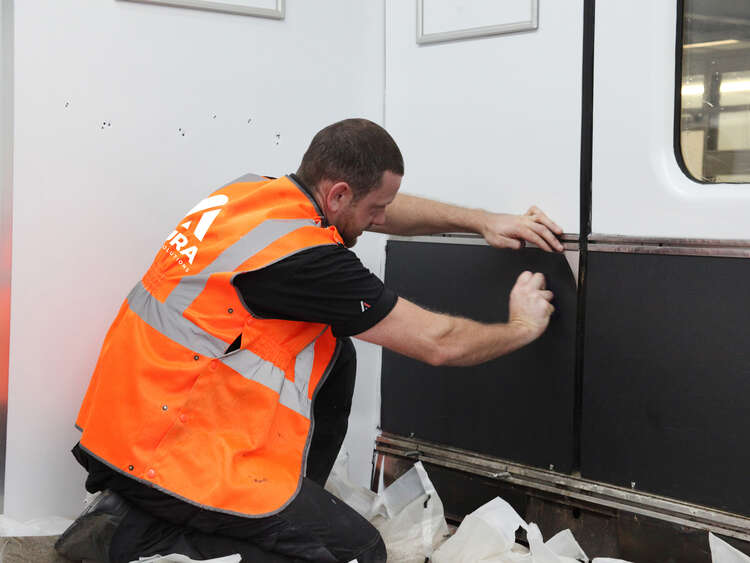 Rail interiors refurb for Greater Anglia
July 03, 2017
The train presentation and refurbishment service provided to Greater Anglia to breath new life into the interiors of trains, clearly shows the extent of our capabilities and experience in rail sector.
We've supplied the Greater Anglia franchise with labels and operator logos for many years. We've managed interim identity change for the operator and more recently helped carry out the full interior refresh of standard and first class rolling stock. 
Working on class 317 and 321 rolling stock, the project was to turn old and tired carriage interiors into fresh and bright spaces. Part of the work involved our teams repairing and preparing the internal surfaces for a full respray, following the full strip-out of 136 carriage interiors.
In parallel to this element, removable components including grab poles, seat backs and seat frames were sent off site to receive refurbishment and either new powder coating or spray-paint finishes. New seat covers and fabrics were also commissioned. The seat shells were taken to our paint facility in the Midlands.
Following our interior painting, contractor teams installed new flooring and carpet runners and all other fixtures and fittings were reinstalled. Our work continued with the dado panels being covered using our durable protective and printed laminate (AuraFlex™), manufactured at our Suffolk production facility, along with all the required safety and information labels.
Passenger seating was then refitted with its new look covers and job done. Now we're on to the next phase of Abellio's refurbishment programme with more class 317s to make look as good as new. 
#auraontrack
Check out the video below to see the train interior transformation: