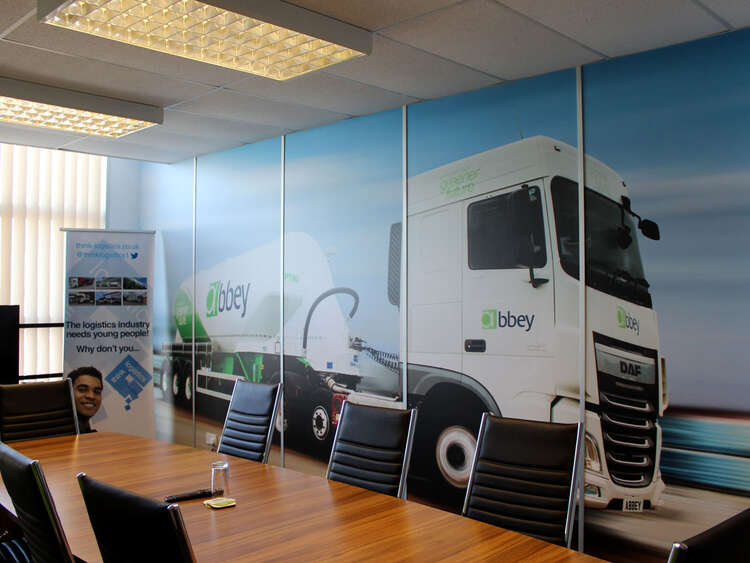 Workplace branding for Abbey Logistics really delivers
August 20, 2017
Using wide-format print and architectural films in the workplace, quickly transforms office spaces from the ordinary to engaging communications tools that are an extension of the brand identity.
Abbey Logistics' offices recently had some dramatic workplace branding completed, as they look to strengthen their brand identity at key customer facing sites. The logistics provider felt that its office interiors needed an uplift and approached us to to see if we could help. Working closely with its Marketing Manager, we created bespoke designs for a number of key areas of the building to help create both a strong first impression for customers and an impressive working environment for employees.
The company's staff and visitors are now greeted with a message as they enter the building, which reminds them about the importance that good customer service has played in helping build this successful business. Leading up the stairs are further striking images of tankers from the liquids and powders divisions and a full wall print showing some of the palletised vehicles.
The boardroom has had floor to ceiling images installed, creating a dramatic and memorable room for visitors, as well as transforming the room into an interesting space to work in. Interestingly all the walls were fully wrapped, even those that are now white, which has saved the added expense and project time of repainting the non-branded walls.
In keeping with Abbey's commitment to environmentally friendly logistics, we printed on 3M's non-PVC films and used our wide-format latex press to deliver a greener graphics solution. All prints were finished with a clear matte laminate film to ensure durability, wipe-ability and reduced glare from the interior lighting.
About Abbey Logistics Group
Abbey Logistics Group is the UK's largest bulk food tanker business, and one of the fastest growing bulk non-food liquid and powder transport companies. Dedicated to helping its customers create a competitive advantage through their supply chain.
The company has more than 25 years' experience of providing innovative, customer focused and flexible transport and logistics solutions through a nationwide depot network and fleet of bulk liquid and powder tankers, and palletised freight (ambient, temperature controlled, FTL and groupage). The Group also provides warehousing facilities and multimodal transport solutions throughout the UK and Europe. 
Visit www.abbeylogisticsgroup.com for more information about Abbey Logistics Group, on the road to a greener future.