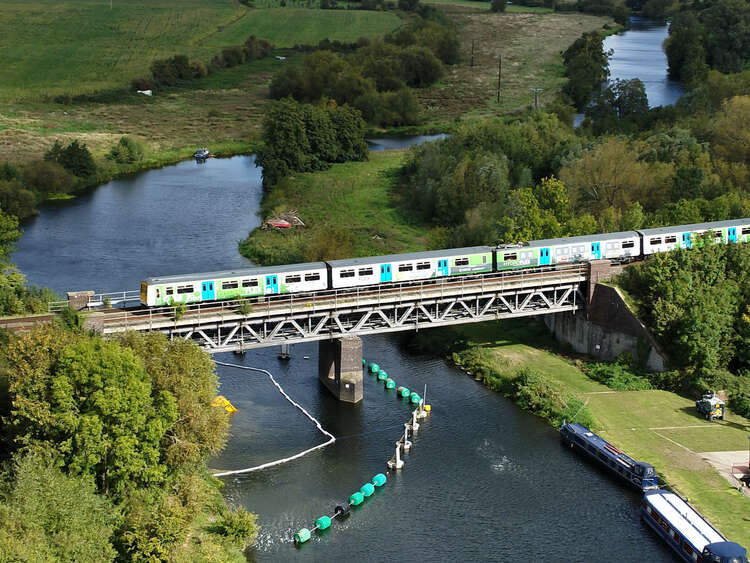 Porterbrook's HydroFLEX Train Begins Mainline Testing
October 01, 2020
At Aura Brand Solutions, we strive to have pioneering technology and products in the foreground of everything we do. We are always looking for new, sustainable projects to be involved with to showcase these capabilities.
Last summer we were proud to showcase one such innovative project, that we have been working on in collaboration with Porterbrook and 3M UK – the HydroFLEX train.
The HydroFLEX train is the first Hydrogen-powered, operational train and is a huge step forward in the development of a zero-carbon emission propulsion system, that would work toward decarbonising Britain's railway.
The project fitted a fuel cell system to a Class 319 train, allowing the train to run on multiple train lines. The start of mainline testing is the culmination of almost two years development work and more than a million pounds investment in the HydroFLEX train by both Porterbrook and the University of Birmingham.
Aside from the work we did on the project last year, Aura Brand Solutions were recently also asked to complete passenger door spraying and exterior label supply and application, to get the HydroFLEX train ready for mainline running.
Mary Grant, CEO of Porterbrook, said:
Porterbrook is committed to innovation and the delivery of a carbon neutral and sustainable railway. Today's mainline testing of HydroFLEX achieves another important milestone on this journey. I'm also delighted to be able to announce our intention to start producing HydroFLEX trains, creating the world's first electric and hydrogen powered bi-mode rolling stock, as well as generating significant opportunities for the UK supply chain
When first working on the project, we wrapped the exterior of 2 x 4 car carriages with the HydroFLEX livery, and some for Porterbrook's Innovation Hub - with 1 carriage wrapped per day. It was also requested that we complete some interior painting and wrapping on the HydroFLEX train, for an additional 2 days.

Aura Brand Solutions provided vinyl wraps with clear coat finishes; directional graphics; draught screen glass; dado panels; light diffusers; and powder coating and painting. All the graphics produced for the interior and exterior of the train came from our unique in-house design team. 
One major component of our work on the HydroFLEX train included the use of the 3M 480 Envision Print wrap. This film is a non-PVC, high-quality film that has 12 years durability, and can amazingly be used both externally and internally. The film also has a 6-year warranty, can be installed in extreme temperatures, and has a slower burn rate with less smoke giving 4.5x longer evacuation time.
Due to its non-PVC qualities, it is an environmentally friendly alternative for printing large format graphics, and allows us to greatly reduce our carbon footprint. 
In an age where sustainability is at the forefront of business, it's incredibly important for us to push for more eco-conscious branding options. We will always champion state-of-the-art solutions that will renovate and transform the face of the rail industry. Read more about what we can do for the rail industry here.