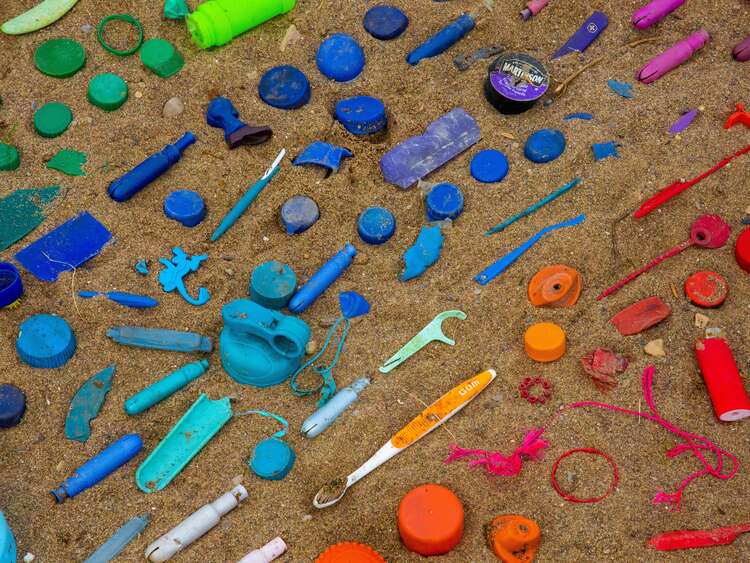 11 Top Tips to Living a Plastic-Free Life
September 08, 2021
At Aura, sustainability is integral to our business processes. We are continuously striving to do better and follow a reduce, reuse, recycle approach in everything we do.
That's why we are celebrating International Day for the Preservation of the Ozone Layer on September 16th, and want to bring awareness to one of the issues that damages it the most: plastic pollution.
What is the Ozone Layer?
The Ozone Layer is a shield of gas which blocks harmful sun rays and maintains a liveable environment for life on Earth. Unfortunately, the creation and use of Ozone-Depleting Gasses (ODG) by humans is causing damage to this shield, making the Earth more vulnerable to ultraviolet radiation.
This increases risk of skin cancer, cataracts and contributes to global warming.
Find out more about International Day for the Preservation of the Ozone Layer HERE.
Why is plastic causing harm to the Ozone Layer?
The Ozone Layer is destroyed by CFCs. CFCs are molecules which break down into substances such as chlorine and react with the Oxygen molecules in the Ozone Layer, causing damage. CFCs are largely found in plastic products, making it all the more important to reduce all plastic use!
Plastic pollution is especially dangerous for our planet because once plastic is manufactured it can take anywhere between a decade and a hundred years to decompose. Single-use plastics are the worst as they are not biodegradable and cannot be reused or recycled.
This means that the production of all plastics causes serious to harm the environment and irreversible damage that affects us all.
According to studies, only 9% of all plastic ever produced has been recycled.
We've put together 11 tips for living a plastic-free life, which could help you contribute toward having a positive impact on sustainability and protecting our Ozone Layer.
1. REUSE WHERE POSSIBLE
Use reusable cups rather than single-use plastic ones. You can even take your reusable cups into cafés to get your favourite drinks! At Aura we provide all staff with reusable water bottles, mugs, and travel cups and we have removed single-use plastic items such as drink stirrers and cups from all of our premises.
2. DITCH THE PACKAGING
Bring your lunch to work in a reusable container rather than buying food each day. This will also save your purse strings! Glass, stainless steel and bamboo containers are great alternatives to single-use plastic sandwich bags and clingfilm.
3. SHOP PLASTIC-FREE
Say no to single-use plastic at the supermarket. Opt for unpackaged produce where possible, visit bulk stores and take reusable containers to stores that offer refill stations. The more people that continue to advocate for unpackaged produce, the more likely supermarkets will start to take action.
4. DON'T FORGET YOUR BAGS
Always take your reusable bags to the shops. Did you know the plastic carrier bag was always intended to be reused? Their inventor never thought they would be thrown away! Keep a stash in your boot so you're always prepared for a last-minute trip.
5. GO FOR GLASS
If you've forgotten to take a drink out with you, choose a glass bottled option and recycle it. Also, if you can't go without milk in your brews, sign up with your local milkman and get fresh milk delivered in recyclable glass bottles.

6. A CLEAN BREAK
Don't knock this one until you give it a try! Give up your plastic packaged, chemical-filled cleaning products and swap them for vinegar and water solutions, lemon juice and baking soda. You can buy vinegar in glass bottles and unpackaged lemons to avoid plastic waste. These are traditional, effective, and environmentally-friendly ways to clean your whole house.
7. SWAP FOR ALTERNATIVES
Recycle any rubbish you have and compost your food waste. You can also buy bio-degradable bin bags, eliminating the need for disposable plastic ones - as well as opting for other sustainable household items like bamboo toothbrushes and natural fibre brushes.
8. THE GRASS IS GREENER
Buy real plants instead of artificial ones! Artificial plants are made using plastic and unnecessarily increase your plastic use. Instead, choose real plants that are low maintenance and will improve the air quality in your home/work environment, due to their key role in converting C02 into oxygen. A win-win.
9. STAY NON-PVC
If you must buy something in plastic, avoid PVC! PVC is arguably one of the worst plastics as it contains Chlorine. The production, existence and destruction of PVC products creates a whole host of harmful toxins which can lead to serious health consequences and environmental issues. This is why we use non-PVC materials, such as Aura's EcoFilm, as often as possible to collaborate sustainably with our clients. Read more about our non-PVC film here.
10. DON'T THROW STUFF AWAY
One person's trash in another person's treasure. But, if your unwanted plastic can't be rehomed, repurposed, or reused, do your best to recycle it. At Aura we recycle all plastic end caps and other materials in our aim to become zero to landfill by 2021.
11. ALWAYS KEEP READING
Through researching plastic alternatives, you'll soon find it easy to make informed decisions about what you buy, where you shop and the most environmentally-friendly ways to dispose of unwanted items. Reading up about the environmental issues we face, and helping to educate others, is one of the ways we can all do our bit and commit to sustainable living.
Have a go at implementing some of these tips into your daily life and let us know if you're looking for a more sustainable approach to your business practices, or are looking to branch out with more innovative, eco-friendly products.
Get in touch with us today to see how we can help your brand go green for good!