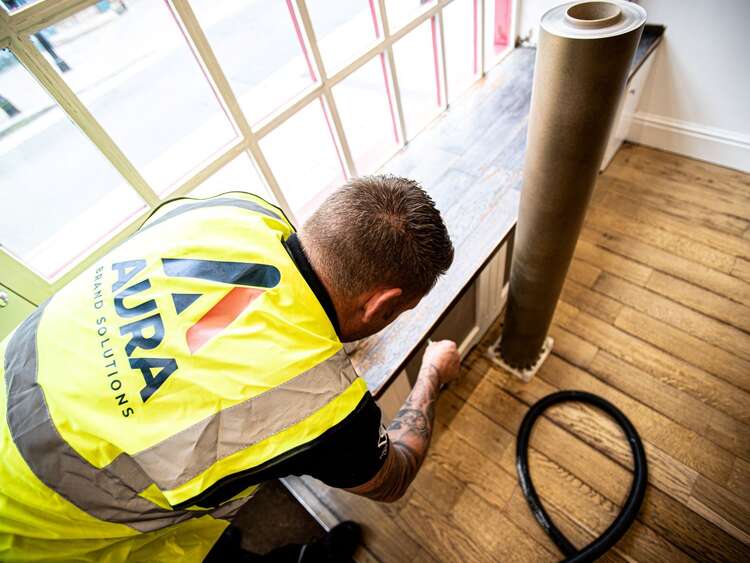 5 Reasons Why You Should Refurbish, Not Replace
September 24, 2021
Branding can be expensive, so having to redo all your interiors and exteriors every few years is very pricey. Most companies wince at the thought of having to do a complete overhaul, especially with tricky fixtures that will likely require a full replacement, like doors and countertops.
Replacing can also be stressful and time-consuming, especially without a limitless budget, but it's important not to let your facilities look outdated and tired – that won't reflect well on your company. Similarly, it's unlikely you can afford to just scrap everything to keep up with trends.
But what if it were possible to have it all taken care of for a fraction of the time and money?
Luckily there is - when you refurbish instead of replace!
Why should I refurbish instead of replace?
There are numerous benefits to the refurbish instead of replace approach; we've outlined five of the key ones below:
1. Save time and money
Not having to remove and reinstall fittings makes the process much faster and cheaper. You can achieve an entirely new look without the extensive time and money required for replacing.
2. Reduce staff and application downtime
Refurbishing means minimal disruption to your business operations. Your facilities won't be out of use for long periods of time, as is often the case when replacing fittings.
3. Cut back on wastage
Refurbishing existing fittings vastly reduces the amount of waste generated from replacing. This in turn drastically cuts back on the negative environmental impact your operations may have. This makes refurbishment a far more sustainable choice than replacing!
4. Endless style options
You can choose from hundreds of different colours, patterns and effects to create the result you want. Aura can even apply large-scale graphics and wrap walls in your original designs.
5. Great results
Using products such as DI-NOC and AuraFlex gives high-quality, strong and durable finishes without compromising on aesthetic. Their ability to completely transform spaces makes them the perfect choice for any project.
How easy is it to implement a full refurbishment?
Refurbishing is so much easier than replacing!
At Aura, we provide a range of innovative interior and exterior solutions and products to refurbish your spaces - completely transforming any environment by providing high-quality, durable results. From conception to application, our expert team will take you through the whole process, dealing with all of the planning and safety issues before manufacturing and installing your new designs.
We will handle all the logistics and practicalities, so you don't have to worry about anything. From design and specification to implementation and application, we've got you covered. Our expert fittings team operate nationwide and will have your project completed in no time.
DI-NOC
Give your tired touchpoints a much-needed revamp - in the most cost-effective way.
This extremely versatile material can be printed and used on almost any service - including walls, desks, corridors, ceilings, building exteriors, pillars, and more. These films come in hundreds of different styles and textures, giving you limitless options, and making your building resurfacing as cost-effective as possible.
For example, in a care home, if the doors are constantly subjected to scuffs or scratches and have worn down over time, there's no need to spend a lot of time and money replacing them all. DI-NOC will give them a new lease of life, and no one would ever know they weren't brand new doors!
Take a look at how we used DI-NOC to completely transform this boat, taking the interiors from drab and tired, to bold and modern. The perfect choice for interiors that have lost their spark but are still fit for purpose.
Makeovers like this can be installed easily, so we can work around your needs and timetable – this means little to no downtime for your business.
AuraFlex
This super robust material is multifaceted and can be used almost anywhere – from walls to floors to countertops. It's also premium grade quality and sub-surface so therefore can be printed in any design, colour, or branding. There's even an anti-bacterial option – AuraFlex+
Take a look at our case study for Onside Youth Zones, to see how we used elements of AuraFlex to bring a series of youth facilities to life.
As their spaces are all public-facing, with a high volume of traffic coming through each day, it was important for them to have a material that would reduce the need for regular replacing and repainting.
So we implemented their branding with solid, defined graphics on the walls, and layered the bottom of the walls with AuraFlex, to massively reduce maintenance costs.
Cladding and refacing films
With a durability of up to 10 years, these technically advanced films can transform the exterior of any building. We'll carry out a technical survey, create designs according to your brief and colour-match to your specifications. Our building wraps are quick and easy to apply, environmentally friendly and don't require any drying time. You can even get anti-graffiti finishes!
Take a look at the before and afters to see how we wrapped all of the Portakabin buildings with the exact same branding style and colours that we implemented throughout their entire business. A completely unified and cohesive aesthetic was achieved over 7 countries and throughout more than 100 sites.

Next time you're thinking of having a full overhaul or a branding refresh – consider refurbishing, not replacing! At Aura, we have multiple methods that can give you back that lost spark and breathe new life into your touchpoints.
Get in touch and see what we can do for your spaces!