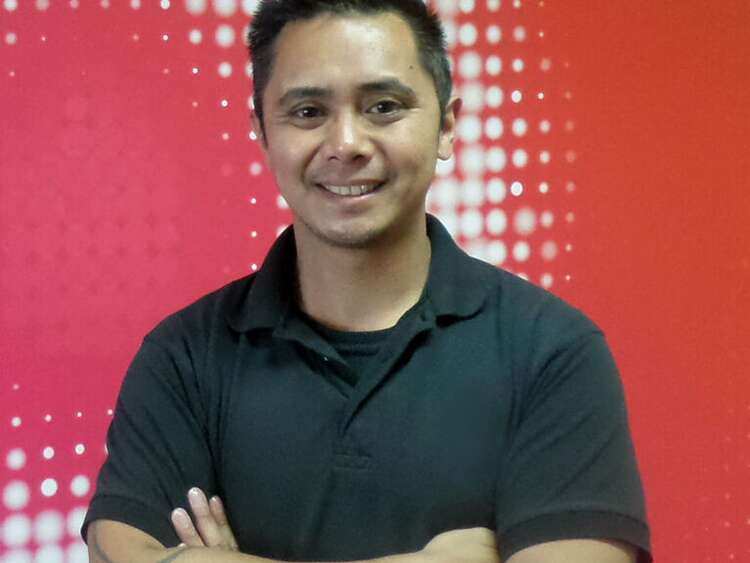 Staff Spotlight: Aura Brand Solutions' Creative Design Manager
April 26, 2021
A lot of hard work goes into visualising and creating top of the line graphics, and at Aura we don't like to just render basic designs or play it safe. We like to make our designs unforgettable – we can recreate a client's requirements in the perfect layout, or even produce original commissioned design work that transforms a brand in an instant. That's where our design team comes in.
Filled with creative wizards and inventive design architects, it's an integral component to the structure of our entire company, and the service we provide. And at the head of this team sits Mark Cawood.
Mark is our resident Creative Design Manager, and all round go-to guy for anything graphic design related. He's worked with us for 16 years, based in our Lowestoft office, and heads up our extraordinarily busy design team to create sharp, eye catching graphics and original, comprehensive design solutions.
Very friendly and incredibly knowledgeable, Mark typically has a lot to take on. 'My duties include converting requests into innovative designs,' he mentions, adding his typical day-to-day includes, 'liaising and meeting with customers - as in designers, marketing departments, and brand managers - as well as creating artwork that's both on-brand and on-trend'.
Having previously studied music at college, Mark knew that his calling was working within a creative field. 'I've always had a keen interest in art and design for as long as I can remember. When I was a child I always really wanted to be an architect or graphic designer and this, combined with my music studies, eventually led to a job in the radio production industry. While I was there I did a lot of arranging and producing ads, sports news bulletins, and shows for many local UK radio stations'.
Mark always knew that his calling was working within a creative field...
His work in the radio industry lit a creative fire inside him and pushed him to apply for more design-based jobs. Which is what led him down the path to joining our ever-expanding team.
When speaking about what made him want to join Aura he said, 'One of my duties at my previous job was designing and managing the company's website and online material, so this led to my application for the post of Studio Technician all those years ago'. And an extra perk that made him go for the job? 'It was a 10 minute walk from home!' he jokes.
Although graphic design is primarily reliant on a natural flair for creativity, it's handy to have a pool of inspiration to pick from, although it can often be difficult to seek out. Despite this, Mark has several avenues that he goes down when looking for creative stimulation. 'My inspiration comes from many different sources,' he tells us. 'A lot comes from online platforms like Behance, but mostly from what I see around me like billboard, adverts, tv, and packaging'.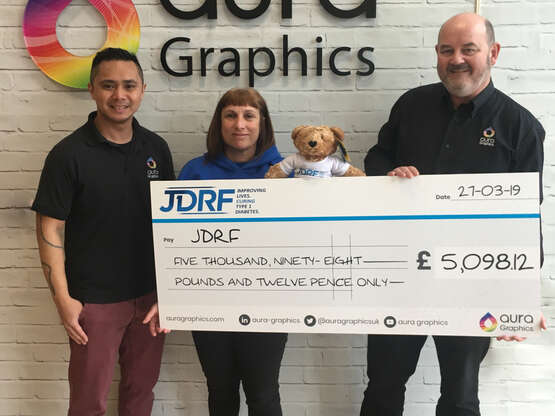 Mark presenting a cheque with Managing Director, David Sawbridge, to our 2018 charity of the year: JDRF
As with many of our staff members, there appears to be a common thread of what their favourite thing about working for Aura is. When asked, Mark's answer was no exception. 'It's got to be the people!' he states. 'There is such a diverse range of personalities here, so we can always have a good laugh'.
Not just a people-orientated business, there's no doubt that we're also always interested in leading the pack, and Mark was pretty clear about where he thinks Aura's future within the industry should be. 'It'd be great to not only be nationally renowned, but also have our design work globally recognised in areas like football stadiums, printed publications - even TV. It would also be interesting to explore the elements of 3D, VR, and AR a bit further'.
Finally, when asked what his ideal, dream job to tackle would be he responds, 'That's a tough one!', before mulling it over. 'Probably the next Norwich City home kit!'.
While everyone crosses their fingers for the chance at the next Norwich FC kit, we're also reminded that we are absolutely indebted to people like Mark and the entire design team for constantly elevating what we bring to the table of brand implementation.
The staff that make up Aura are a huge part of who we are – we are always pushing the envelope with dynamic designs and graphics solutions, and this is fully reliant on the expertise and innovation of our talented, passionate team driving us forward.
To find out more about the faces that make up Aura - or what we can do for your business - follow us on social media, or get in contact today!