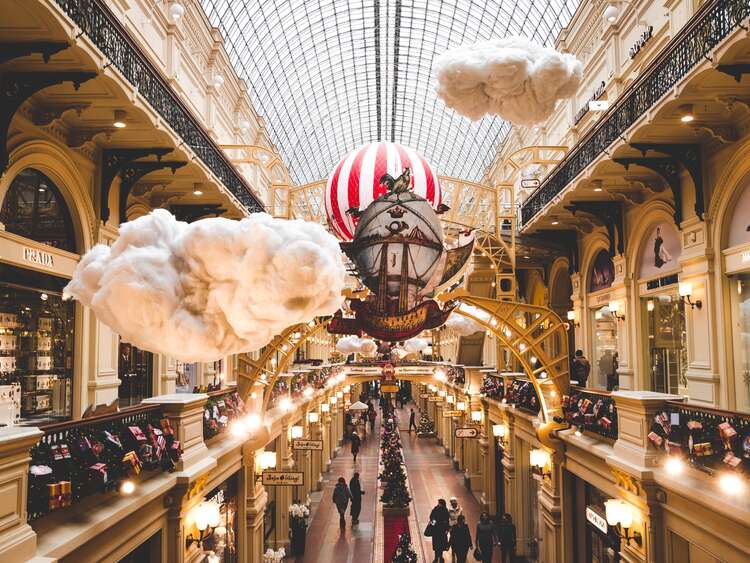 6 Guaranteed Ways to Increase Customer Footfall this Christmas
November 07, 2022
What is footfall?
Are you wondering how to make your store stand out and increase customer football this Christmas? Customer footfall is the number of people who enter your store in a given time – a number you want to grow in the run-up to Christmas.
So, you need to entice more people into your store to increase sales, but how do you do this? Competition is high during the festive period, meaning you need to set yourself apart.
Here are 6 guaranteed ways to increase customer footfall and boost sales. It's time to get your Christmas marketing strategy nailed down.
Create local promotions
You need to appeal to those who live and work in your store's area to increase brand awareness and loyalty. Create local promotions with bold signs that grab attention to put your brand in front of your target market.
Eye-catching signage and billboards are the best way to do this. Put them in high-traffic areas so people see them on their commutes.
By building up an excellent local reputation, word of mouth will spread about your store. Christmas is the perfect time to do this as people are in the mood to shop and spend more.
Transform your storefront
Catching the eye of passers-by is essential for getting people through the door. If your storefront isn't appealing, people will assume the inside isn't either.
Go all out and transform your storefront into a beautiful window into Christmas. Integrate branding elements such as wall graphics, window graphics and signage to create striking displays. Boost sales by incorporating your best-selling items in your window displays so they stick in people's minds.
Viewing Christmas lights and displays is part of the festive experience for most people. Capitalise on this by making your store a must-visit destination!
Get the edge on your competition by using digital signage in your storefront windows. Showing festive videos or creating moving displays will stop people in their tracks. Show in-store only offers and festive deals to bring people in.
Engage visitors with immersive experiences
People want an experience at Christmas time – it's up to you to provide one.
Combine wall, floor and window graphics complemented by a variety of signage to create a festive wonderland. Including Instagrammable displays where visitors can take pictures is a fun way to attract people into your store. Make sure your brand is clear for maximum visibility. You can organically increase brand awareness by encouraging visitors to tag you in their social media posts.
Using digital screens to create a video wall is a powerful way to make a lasting impression on visitors. Immerse viewers in your brand with engaging stories, product features and animations - the possibilities are endless.
Digital screens are also a great way to add an interactive element to the experience. Interactive signage is a value-adding tool which directly engages visitors in an activity. Touchscreen interactive displays let customers search for precisely what they want and can be used year-round.
You can use these to provide extra information about products and online ordering for items that are out of stock. By offering this in-store, consumers are more likely to purchase from you rather than go elsewhere for items they can't find.
Have a Christmas launch day for your store
A launch day is a fantastic way to attract visitors. Turning your store into a winter wonderland and having a big reveal will have people queuing at your door. Build anticipation for the event with plenty of advertising and consider offering a freebie such as hot chocolate or a mince pie for each visitor.
A fun experience is even more important for parents who often need to take their children shopping with them. They will appreciate in-store entertainment and will be more inclined to visit your store if they know it's available. Word-of-mouth will also spread among parents and further increase footfall.
If you want to encourage families to visit, include a Santas Grotto for children to book in with - customers will inevitably spend extra money around the store. A pop-up mulled wine stand is the perfect treat for adults. Locating entertainment towards the back of the store means people will need to walk past your sale displays, and it won't interrupt other shoppers.
Don't forget Christmas-themed wayfinding and promotional material to add the finishing touches.
Gifts
Christmas is the season of giving after all! Giving gifts to your visitors makes them more likely to shop in your store – people like the psychological effect of being rewarded. Discounts and offers are gifts you can give your customers for making a purchase. This will make them feel like they are getting something extra.
Loyalty cards with opportunities to win special Christmas rewards are another way you can gift your customers and encourage customer loyalty and retention.
You could even hand out flyers outside or put promotions in a magazine with a secret discount to bring people in.

Social media & QR codes
As mentioned earlier, leveraging social media is great for widespread brand awareness. Provide your social media followers with updates on your Christmas transformation, launch day and offers. Sponsored posts will help you reach a wider audience and drive traffic to your store.
Developing your social media presence and encouraging customers to post about their visit will bring more people through the door as consumers use recommendations, reviews and social media to make choices.
QR codes introduce another interactive element and increase customer engagement. Incorporating QR codes into your store or marketing materials provides a way to give customers extra information directly to their phones. These can be made into stickers to apply to walls, windows and stands or included in signage and displays.
Using 'Scan me for a surprise' or 'Scan to see today's deals' can be a successful way to encourage interaction. You could even offer surprise discounts or Snapchat filters for people to use.
Let's get started
Are you ready to increase your customer footfall this Christmas but don't know where to get started? We can help you with everything from signage, to wall wraps, to window manifestations. If you need promotional items, we can even arrange those for you too! Get in touch today.
Don't forget
Christmas branding doesn't have to be bad for the environment. We offer multiple sustainable signage solutions for interior signs and exterior signs to reduce the amount of waste produced.
Our RE:SIGN service allows us to use your existing hardware to make new signage for temporary and long-term branding. The content on digital screens can be instantly changed at the click of a button, meaning zero waste but endless advertising possibilities. Make your business stand out with sustainable solutions.