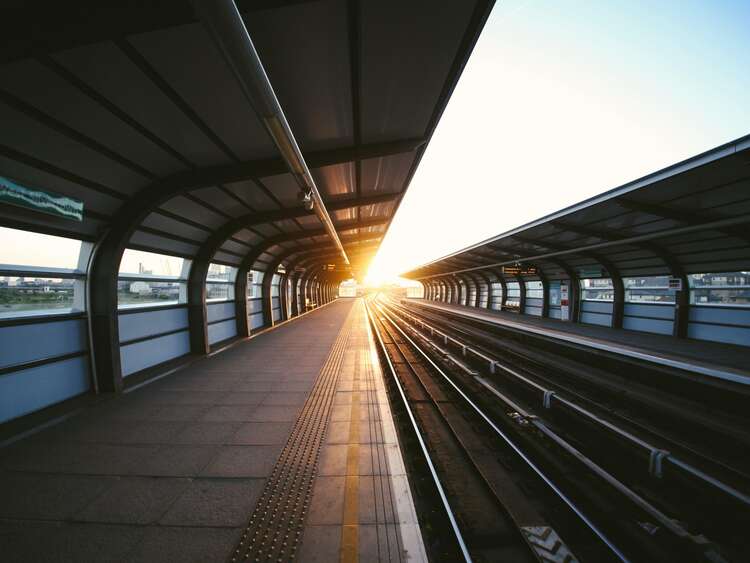 How to Keep Your Rail Customers Safe as They Return to Public Transport
February 01, 2022
The last couple of years have not been easy for many sectors, and one of the industries that has particularly suffered is the transport industry. Back in 2020, the prospect of hours of cross-country travel by train or bus seemed completely at odds with social distancing, prompting a lot of commuters to opt out of any kind of public transport.
With better times on the horizon and a slow resurgence of some form of 'normalcy', many are beginning to gradually use public transport again – particularly trains. However, while many passengers are now tentatively returning, how do you safeguard your company and ensure a smooth transition back into the world of rail?
At Aura, we work extensively with multiple industry-leading rail operators to keep their rolling stock in pristine condition, offering them a variety of products and options that guarantee the utmost safety and hygiene for staff and passengers alike.
Here are a few ways that we can help you protect your carriages and platforms and get your passengers back on board!
VIRUS GUARD
With inadequate hygiene measures being one of the main concerns with the return to rail, getting the balance right between keeping your carriages clean and wasting excessive money on drawn-out sanitisation programs is incredibly important. Luckily, it doesn't have to be a hassle with Virus Guard.
Our industry-leading Virus Guard protection is scientifically proven to eliminate 99.9% of all bacteria and viruses. Giving you, your staff, and customers complete peace of mind when travelling by rail.
Offering an impenetrable ceramic layer of protection for your surfaces and fabrics, Virus Guard is guaranteed to powerfully prevent the spread of germs and harmful microbes. The coating can easily be applied to almost all touchpoints, including bathrooms, seating, handles, rails, or keypads.
This product has endless benefits, including a reliable lifespan of up to three years which helps you cut back on extortionate costs that you would normally spend on daily cleaning products.
Virus Guard is the ideal solution for all rail operators looking for a cost-effective way to reassure your customers of the safety of your services, and ward off harmful viruses - especially in the colder months of the year when bacteria can spread faster.
Read more about Virus Guard HERE and get in touch with us today to see how we can help you make Virus Guard your go-to protective shield.
SEAT COVERS
Overcrowding in rail carriages is a primary concern for people returning to public transport. No one likes feeling like they're packed in like sardines when they're on a train, but giving other passengers space can be difficult when there is no extra space made available!

Making sure that there is distance maintained between passengers on long journeys can lead to greater journey satisfaction, and Aura's bespoke seat covers can solve that problem for you. These premium, sturdy seat coverings are designed to help maintain social distancing in seated areas and allow for passengers to feel at ease if the train starts to get a bit more crowded at each station.
Due to their resilient material, these seat coverings are suitable for both indoor and outdoor use and can be made to replicate any design, colour, or particular branding that you require. Our seat covers are manufactured to the utmost standards and are made to suit specific seat sizes or dimensions, including a double-sided option that can be viewed from the front and rear of seats.
Easy to use anywhere, they can be fitted with the help of a fuss-free, heavy-duty elastic strap, which will help you cut back on costs of laborious installation. With a product weight of less than 100gsm, this lightweight material also allows for a loose or tight fit and complies with rail fire-rating requirements.

SOCIAL DISTANCING GRAPHICS
Since early 2020, Aura has been championing the use and production of social distancing graphics and markers. Now with the easing of most travel restrictions, it is still imperative to maintain some level of distance from others when in busy public spaces.
We have every type of social distancing graphic that you may need to keep your passengers and colleagues safe and encourage commuters to be aware of their surroundings when in confined spaces with others.
These social distancing graphics can be used in/on every space imaginable, including station platforms, carriage interiors, partitions, and bathrooms. All our graphics are printed and designed in-house, to make sure that you have the level of quality you are after and that they are made to your exact specifications.
We also offer floor graphics, which can be printed to any shape and feature a non-slip protective laminate, giving you added safety when commuters are passing by. All our graphics are easy to apply and can be implemented by our quick installation service.
Get in touch with us HERE about our social distancing graphics and give your passengers a sense of security when they travel with you, to make their journey more enjoyable!
STATION SIGNAGE
Safety and hygiene in rail are not just limited to your carriages or rolling stock – keeping your customers safeguarded and informed while they're waiting for their train is just as important!

A simple and effective way of achieving this is through signage in your waiting rooms, on your platforms, and in your employees' break rooms. Aura's countless signage solutions can help you protect individuals in environments where they are in close proximity with other commuters, or are looking for information to help them get to the next stage of their journey.
Some of the signage that we provide can come in the form of:
A-Sign boards
Eyelet Banners
Floor signage
Pop up Banners
A-Boards
Barriers
Tents
Sentry Signs
Digital Signage
Signage is a practical way of displaying your safe working practices, hygiene procedures, instructional information, and wayfinding. Directing your passengers through the station with signage can also help to eliminate overcrowding and improve your facilities' accessibility.
We also have options that can help you future-proof the distribution of station messaging – namely our diverse range of digital signage.
This form of signage can act as a proactive means of engaging with your customers without the need to constantly replace your signs. A huge benefit is that they can be programmed remotely or on a timer, meaning that with the click of a button you can change or update your signage to reflect seasonal messaging or up-to-date guidelines.
These digital billboards get your message across without the extensive costs and manual labour that come with a high rotation of physical signage. Making things easier for both you and your passengers!
Keeping rail commuters safe, secure, and informed is guaranteed to ease the potential stress of returning to public transport. The easier their journey, the more likely they will be inclined to use your service.
Get in touch with us today if you're looking to get your rail services fully operational again. Our solutions can help ease the valid concerns of hygiene, social distancing, and guidelines among commuters, and get you back on the fast track to success in no time!