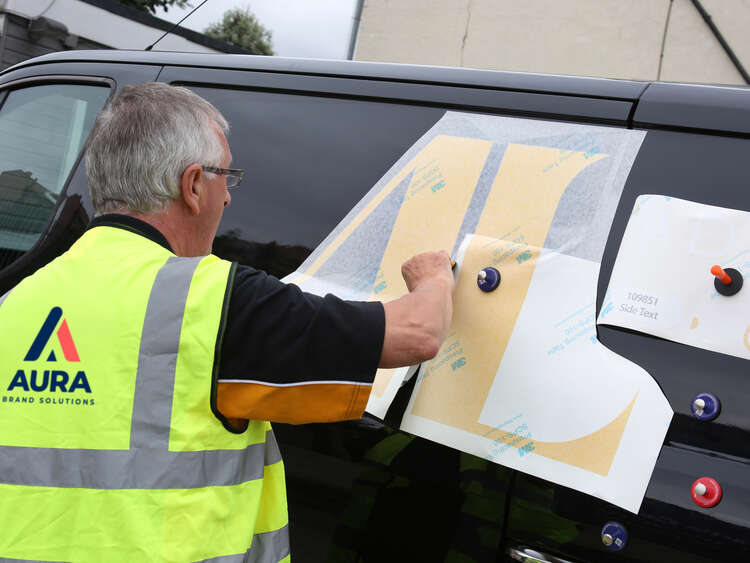 How to Magnify Your Fleet's Potential With a Livery Refresh
July 28, 2022
Are you wondering how to magnify your fleet's potential?
As the second half of the year is well underway, now is the time that most brands start to assess their livery and see whether it's up to scratch.
Livery refreshes in the second part of the year are quite common for businesses as they've been known to have many benefits aside from a flashy new look.
Let us walk you through how you can magnify your fleet's potential with a livery refresh and how to harness the change to your advantage.
Why is keeping my fleet up to date important?
Research has suggested that more than 3,000 people per hour see a liveried vehicle operating in a busy area, meaning that your fleet offers the perfect advertising opportunity.
A branded vehicle typically generates around 30,000 to 70,000 daily impressions, which makes them more effective at reaching customers than traditional advertising like TV or radio. This shows the full scope of your fleet's potential for grabbing attention wherever it goes. Not only does that make it a constant advertisement when it's on the go, but also when it's stationary.
Refreshing your existing livery bumps up your brand's presence overnight and boosts your marketplace profile in an incredibly cost-effective way.
It also shows your customers the level of professionalism they can expect from you. If they can trust you to look after your own brand, they'll feel more comfortable trusting you to look after their needs.
Keeping your fleet modern turns it into a mobile billboard and helps you navigate new branding trends - setting you apart in a crowded marketplace.
What are the benefits of a mobile billboard?
The advantages of proactively keeping your business contemporary with a fleet refresh cannot be underestimated.
Turning your livery into a mobile billboard has the power to draw in customers like never before. Not only is it effective advertising, but it's also a form of advertising that is well received by consumers. Unlike traditional adverts, fleet branding is a non-aggressive marketing approach.
It acts as a subtle subconscious reinforcement of your brand, without being obstructive to passers-by as it does not interrupt the flow of their daily lives.
If you get it right the first time with the right branding company, it can also save you a lot of money down the line. If you invest in it properly, you'll only have to do it once every so often.
The benefits of a livery refresh include:
Boosting your brand's visibility on the road
Attracting new customers
Turning current customers into brand loyalists
Generating a significant number of inquiries
Acts as a constant brand ambassador
Solidified identity cohesion and presence
Conveying brand morals and vision
Getting the word out about your brand/business
Showing what sets you apart from your competitors


How to know if it's time for a full livery refresh
It's essential to stay on top of your livery's quality. It can be easy to let it slip if don't monitor what shape your fleet is in.
The 'refresh instead of replace' approach is much better in the long run and far more cost-effective. Refreshing your films and wraps once every so often is vastly cheaper than replacing your entire vehicles!
Aside from wanting to try out new branding or significant time passing since your last refresh, there are some clear signs that it's definitely time to revamp your fleet.
If you start to notice that the vehicle film or material is wearing off, your vehicle's branding has gone past the point of being fit for purpose. At this point, it can be risky not doing anything to remedy this as it has the potential to make other fleets look more professional than yours.
You may start to feel as though your brand no longer reflects your vision or company values, which can lead to a shaky brand presence.
It can be tempting not to spend much money refreshing your livery as often as you should, but ultimately the long-term costs of neglect are far greater than the short-term costs. Not only will you spend more having to overhaul your entire livery, but you may also notice that the lack of brand cohesion leads to a dip in customer inquiries.
This ultimately can lead to dwindling profits and your competition overtaking you. All things that are best avoided from the offset.
So, if you're now starting to realise you're overdue a livery refresh, where do you go next?
Well if you're ready to go, we're here to help!
Aura Brand Solutions are vehicle rebranding and fleet refresh experts, with decades of experience bringing brands to life for some of Europe's biggest companies.
Take a look at some of our fleet expertise HERE and get in touch today to see how we can help you make the most of your livery refresh!