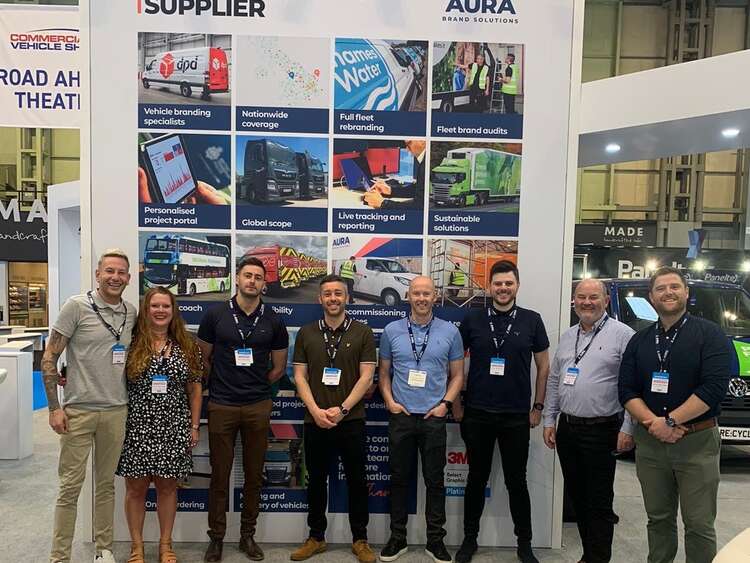 Aura exhibits at The Commercial Vehicle Show
May 04, 2023
Aura Brand Solutions exhibited at The Commercial Vehicle Show for the 2nd year running, following last year's hugely successful event. The Commercial Vehicle Show is an annual fixture in the diaries of all key operators in the sector, making it an unmissable event. Aura considers the event to be a valuable networking opportunity, connecting with many individuals from various organisations within the industry over the course of the three days.
The event was also an excellent opportunity to showcase Aura's most recent developments and innovations. Among these was the newly unveiled AuraSwitch interchangeable branding solution, the AuraDisplay integrated digital screens and, of course, the iconic RE:CYCLE service. With each providing greater advertising scope whilst being more sustainable than a standard vehicle wrap, Aura can provide something to meet the requirements of every fleet operator.
AuraSwitch, AuraDisplay and RE:CYCLE were proudly showcased on the electric Aura van present on the Aura Brand Solutions stand. In summary, AuraSwitch provides customers with the opportunity to switch out messaging on their vehicles, making it perfect for seasonal and promotional campaigns. It's paired with a data-driven marketing assistance programme which uses a tailored predictor system, facilitating informed and quantifiable marketing. Alternatively, customers can display real-time marketing communications anytime, anywhere with AuraDisplay. It can be integrated into vans and instantly updated to embrace the highly effective medium of Digital Out-of-Home.
A prevailing highlight was RE:CYCLE, pioneered by Aura as the UK's first recyclable solution for PVC vinyl liveries. RE:CYLE is a service providing liveries that are recyclable at each stage of the brand life cycle (production, installation & decommission) and, crucially, zero waste to landfill.
Sustainability continues to be a driving theme for Aura in 2023, and The Commercial Vehicle Show was the perfect place to share our commitment. The branding solutions we demonstrated at the show echo our focus on reduce, reuse, recycle, and our efforts to extend this ethos to our customers.
The scope of electric and sustainable commercial vehicle innovations exhibited at the show was impressive, and the positive direction the future of fleet is taking is incredibly exciting. A notable exhibit was the hydrogen truck on display from Hydrogen Vehicle Systems (HVS). Innovation and technology such as this has the potential to revolutionise transport, by decarbonising fleets. As all HGVs must be zero-emission by 2040, a green alternative with a long-range must replace fossil fuels. Hydrogen vehicles will reduce greenhouse gas emissions and give us a better chance of halting the effects of climate change as they become more widely adopted.
The Aura team had a great time meeting new people and spending some face-to-face time with our current customers. It was great to see so much interest in our sustainable livery solutions!