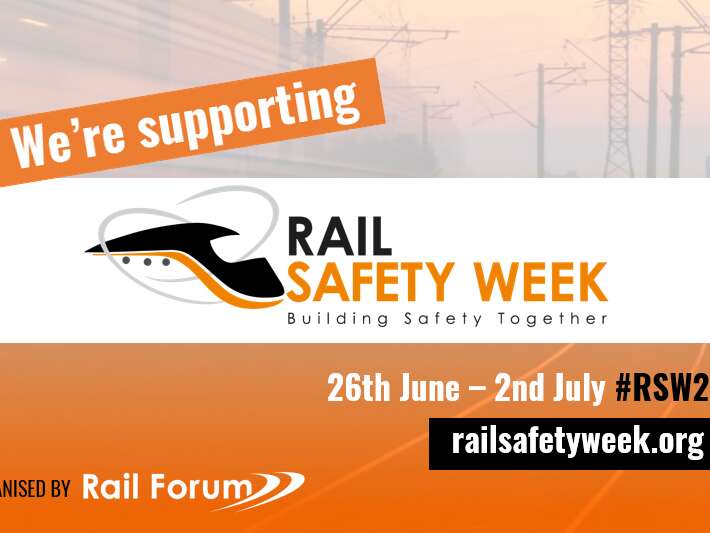 Rail Safety Week - An interview with our Health & Safety Manager, Bernie Daley
June 22, 2023
We're kicking off Rail Safety Week with an interview with our Health & Safety Manager, Bernie Daley, to provide clarity around H&S at work, on track and at Aura.
Bernie joined us at the end of 2022 and is an extremely valuable member of the Aura team. As H&S Manager, Bernie's job is very varied - she works across the entire business, ensuring the safety of everyone at Aura and beyond.
Despite being in the UK for over 24 years, Bernie still has a strong French accent. She lives on the edge of the Peak District, where she's likely to be found exploring at the weekends unless she's crewing an ultra event.
How long have you worked in the industry?
I have worked in health and safety roles on and off for over 15 years. My background is in civil engineering, particularly utilities, road maintenance and design. I worked for consultants on drainage and sewerage projects, both in the office and onsite surveying. I then began a full-time role in health and safety for a group comprising a facility management business combined with an access hire company specialising in truck mount MEWPS and contract lifting.
What inspired you to pursue a career in health and safety?
I experienced the impact and importance of health and safety when processes were not followed at one of my former employers, with consequences for a lot of people, including myself. It made me think there must be a different way of doing things. I then did my NEBOSH General & Construction certificates while continuing work in various consultancies on sewerage projects before I started to switch to a more health and safety-orientated role. I eventually became a full-time H&S manager after acquiring health and safety experience in parallel with my job and studied for the NEBOSH diploma in occupational health and safety.
Can you explain a bit about what your role is at Aura?
My job title is Health & Safety Manager, and I am part of the compliance team. It's a team role where collaboration is essential.

We look at risk management across the business, from health and safety to environment to quality and their potential impact on the business. Our role is to support the business from advice to coaching while ensuring the business is compliant with its legal obligations and coaching people on how to achieve this.
We also lead the certifications process, such as ISO 9001 & 14001 maintenance. We are currently implementing ISO45001-compliant management systems with an objective of getting certified in October 2023 while looking at Ecovadis (supply chain sustainability certification), which we are aiming to obtain by the end of June 2023.
Continual improvement, regular communication and coaching are the main operating processes within the compliance team.
What key skills have you developed over your career so far?
Problem-solving, understanding the wider context of a problem so you can ask the right question at the right time, negotiation, agility, adaptability, communication at all levels in various formats, and coaching are some of the skills i've developed and continue to develop in my role.
Learning is key to being able to serve the business and positively impact people.
What are the most challenging aspects of your job?
The misconception people have is that if a job requires RAMS or if the words health and safety are mentioned, then people automatically assume it's just my responsibility. While in reality, RAMS are better written in collaboration with the people who plan and do the job so they reflect the way the work is done, as opposed to the way the job execution is imagined.
What's your favourite thing about your job?
People and the conversations that start with health and safety but lead to mental health, well-being, learning, etc. The coaching aspect of my role is what I enjoy the most. I am aiming to improve the organisation and the people by building capacity and agile learning culture.
How do you overcome obstacles?
By taking time to reflect on and understand the issue.
It means learning to slow down and not react too quickly when an issue arises. It also requires self-awareness to be able to recognise when you are not reacting in the best way, especially when you feel you should have done better.
Health and safety issues can very quickly lead to blame culture and trying to find quick-fix solutions that may not serve the organisation best - they may alienate people instead of understanding how we got to that situation in the first place and what processes contributed to the issue.
What are some of the rail-specific health and safety precautions everyone should be aware of?
Train movements and overhead lines are, for me, some of the main specific hazards to look for. We work closely with our customers to ensure that our teams understand the depot-specific safety rules and control when train movements are happening, how to work in depots where overhead power lines (some of which can be 25KV) are present, and how to protect themselves.
Practically it means applying the lock on the tag on processes and following the permit-to-work system, requesting isolation of overhead lines when work is above the CANT line or the safe distance to the overhead lines and selecting equipment that is nonconductive or using the depot bespoke access equipment designed to allow access while staying below the threshold level.
How do you stay up to date with the safety regulations and innovations?
I hold a professional membership of IIRSM (International Institute of Risk & Safety Management), which gives me access to regular updates on legislation and is a platform to exchange ideas and learn from risk management professionals from all over the world. I have an assigned mentor with whom I am in regular contact, and I regularly attend webinars and learning sessions tailored to my role.

The role of Health and Safety Manager is not the easiest job, but Bernie takes on the challenge every day, collaborating with, and educating the rest of Aura to ensure we're always operating in the safest way.