Branding and enhancing the exterior and interior surfaces of rail rolling-stock using high performance self-adhesive films and printed graphics helps create a consistent and improved passenger experience.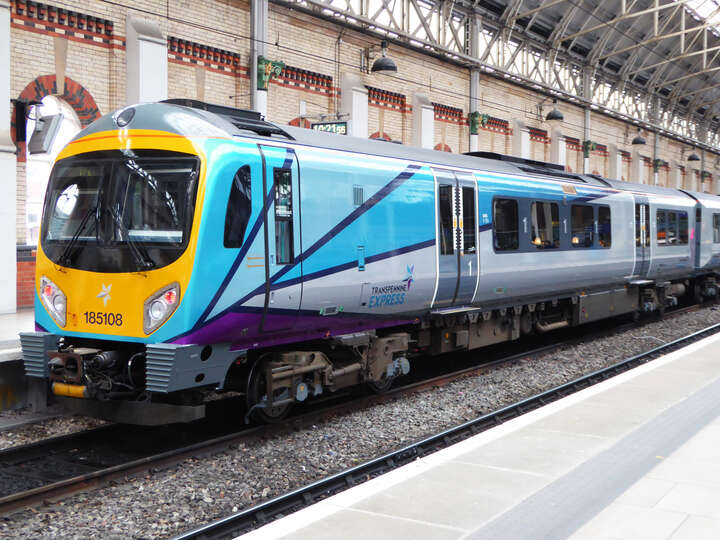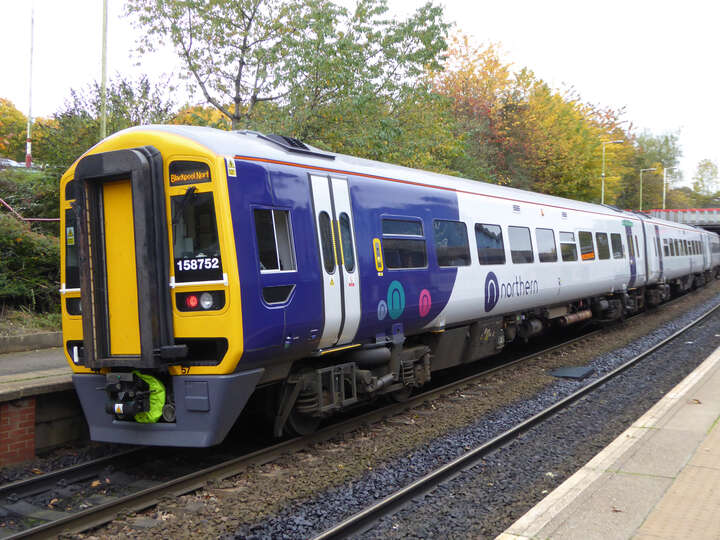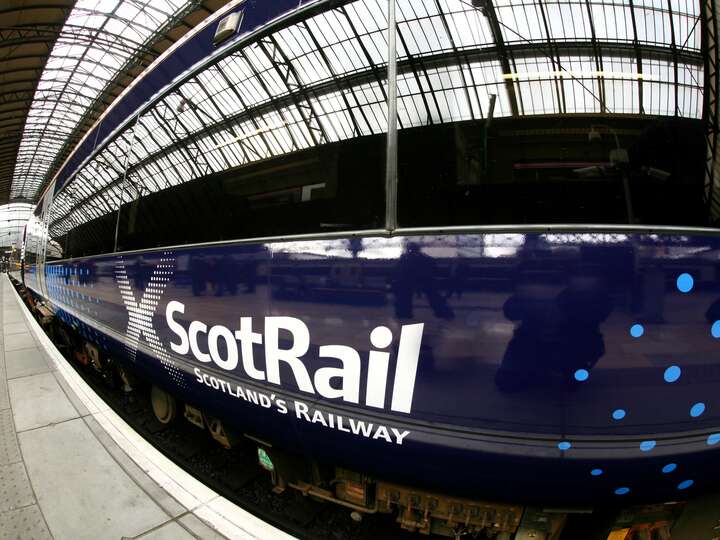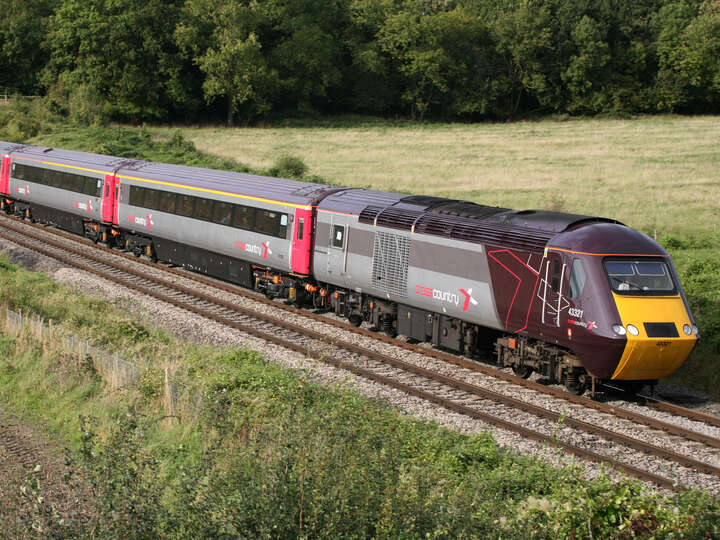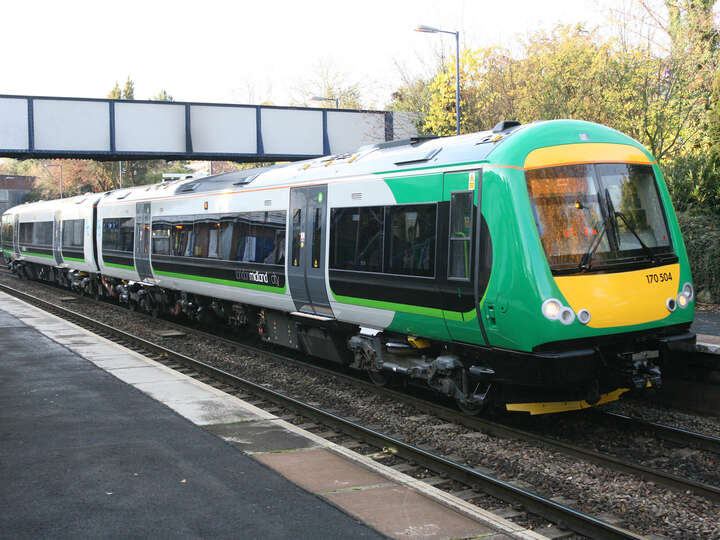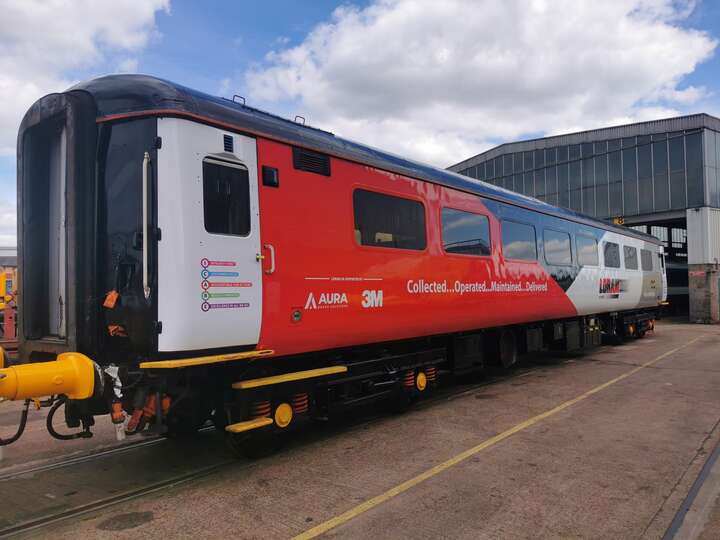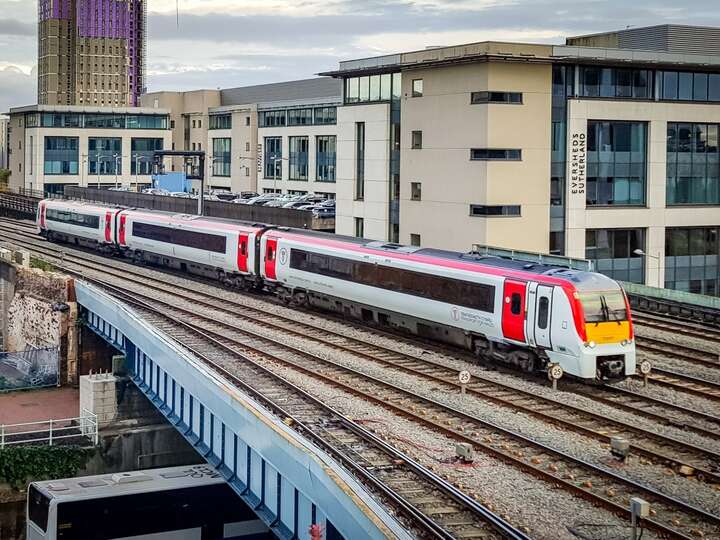 Corporate rail livery & branding
Ensuring a consistency across your fleet that preserves the integrity of your brand is easily achieved using our expert rail livery services.
Having managed livery changes for many of the UK train operator franchises, we have a proven track record in implementing rail rebranding projects.
Demanding schedules, safety critical operations and high quality standards are all met with our focus on careful planning and project management, as well as excellent product performance and workmanship.
From initial livery design phases to on-going aftercare, our experienced rail project team work closely with you and your partners to implement your brand identity. Combined with our rail refurbishment services, we ensure your livery looks first class everyday. Expertly managed. Carefully delivered.

Need rebranding and livery maintenance services for your trains, tubes or trams?
Talk to our rail team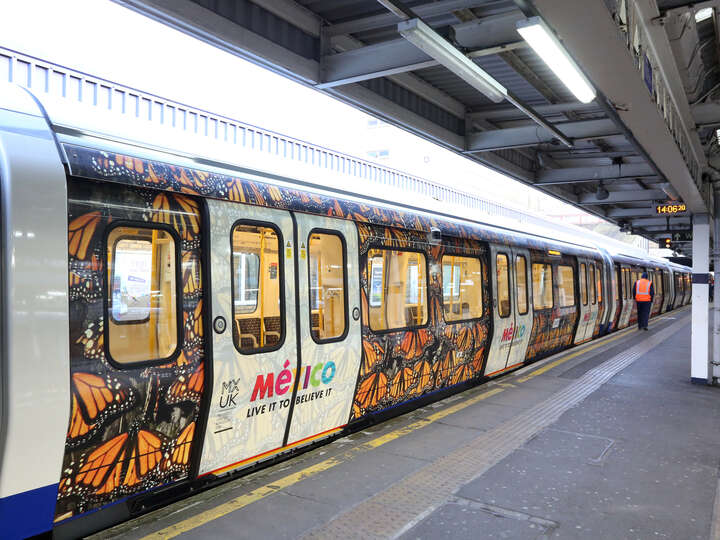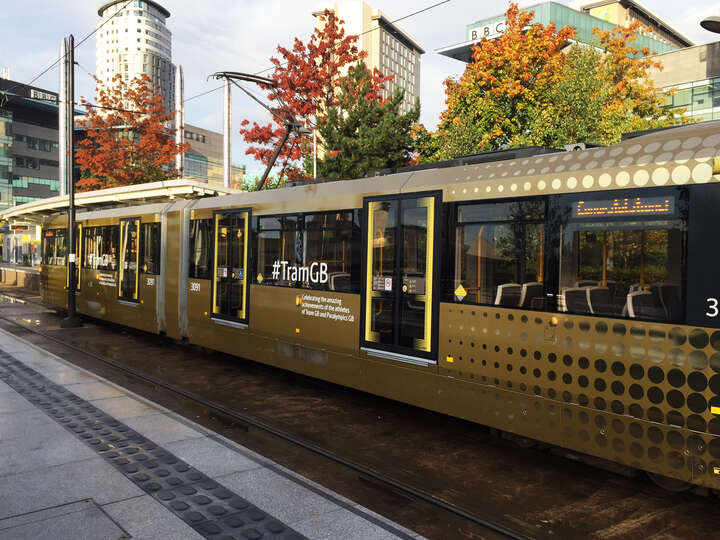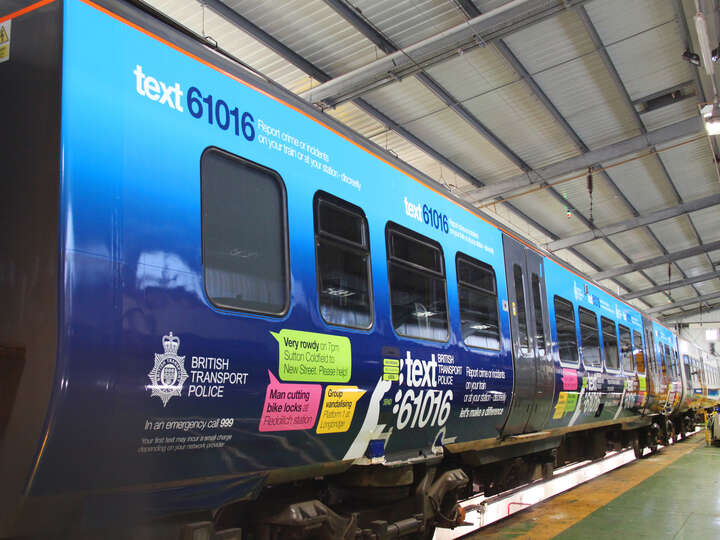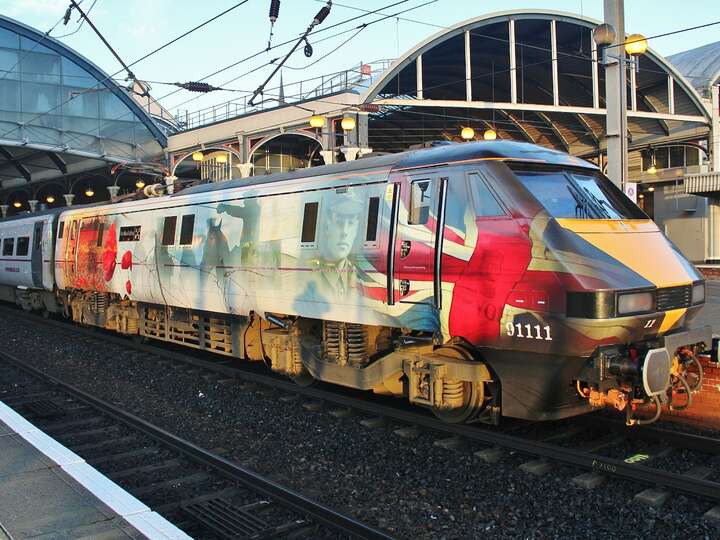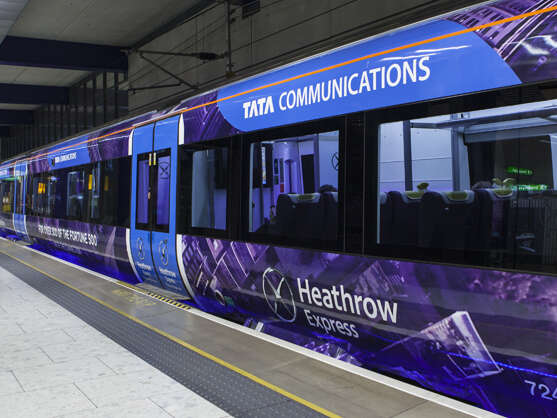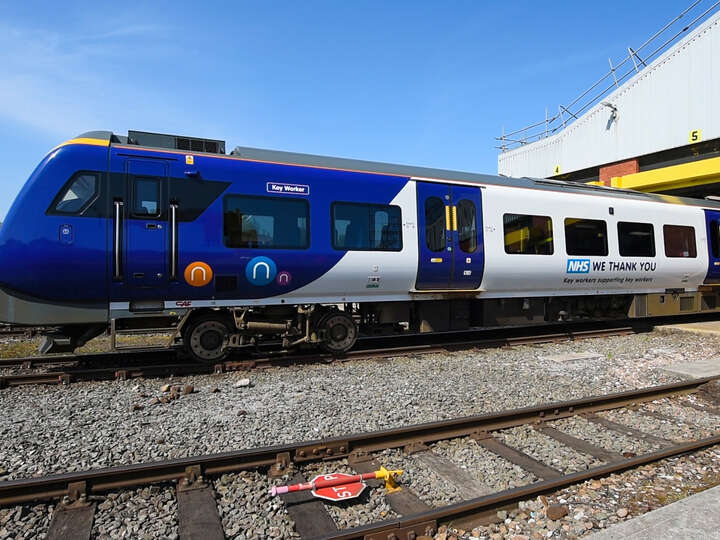 Promotional train wraps
We've led the way in the production and installation of eye catching wraps for trains, tubes and trams in the UK, working on some of the most memorable projects over the past 20 years.
We help operators use promotional train wraps and graphics to communicate service and corporate messages to passengers, promote sponsorships, community projects, events and drive awareness for good causes. In addition, we help outdoor media agencies deliver memorable and high-impact advertising campaigns for large commercial brands.
Our approach blends the best of marketing and engineering, providing a full service offer from creative design assistance to removing the wrap and reinstating corporate livery at the end. A solution that is built around safe working, minimising disruption and one that looks great for the life of the campaign.
Talk to our train wrap specialists about your project
Get in touch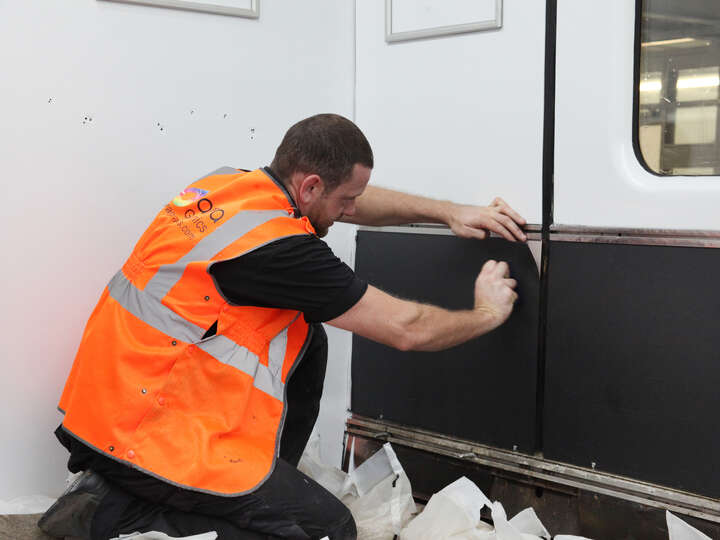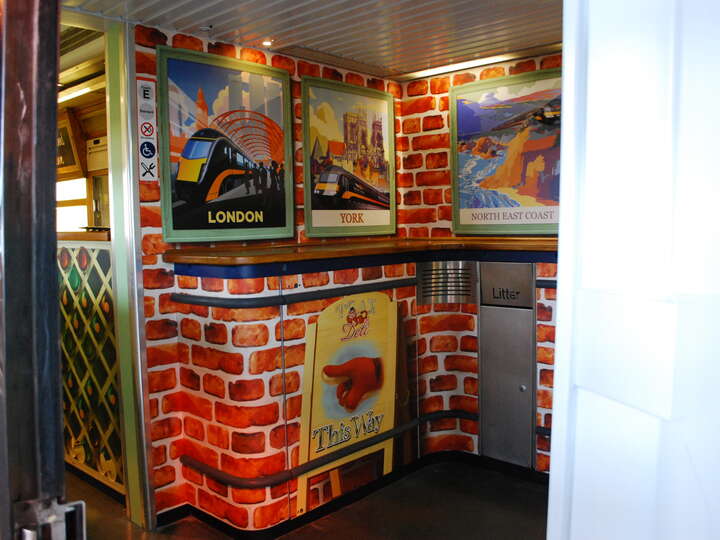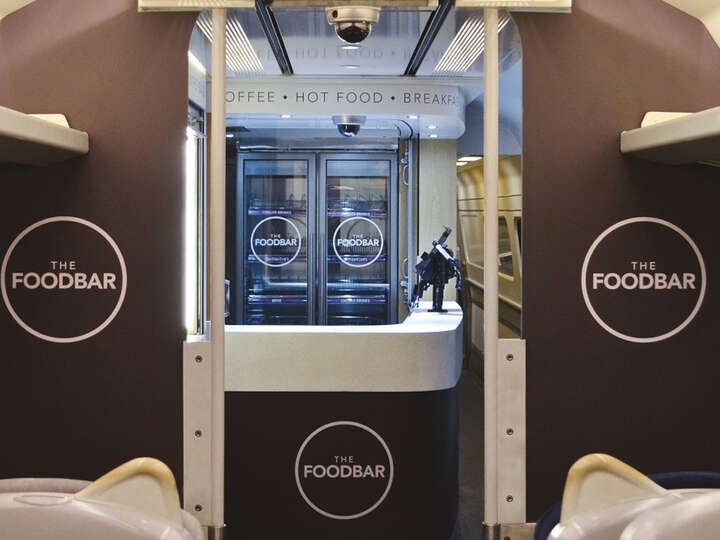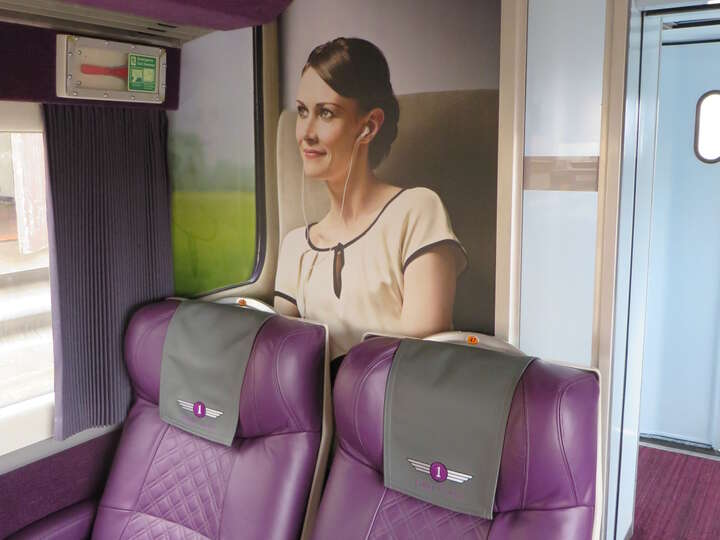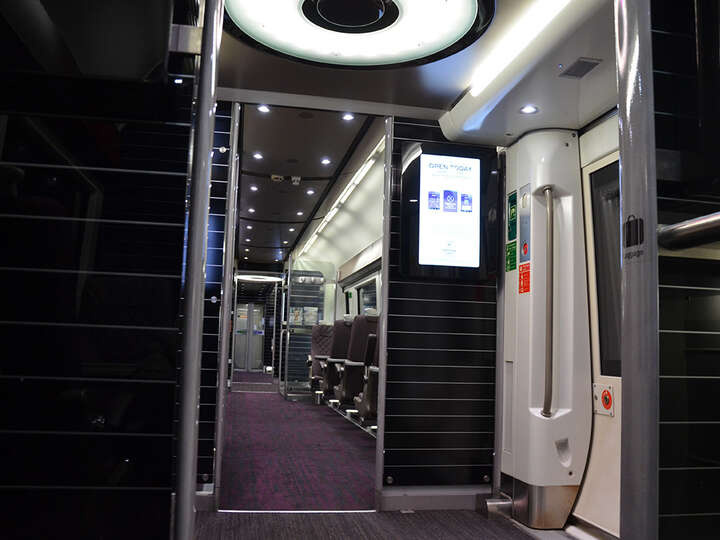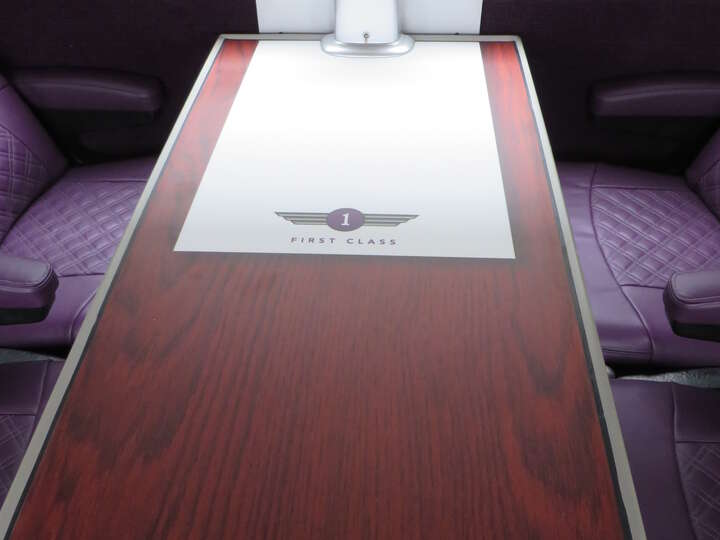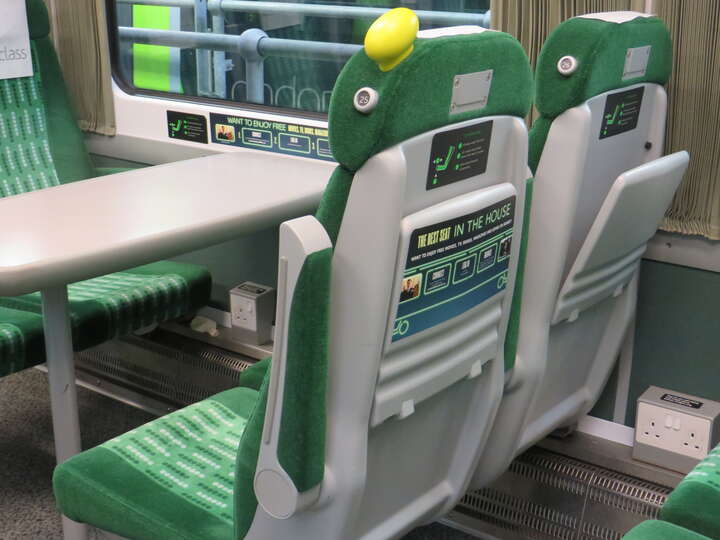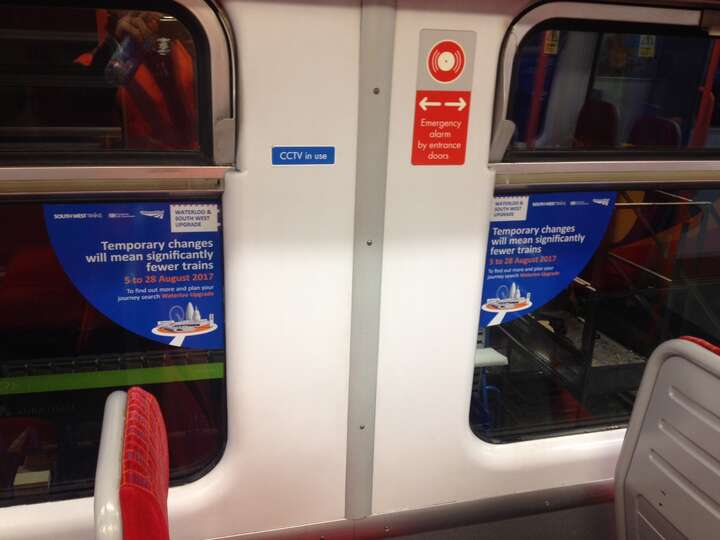 Graphics & surface films for rail interiors
We design, make and install printed, patterned and decorative surface covering films, perfect for enhancing rail interiors to give passenger environments a new lease of life.
The use of graphics for corporate branding, promotional messages and improved customer information can all be achieved with new levels of creativity.
From full interior branding to seat back & window advertising, we implement long and short-term solutions with speed and efficiency, allowing you to quickly and cost effectively refurbish, enhance, brand and protect your rolling stock assets.
We use products like our hard wearing printed laminate, AuraFlex™, along side durable paint finishes, as part of full interior refurbishment and carriage refresh programmes.
Vestibule areas
Dado, bulkhead, ceiling & panels
Buffet areas
Sleeping compartments
Toilets
Luggage racks
Windows & glass partitions
Table tops & seat backs
Driver's cab
Let's transform your train interiors...
Tell us about your project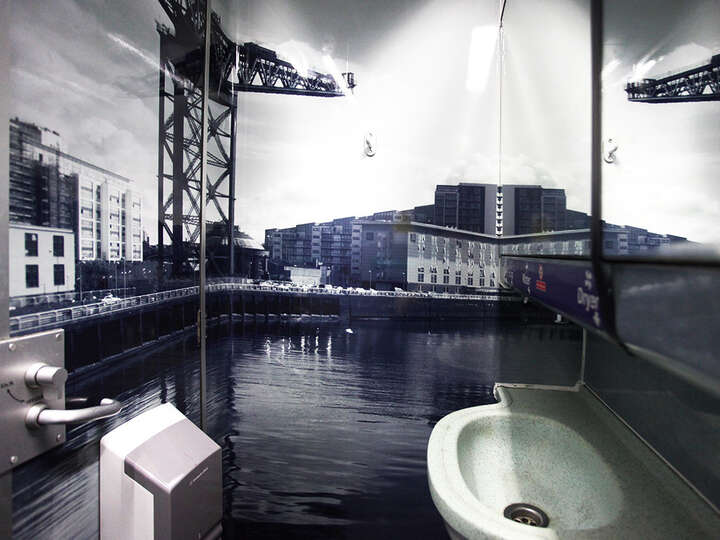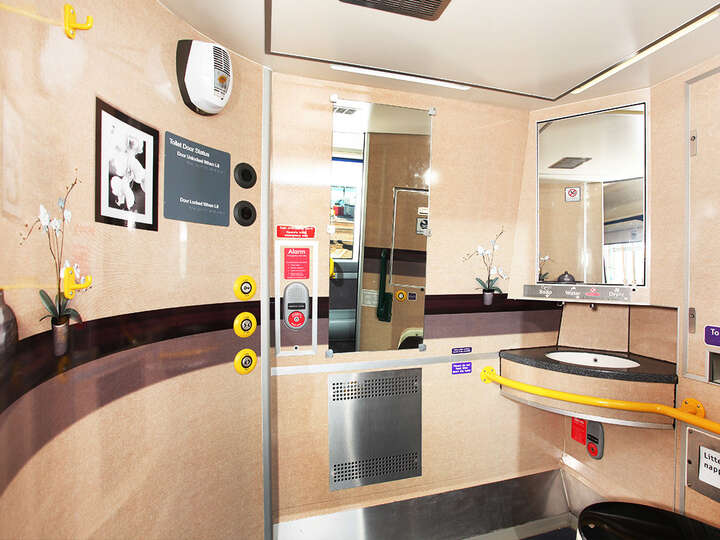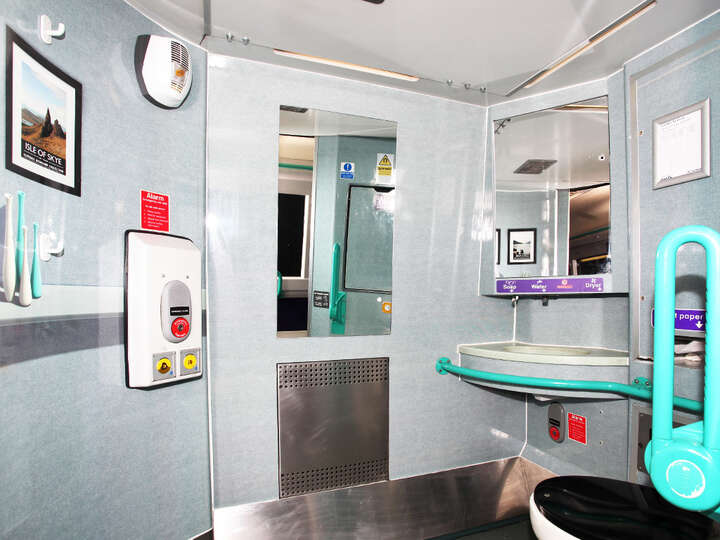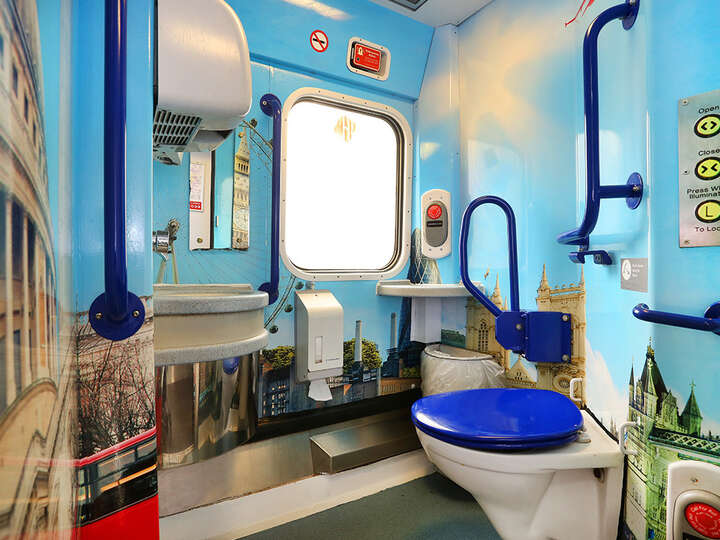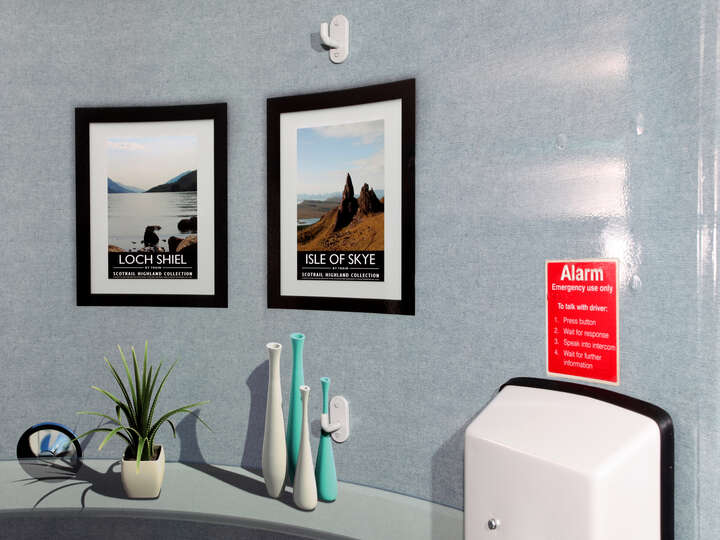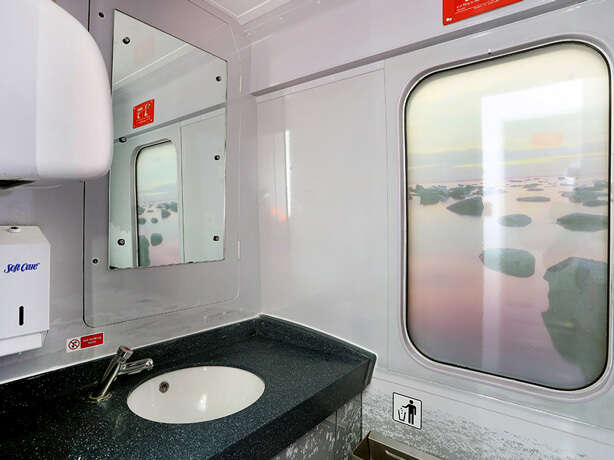 Train toilet wrapping & refurbishment
We brought the concept of using graphics to enhance toilet facilities on trains to UK train operators over seven years ago.
Often cited as a negative in the passenger experience, we can easily and cost effectively transform your train toilets to provide a positive impact on customer perceptions of your fleet, your brand and your service.
Using a combination of surface refurbishment and paint services with our rail compliant self-adhesive film solutions, we can help you brighten up these spaces in line with your brand. We'll create the design schemes for these spaces with your train presentation and branding teams, helping with DDA compliance. Prototype programmes are a useful exercise to get the best fit for your fleet.
Asset protection, anti-vandalism options and fire compliance are all taken care of with our tried and test rail graphics materials.
Want to improve your passenger experience?
Talk to our team today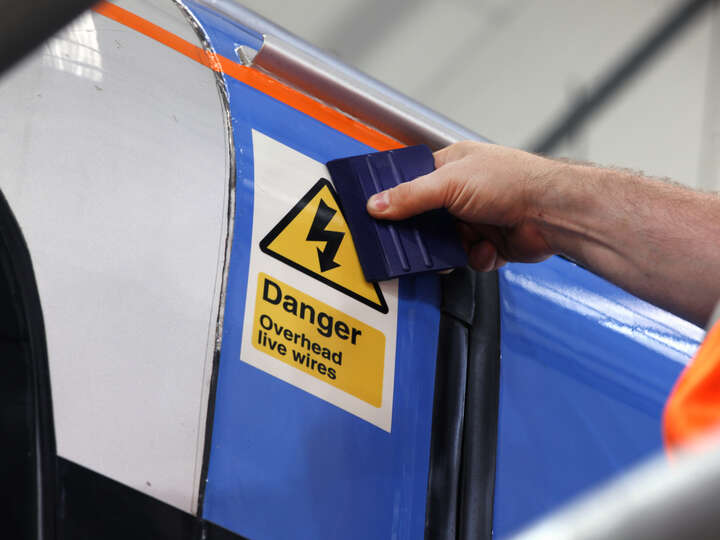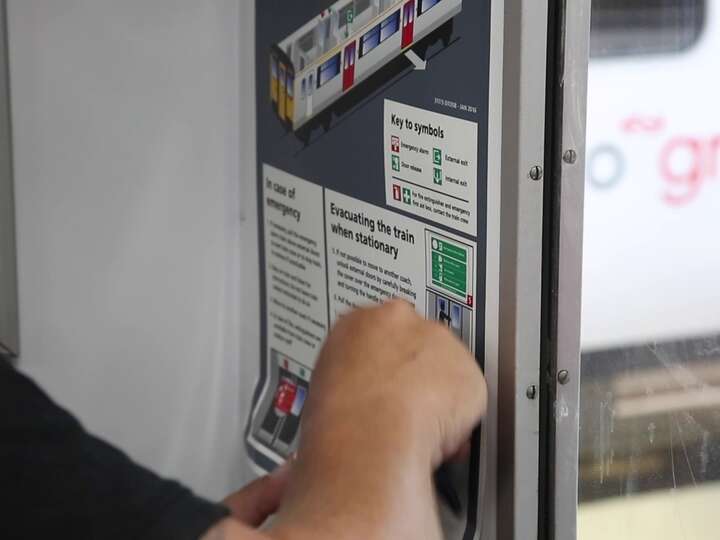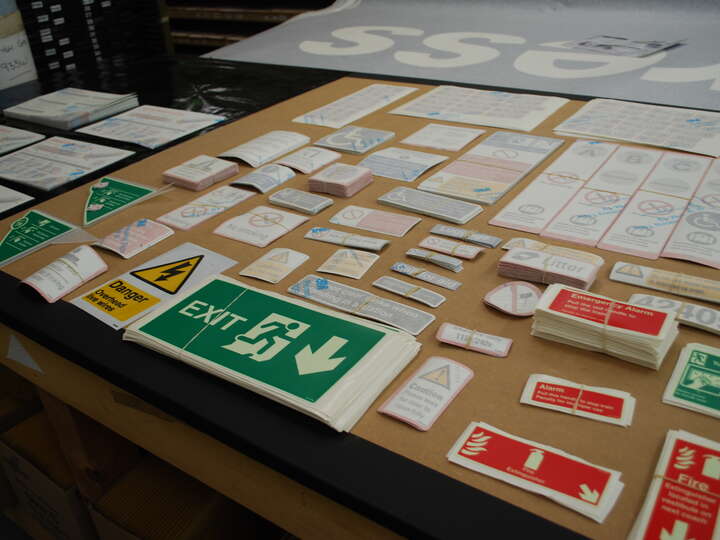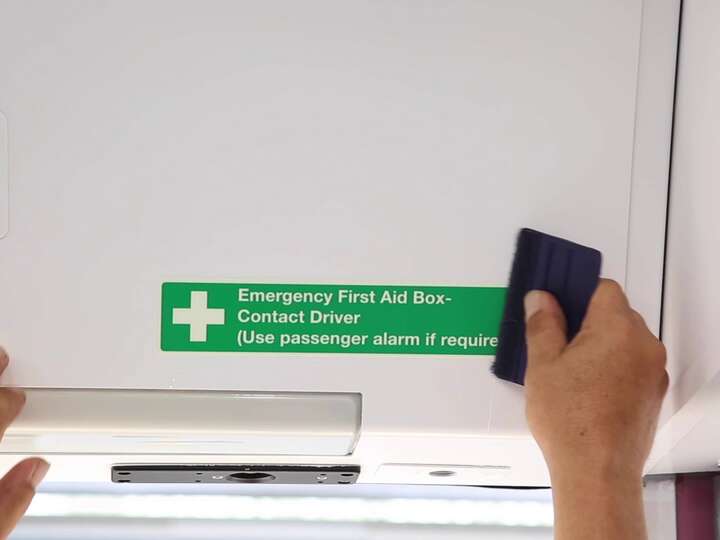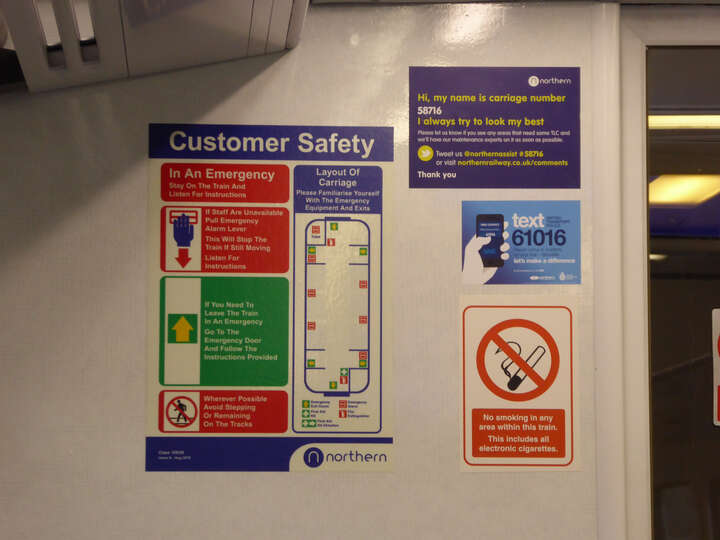 Rail safety labels & passenger notices
Passenger safety is paramount and keeping your trains, trams and tubes in service means all mandatory safety labels on your rail vehicles need to be present and correct, no exceptions.
We help you achieve this with our complete labelling solution that will assist in maintaining consistency and compliance across your fleet.
We produce mandatory and passenger information labels for both the interior and exterior of your trains, with options for both permanent and short-term applications in a range of specifications and finishes — all using durable and industry approved materials.
As well as helping design labelling to fit your brand and corporate colours, we catalogue label requirements to document type, position, specification, etc for each vehicle type and configuration, ensuring easy maintenance and ordering of replacement label kits or individual parts.
Keep your train moving with compliant train safety labels
Tell us what you need