Many national train operators and rail maintenance companies trust us to deliver high quality refurbishments on the exterior and interior of train, tube and tram rolling stock.
Turnkey rail refurbishments & enhancements
Whether it is part of a franchise change, fleet rebranding, scheduled refurbishment, ad-hoc maintenance or delapse programme, our rail refurbishment and refresh services are designed to be flexible to your needs.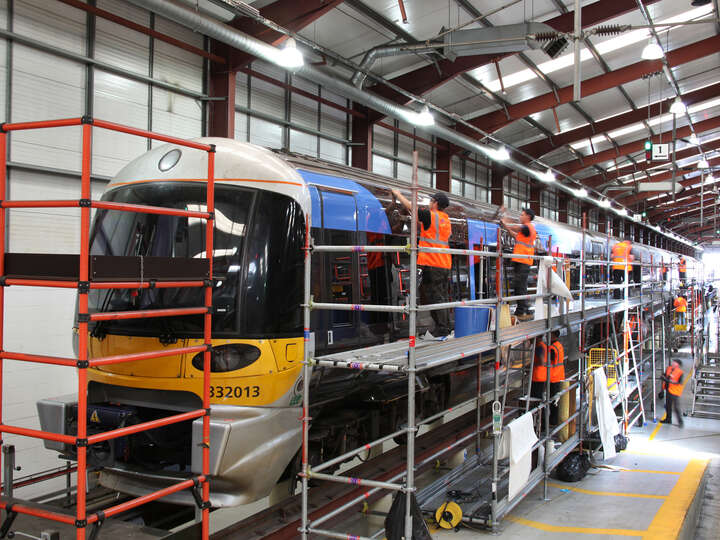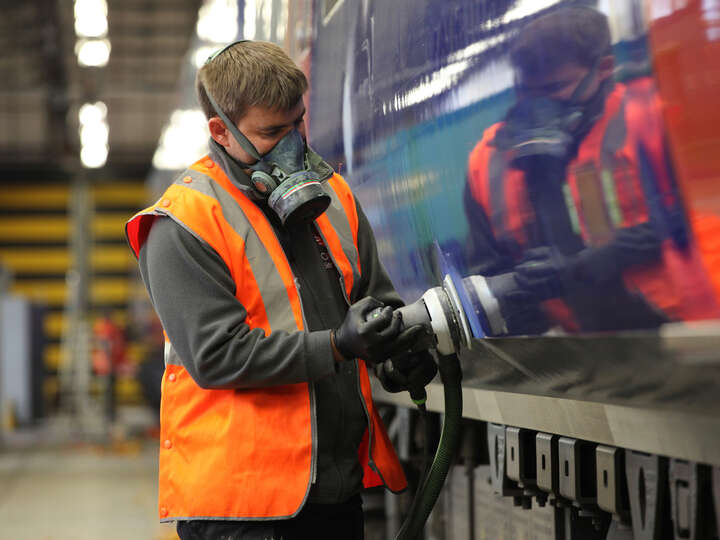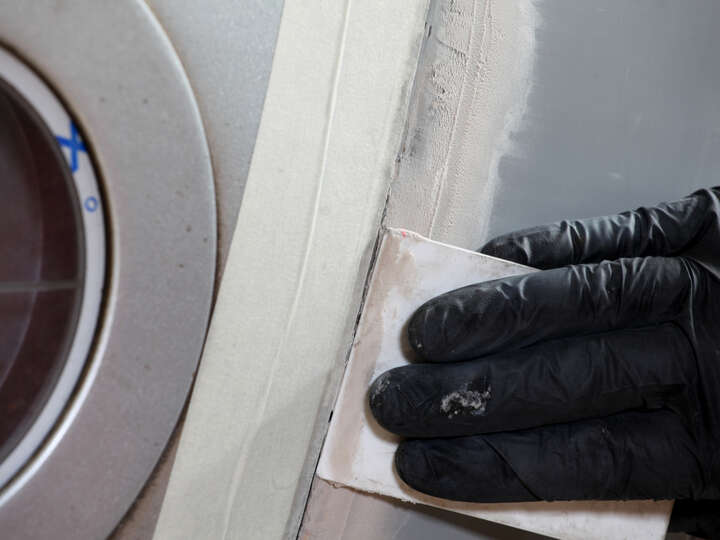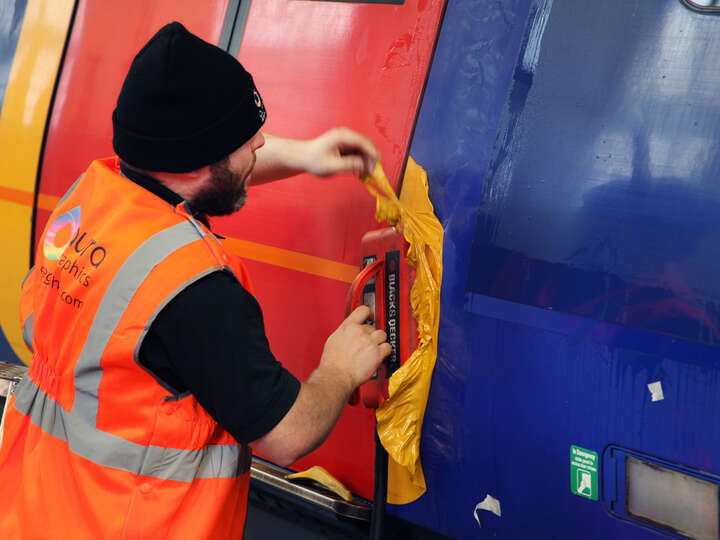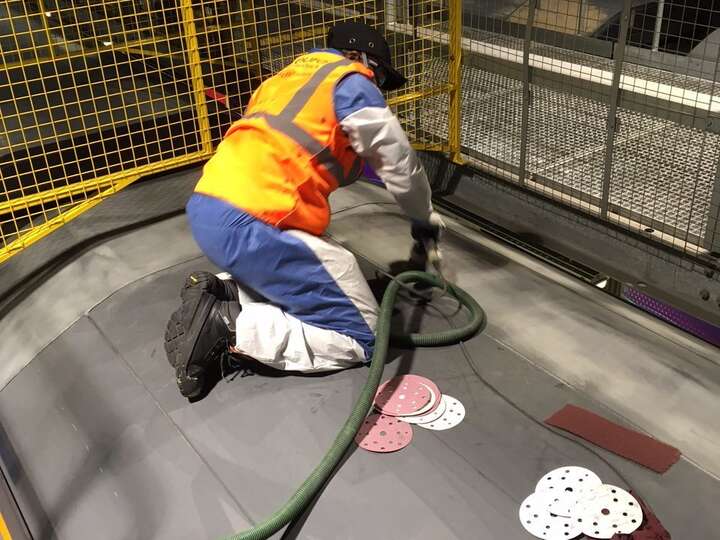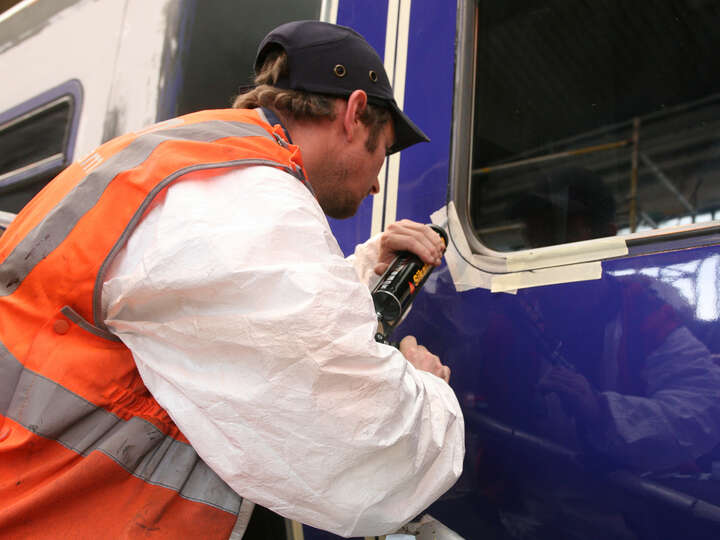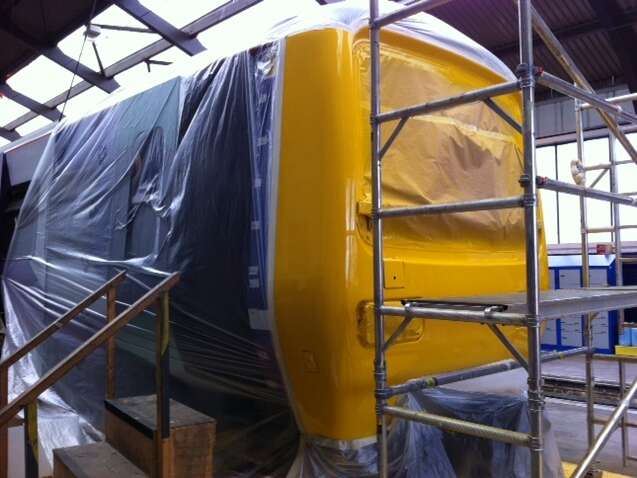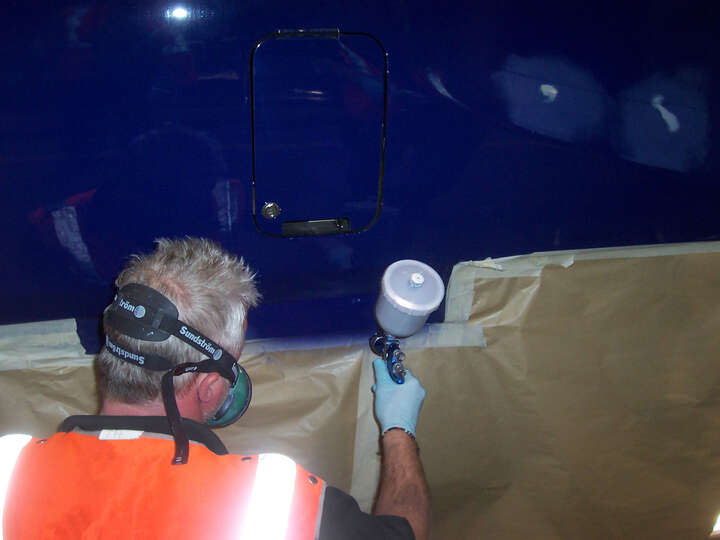 Rail Exterior Refurbishments
Our dedicated and fully trained rail refurbishment teams have vast experience in delivering projects that involve repairing and restoring all external areas of rail rolling-stock.
We use the appropriate methods and approved materials to suit each area, ensuring compliance and agreeing repair procedures with manufacturer, franchise operator and rolling-stock owner.
Areas of scope include:
Corrosion treatment
Body, window, cab & roof repairs
Surface preparation & cleaning
Bellow repair systems
Window filming & replacement

Our body repair and preparation scopes are often followed by our rail livery and rebranding solutions using expertly manufactured graphics.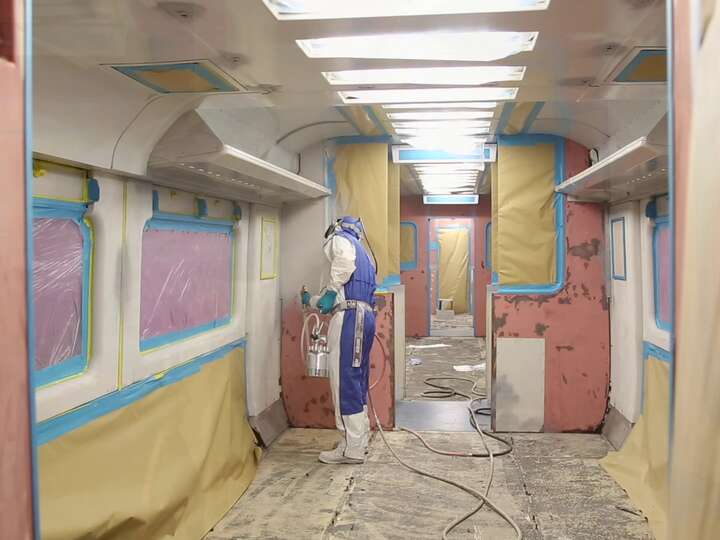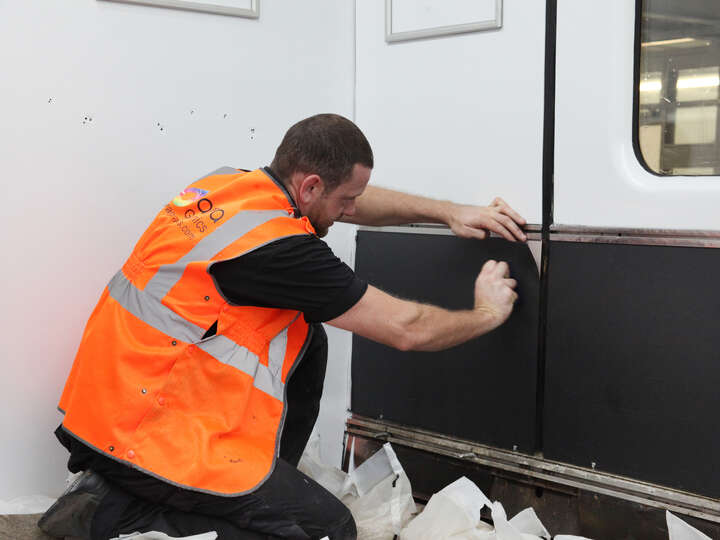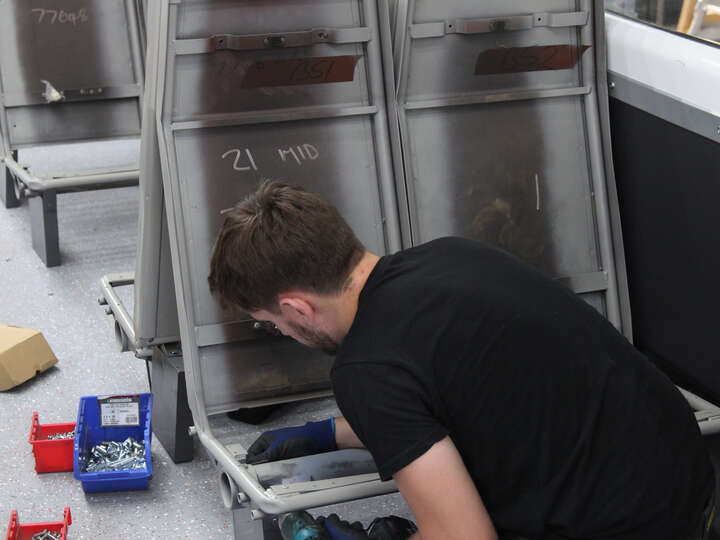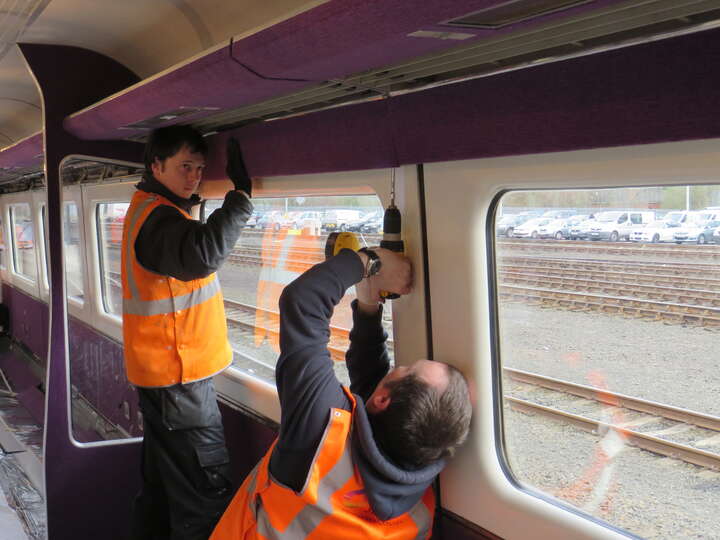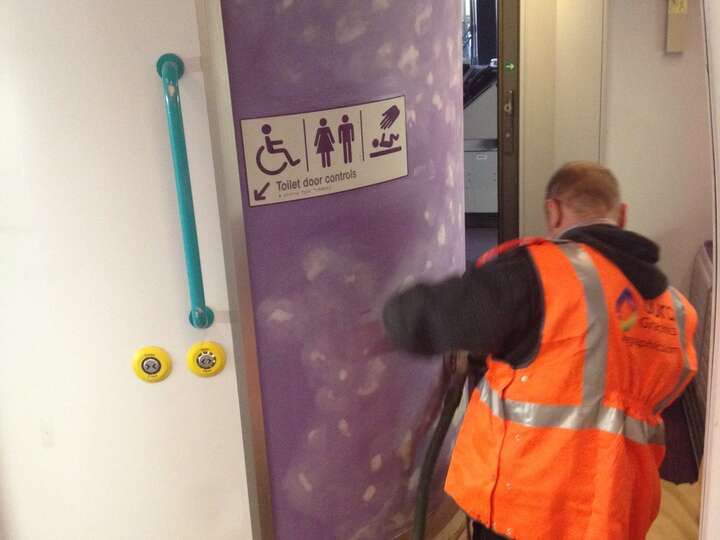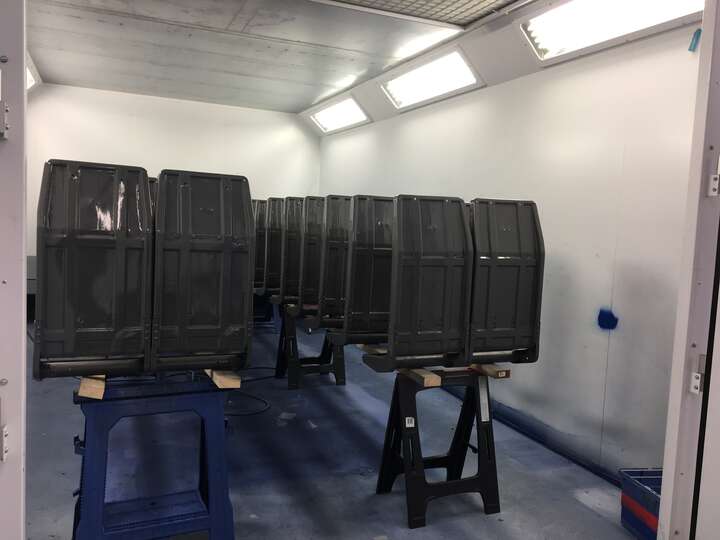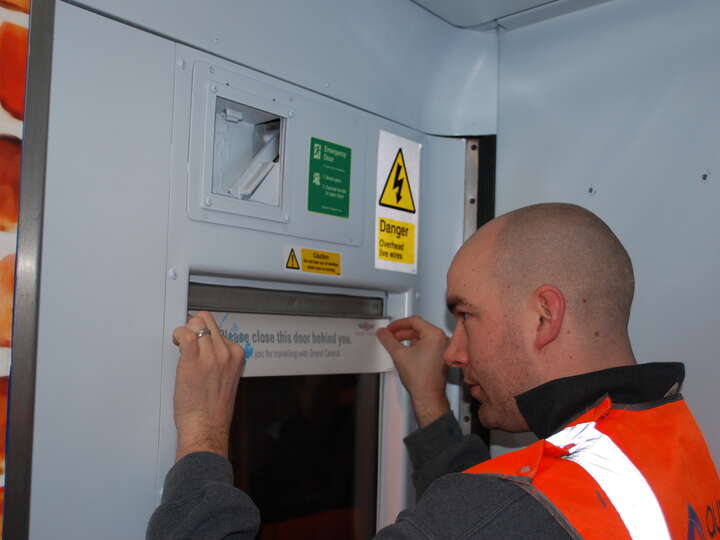 Rail carriage interior refresh & refurbishment
Managing a range of scopes we offer services to completely refresh and modernise train interiors. In addition to renovating old rolling stock, we also manage enhancement, labelling and branding projects for new rail vehicle interiors.
We undertake a full suite of repairs and surface preparation, before using our printed or decorative recovering films, full interior repainting or a combination of both. As part of these projects, we also remove fixtures, fittings and other components, refurbishing them or replacing with new components.
Refurbishment Areas include:
Vestibule areas
Dado, bulkhead & ceiling panels
Buffet & sleeping compartments
Toilets facilities
Luggage racks
Windows & glass partitions
Table tops & seat backs
Grab poles & handles
Driver's cab & consoles
Refurbishment Treatments include:
Full surface repair & preparation
Corrosion treatment
Lighting & electrical refit or replacement
Carpet cleaning or replacement
Seat covers & fabrics - cleaning or replacement
New seat & flooring installation

With our key rail partners, we are also able to integrate other specialist works into your rail project — managing the supply chain and subcontractors as part of a full project management service. This may include: C6 refurbishment scopes, heavy engineering, modification and reconfiguration, WiFi installation, CCTV, lighting, passenger information systems, etc.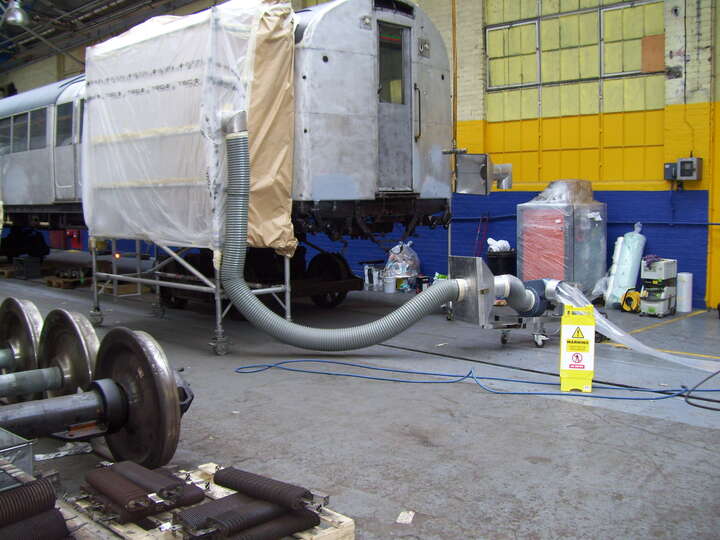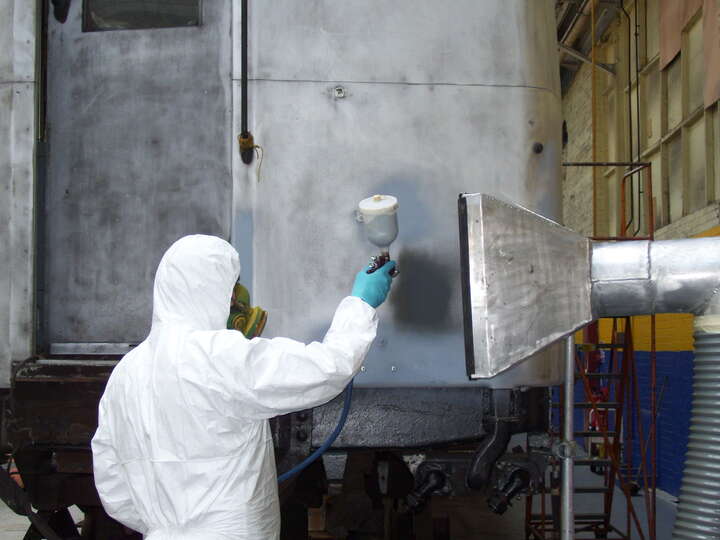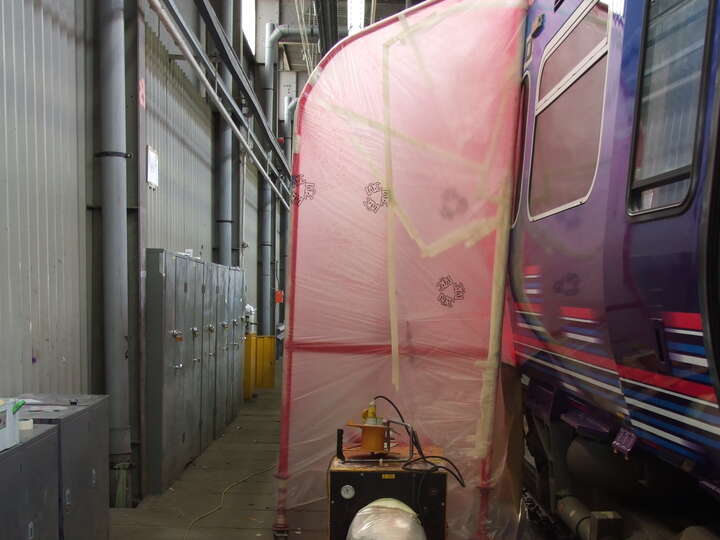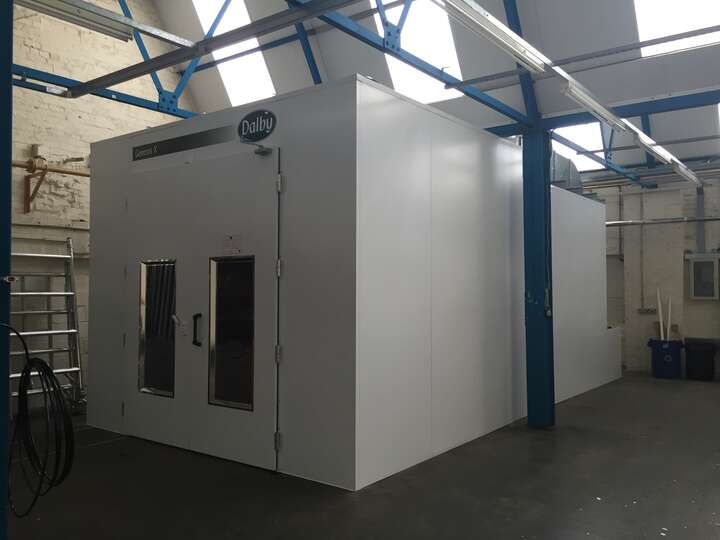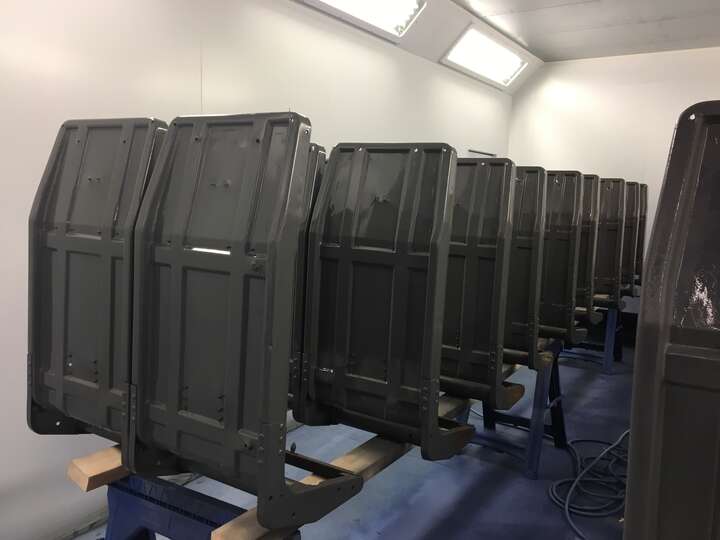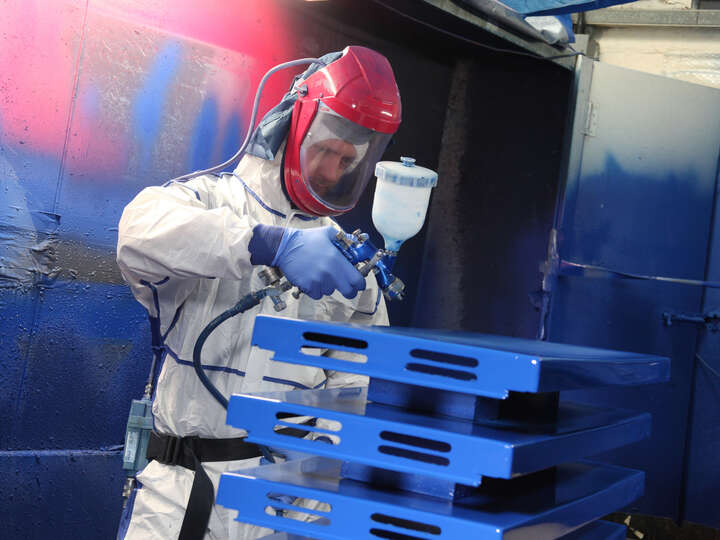 Paint spraying & liquid coatings
We are fully set up to apply a range of advanced colour-match paint systems and protective coating products. Both on-site and off depending on the requirements and scope of work. Our mobile paint-spraying capability uses a portable booth and extraction system, fully tested and approved for use on rail depots.
This allows us to undertake spot repairs in addition to full resprays of cab fronts, doors and other vehicle elements without moving units. If required, we also have access, through our key rail partners to take units off site for full paint overhauls.
Our Stoke site has a paint repair shop and extraction booth for refurbishing and re-spraying various removable and transportable components, which we can handle in bulk volumes.
Our paint facility is suitable for all manner of components including:
Seating & seat frames
Panels & facias
Grills & light clusters
Handrails
Fixtures & fittings