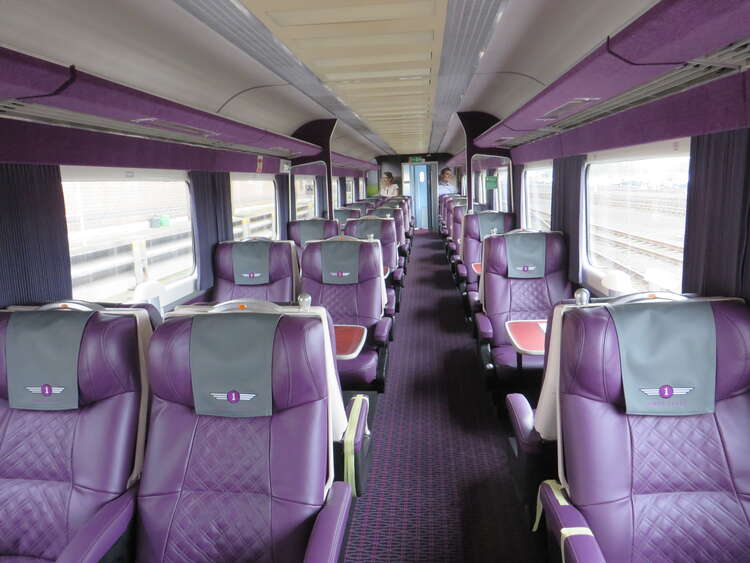 Delivering a First Class rail interior carriage refurbishment for Grand Central trains
May 08, 2014
Interior refurbishments for Grand Central trains
A new look
A few years ago we installed rail interior graphics in Grand Central's trains. The designs incorporated images of Marilyn Monroe on the bulkheads and printed board games on the table tops.
After some time in service, it was time for the carriages to get a new look, so this year Grand Central asked us to replace the old with the new. But the scope of the work didn't stop at new graphics.
Getting started
This exciting project demonstrated the full range of capabilities and professionalism we have within our rail implementation team. As with any project as extensive as this, we started by producing a detailed project management plan for the customer. This included timings, pricing and labour requirements. We also provided specifications for equipment and advised on the best products for the individual elements within the carriage.
The on-site refurbishment started with removing all the furniture, luggage racks, dado panels and pelmets, and fixtures and fittings within the carriages. The removal and renovation of all these different elements meant that we had a range of experienced fitters to do each job. From electricians to carpet fitters, we were able to use our scope and expertise to deliver a full turnaround.
The result
It was a top to bottom refurbishment with the ceilings being cleaned and painted, carpet runners being removed and replaced, grab handles being powder-coated and seats being recovered.
The existing graphics were removed from the bulkheads and table tops and replaced with new self-adhesive graphics. All windows were cleaned and the frames were freshly spray-painted. Lighting fixtures were cleaned and replaced, and new safety labels were designed and applied.
It took just 10 days from start to finish to complete the full refurbishment!
This has been a very inspiring and rewarding project. Grand Central is extremely pleased with the work completed and we were delighted to hear that the quality has exceeded their expectations.
We will be moving on to the next phase of the rolling stock refurbishment programme in 2015 - keep your eyes out for updates...