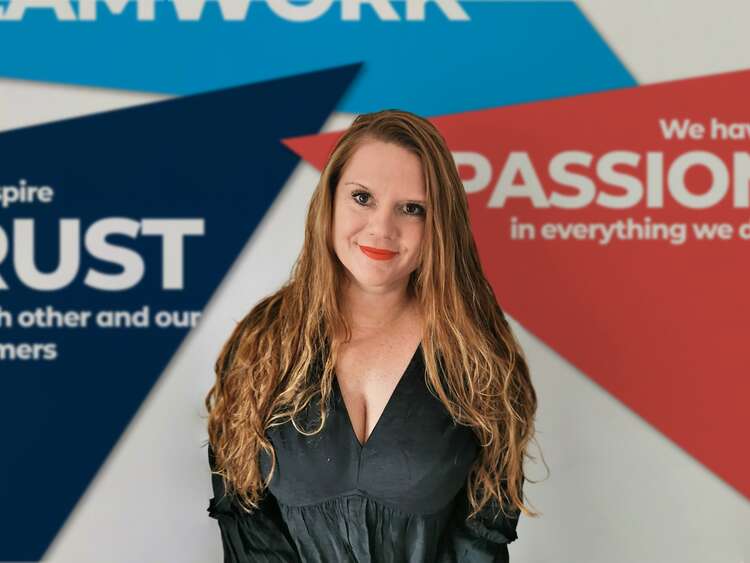 Staff Spotlight: Our Fleet and Architectural Expert
November 20, 2020
At Aura we consider ourselves to be a multi-faceted force in the branding industry, making sure we cover all aspects and sectors available to us. Part of this is a focus on providing high quality, bespoke solutions for fleet liveries and architectural spaces.
A main component of this work is Lucy Langmead – one of our National Account Managers and all-round specialist in fleet and architectural branding. We recently had a sit-down chat with her and got to ask her an array of questions about her diverse career, and how she got started working at Aura Brand Solutions.
Although her role is a mixture of different accounts, her main focus is primarily on new business generation – spending most of her working week drawing in new clients in different market sectors.
And the best part of her role? 'Delivering our projects successfully and on time', she says. 'I really enjoy working on the massive variation of projects that we do. Everything from vehicle to workplace branding - and I really enjoy all the design-led and technical things'.
It's a supremely busy, yet rewarding role, but Lucy is no stranger to the industry. Having previously worked for 3M for just shy of 10 years and then at Avery Dennison, Lucy originally started out managing Aura's direct account. Having already known most of our employees and appreciating our 'dynamic, family-run' style, she eventually made the transition over to work with us and has been here for around 4 years.  
Lucy also works very closely with GLIMMA, our international branding partner across 4 continents. She works with them to focus on international companies with UK head offices that need to implement projects globally.  
'Nowadays, if a company is going through a brand change they have the task of asking how many countries are we really present in and how is our brand manifested in all these countries? And how do you go about changing that brand identity in that many countries when you don't know what you've got to start with?'.
"...it's important to make sure that everyone's aware of, and appreciates, everyone else's skillsets."
She continues, saying, 'What's good with GLIMMA is that you can use one port of call, so it's streamlined project management. This way if there are any issues in any of the countries you speak to one person rather than having to go to 9 separate contacts'.
When asked what one valuable thing she's learned from working at Aura, she smiles and considers her thoughts, musing, 'The importance of using a team correctly to utilise everyone's strengths. Sometimes I can be working on so many different types of jobs that it's important to make sure that everyone's aware of, and appreciates, everyone else's skillsets. And communication with them is essential as they could come up with completely different ideas to what you might do'.

She also fondly remembers a particular highlight of her work with Aura. 'Working on branding for a large international language school, which involved finding new, innovative ways to brand up architectural spaces in a permanent and temporary fashion', she says. 
Speaking of some of the obstacles that she faced with the project, she mentions, 'The fact that it's education related means you've got to keep on top of new products that are suitable for that environment. It was for a temporary summer school so it's not as if we were kitting out their classrooms for day to day use. So, in a couple of weeks I did a tour with brand managers, visiting loads of sites, and created lots of bespoke items for said sites'.  
But what made this project so wonderful to work on? 'It was a really fun environment to work in, and the products are so varied. Plus, they're a really good customer!' 
Like the rest of our team, Lucy is aware of the sheer importance of implementing a brand correctly - large or small. It's because of phenomenal employees like her that we are able to offer invaluable expertise, and it's what makes us the business that we are. 
Get in touch today if you are in need of a fully projected managed, cost-effective rebrand or refurbish. We'll help you make your branding dreams a reality.