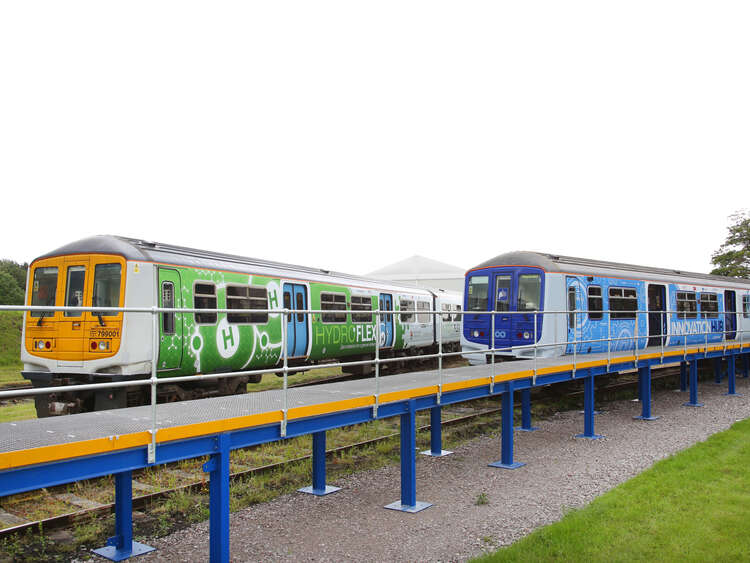 3 Powerful Innovations in Rail Branding
September 05, 2022
Since the invention of the railway over 100 years ago, the rail industry has been continually innovating. The aim is to pioneer new products while improving the quality of service for passengers and the environment alike.
Read about some of the latest developments in the sector below!
1) RE:CYCLE
Does your train livery need an upgrade? Having been recently introduced to our OnRoad customers, our innovative, recyclable livery programme is now available for rail branding!
The sustainable film is responsibly manufactured in the UK and utilises existing materials, meaning proven durability and performance.
The film is then recyclable at each stage of the brand lifecycle - production, installation, and decommissioning. This unique process has been specifically developed to achieve zero waste to landfill, and to be kinder to the environment. It is fully audited and certified.

As a result, RE:CYCLE is a great way to lower your carbon footprint compared to other branding options.
Providing our customers with quality brand solutions is one of our main priorities along with promoting sustainability in rail. RECYCLE allows us to do just this. Because the train wraps are recyclable, they are a more sustainable refurbishing solution. This means you can promote your brand identity with minimal effect on the environment.
As industry pioneers, we are always evolving our approach and processes. This allows us to provide the best quality service to both our customers and the environment.
Get in touch today to discuss how you can make your rolling stock branding more sustainable.

2) UV Protection, Anti-glare & Temperature Control Film
Window films are a great solution to protect both windows and passengers.
Many of our films come with additional benefits, such as UV protection and anti-glare. This means passengers are protected from harmful UV rays on sunny days for a more comfortable journey experience.
Create a more comfortable environment for your passengers with temperature control films. By using insulating properties, they keep passengers cool in the summer and warm in the winter months. This reduces heating costs making them an economical and environmentally friendly solution.

Our printable window graphics and privacy films enable you to promote your brand and protect your passengers at the same time. Including decorative designs and styles such as matte and etched glass, they are a great way to create a cohesive and engaging environment.
3) AuraFlex
AuraFlex is our durable multipurpose film. It's resistant to scuffs, knocks and scratches due to its sub-surface printing. Due to being hard-wearing and long-lasting, it saves you money on maintenance and repairs. Perfect for the surface refurbishment of train interiors.
Because Auraflex is so versatile, you don't need to replace fixtures, fittings, or furniture that need upgrading. You can simply refurbish them for a fraction of the cost and time. Auraflex can be screen printed or digitally printed onto almost any non-porous surface, giving you endless flexibility and creative freedom.
Our customers use Auraflex for high-traffic areas such as table tops and vestibules in their train refurbishments because they can get damaged quickly. Auraflex protects the original surface and has the added benefit of helping to unify your branding. The innovative material allows you to keep your custom designs in top condition.
Need to refurbish a high-risk area? Try Auraflex+
Auraflex+ has added anti-microbial protection making it ideal for bathrooms and food preparation and consumption areas.


Do you want to improve the quality of your rail service? To discuss any of these innovative products, get in touch with us today!