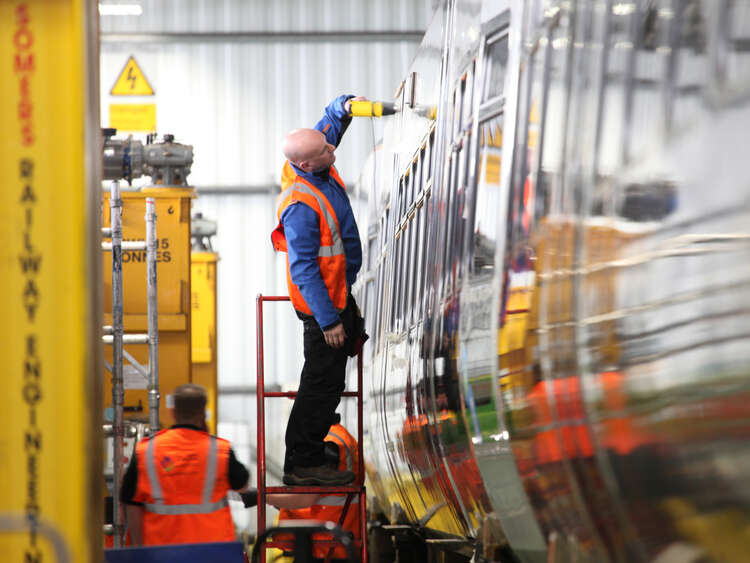 Rolling stock: 3 things you don't want to forget this winter
November 16, 2022
Looking after your rolling stock is important all year round but the colder months can require some extra preparation. Here are three things you don't want to forget this winter.
Window film
Whether it's the height of summer or the depths of winter, window films can help maintain an ambient temperature in your carriages for optimal passenger comfort.
After fighting through the winter weather, your carriages should provide a brief sanctuary for passengers while travelling to their destinations. With UV-reflecting properties for hot weather and thermal insulation for colder climates, films can manage heat and solar transfer and reduce glare within carriages without losing light. By helping to maintain good light and temperature within carriages, using window films can also save energy and reduce heating costs. This is why window films are one of three things you don't want to forget this winter!
A common solution for rail carriages is privacy films which can make passengers feel more comfortable, especially if they're having a nap on a long journey. Privacy films reduce visibility either one or both ways so your passengers can relax. Whichever type of window film you choose, they will help to ensure you provide an excellent quality of service.
Window films aren't just for your passengers - they help to protect the window beneath, meaning repairs will be quicker and easier should they be subject to vandalism or accidents. Train windows often experience damage, which you can prevent by using protective window films to extend the lifespan of your train windows. They can also protect your interiors from fading as a result of direct sunlight!
Check out this article discussing how the Melbourne Train Authority has doubled the life of their Metrolink windshields with protective window films.
Your window films can also be branded or display any imagery you like, even forming part of your livery as a whole. This allows you to wrap your rolling stock in large-scale designs uninterrupted by windows.
Anti-corrosion protection and repair
Corrosion and wear and tear are inevitable. Your rolling stock spends endless hours in service day in, day out. However, this doesn't mean it needs to look like it's worn out and on its way out.
Metal corrosion causes structural weakness and is costly to repair, so avoidance is crucial to the health of your rolling stock.
Preparing for harsher weather with corrosion protection and repairs will prevent issues such as water ingress, saving you time and money in the long run. From treating and repairing seals and seams, to body damage, acting quickly will extend the life of your rolling stock.
Protection and repair aren't just about damage; it's also about keeping your rolling stock looking its best. Appearances are part of the customer experience, and passengers are much more likely to have a positive experience if they travel on a well-maintained train. Providing passengers with a pleasant environment and reliable service will work wonders for customer loyalty.
Maintenance
Keeping your rolling stock in service is essential for any train operator. But poor maintenance will result in your trains being out of action for some time.
Maintenance includes your livery, graphics and interiors! However, graffiti is a prevalent issue that ruins the interiors and exteriors of trains despite efforts to prevent vandalism.
So, what can you do?
Our anti-graffiti over-laminates and coatings are the answer. They can be integrated into your livery, making graffiti removal and cleaning quick and easy. As they're suitable for the outer carriages, windows and interiors, we've got you covered. Literally.
It's typical to refurbish your interiors at least once or midway through your vehicle's lifespan. Refurbishment is essential once your interiors become too dated if you are to continue to meet your passengers' expectations. An update may also be necessary to meet new standards and legislation. However, it is often possible to upcycle and reuse existing hardware for a more sustainable, efficient and cost-effective refurbishment.
Being proactive with regular repairs and general maintenance means minimal downtime and maximum fleet output. In addition, general improvements and keeping up with innovations help to ensure the safety, reliability and availability of rolling stock services.
Find out more HERE

Did you know?
We provide fast response, on-site repairs, graffiti removal and livery maintenance through our tailored maintenance service.
If you're missing one of these three things you don't want to forget this winter, get in touch and keep your rolling stock on track!