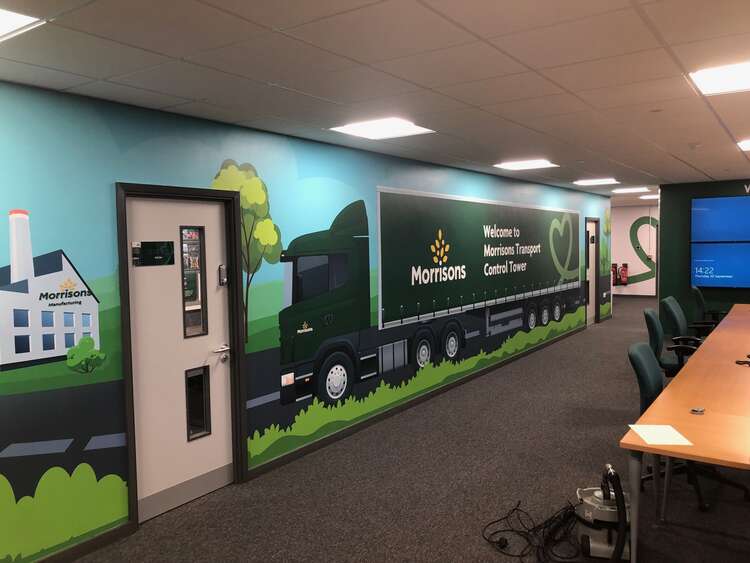 Workplace Branding Hacks that Boost Employee Satisfaction and Productivity
January 24, 2022
Branding isn't just for your customers; it should be for your employees too! Many organisations overlook the value of bringing company branding into the workplace. As a result, staff can often find themselves spending their days in drab and dreary, dated offices.
Gloomy environments can begin to rub off on people, leaving everyone feeling a bit weary and uninspired, which is the last thing you want for your employees! Bring amazing branding into your workplace this year and see the impact it has on your team.
Why bring branding into the workplace?
It goes without saying that where we spend our time affects our wellbeing, so creating pleasant environments will have positive effects on our mood. We'd all rather work by a beach rather than in a dark basement, wouldn't we?
Now we're not saying you've got to relocate to the Bahamas, but paying attention to how your workspace makes everyone feel is hugely beneficial.
Being surrounded by your brand's messaging and values:
· Can make staff feel more valued and engaged.
· Remind staff that they're an integral part of the business, instilling a sense of pride.
· Boost morale and productivity.
How to bring branding into the workplace
Aspects such as lighting, imagery, colour, collaborative workspaces, and break areas can make the world of difference when well thought out and implemented. The positive effects of improving these factors are well documented.
Lighting
Environmental factors influence your employees' comfort levels, meaning that temperature and lighting crucial. Maximising natural light, creating open spaces, and introducing plants gives a more natural and relaxing feel to work environments. This is beneficial for mood and productivity as it directly impacts employee happiness and wellbeing.
Imagery
Just like imagery is important in marketing, it's also important in your work environment. Wall murals and graphics incorporating brand colours and messages are a great way to uplift and positively influence your employees. Integrating branding into your workspace is important for corporate culture, as being immersed in the brand day-to-day removes any sense of disconnection. This also benefits the hiring process as candidates arrive straight into the exciting world of your organisation.
Colour
Once you've designed your feature walls, it's time to give consideration to the rest of your workspace. Pastel colours or greens and yellows are known for their calming and mood-boosting properties. These can be strategically used along with splashes of your brand colours to revitalise the space. Getting professional plans and designs is the best way to go so that you end up with a look that still represents your organisation.
Collaborative spaces
Collaborative work areas are great for encouraging creativity and idea generation. Active communication and sharing of knowledge and expertise drives innovation and problem solving, whilst having the added benefit of establishing strong relationships within the team. Good news for wellbeing and your organisation!
Break areas
Creating separate break areas promotes social interaction and non-work-based conversation. It's important for staff to be able to take effective breaks from work during the day for stress management and to give the brain time to process and retain information. Moving regularly is also important, so even getting up to eat away from desks helps facilitate concentration, performance and energy maintenance.
How can Aura help?
At Aura, we're experts at architectural branding and implementation. We can design and rebrand your workspaces to turn them into modern, vibrant hubs, by refurbishing existing touchpoints and furniture with matching wall wraps and graphics; bringing your brand behind the scenes.
Beat the January Blues and get in touch with us today, so we can help you create an environment that keeps your team happy all year round!