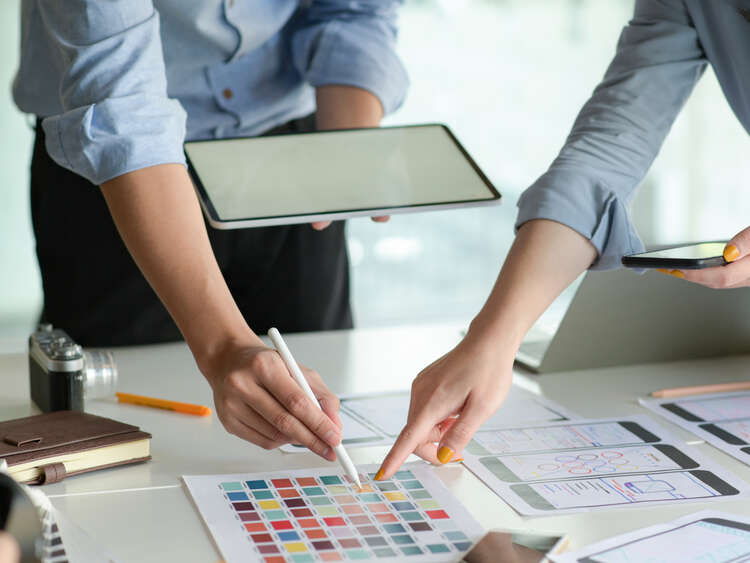 The 5 biggest branding trends for 2023
February 02, 2023
As we begin a new year, teams are busy preparing breakthrough campaigns for 2023. This means high-stakes competition and always being one step ahead. But what themes will be prevalent in marketing across sectors and industries everywhere?
Here are the 5 biggest branding trends for 2023 that will make sure your campaigns are showstoppers.
QR codes
Our first branding trend for 2023 is QR codes. They're an innovative but simple way to increase consumer interaction and provide mutual benefit to you and the user.
The versatility of QR codes was well demonstrated throughout Covid and they're here to stay. A great tool for promoting two-way interaction between consumer and organisation, they provide endless utilisation. Ideal for viewing menus, paying for items, facilitating cashless payments, instant downloads and information sharing, QR codes are a low-cost, high-value marketing tool.
As QR codes are positioned as providing the user with a, typically, free service, they're a non-aggressive tool for lead generation. You can gather user data in exchange for the service you're providing through the QR code without it looking like a direct advertising strategy. Furthermore, consumers are drawn to interactivity - add them to billboards, posters, store displays and adverts to increase interaction with your marketing efforts. You could even offer discounts or rewards as an incentive for engaging with your interactive displays.
QR codes are also a wonderful green solution. Being paperless makes them sustainable and a great eco-friendly alternative to printed documents. They're a simple yet effective way to provide information straight to users' phones.
Key takeaway: Provide a better customer experience and maximise the efficacy of your marketing campaigns for minimal cost with QR codes.
Innovative billboards
Branding trend number two is innovative billboards. What better way to make a bold, stop-you-in-your-tracks statement than a well-placed billboard that takes creativity to the next level.
Think outside the box with your campaign and bring it to life in a unique and original way. It doesn't need to be confined to a flat rectangle; add textural and 3D elements, irregular shapes, illusions and use light to make your billboard a showstopper.
Of course, sometimes a simple message that packs a punch makes a showstopper too. And it doesn't always have to be the size of a building – these mini billboards gained maximum reach from a minimum budget. Think about what you're trying to convey and what will make it stand out in a busy hectic world full of advertising noise.
Need some inspo? Click here.
Digital billboards are another way to achieve your goals. Humans are hard-wired to notice moving imagery, making it very effective as a marketing tool compared to a flat 2D poster billboard. A great example of taking digital billboards further is the incredible 4D displays we've seen spanning billboards across London and New York. Check out this collaboration between Fortnite and Balenciaga to see what's really possible with a big budget, here.
Billboards have the potential to reach thousands of people per day. Don't forget, where you position your billboard can be just as important as what's on it. You want your billboard to be seen by as much of your target market as possible; collect data and choose your location carefully to maximise your ROI.
Nature can also be a great inspiration for your billboard. Do you have a holistic message about health, sustainability or ethics to share? Kind produced an innovative billboard that sends a refreshing message to passers-by and even offers them something of value, making their message truly memorable. Take a look here.
Key takeaway: A billboard is all about making a statement. But how and where that statement is conveyed, depends on your message. Be bold and make an impact with an innovative billboard.
The metaverse Vs nostalgia
Over 2022 the metaverse has made itself known and faced a mixed reception.
The future might be looking a little uncertain for virtual homes and NFTs but the application of VR in regard to immersive learning is undeniable. It may well soon become typical for surgeons and pilots to begin their training in the virtual world.
But it's not just education where VR is seeing potential. It's also increasingly popular in video games with whole concepts focusing on VR gameplay. This is filtering into other sectors where the novelty is being used in retail, marketing and advertising. VR allows companies to give customers a real-life experience of their product or get noticed with an interactive campaign.
The tech theme is spreading throughout marketing practices and inspiring futuristic graphic design. Think sharp typography, dark mode themes, sci-fi animation and virtually immersive designs. Depending on the direction your company's taking in 2023, this may be something you want to explore. On the other hand, your target market may be less interested in digital and more interested in themes reminiscent of simpler times...
For those feeling less adventurous and longing for the familiar, let's investigate the other end of the spectrum. With an ever-increasing focus on the digital, many are finding themselves feeling increasingly nostalgic.
People are craving fond memories and throwbacks so engage them with familiar design elements. Play with reconfigured combinations of traditional style branding colours and fonts to evoke nostalgia. Stand out from the crowd and bring a smile to your audience with a shared experience they can relate to.
Take inspiration from the past and bring ideas into the present; combining the old with the new will elicit feelings of happiness in your audience. People buy with emotion so tap into that with your campaigns.
Key takeaway: There's a place for both futurism and nostalgia in 2023; review your campaign plan and see what may benefit from a sci-fi twist or throwback theme.
Sustainability
Sustainability will continue to be a strong theme as the eco movement builds further momentum. Eco-branding is becoming more minimal and using earthly inspiration, with the product being the focus to really drive home the message. This means natural but creative designs reminiscent of the future. Marketing revolves around neutral and natural colours, aspirational messaging and simple imagery for maximum impact.
This style is breaking up social media feeds and makes posts stand out from all the noise. Take a look at Pangaia, Smol and Wild on Instagram to see what we're talking about.
It's not just about the design though. The pressure is on for brands to actively make more sustainable choices. This means packaging made from recycled materials, recyclable products, ethical business practices and efforts towards becoming carbon neutral.
Demonstrating clear purpose as a business is a strong competitive differentiator. Deloitte Insights found that high-growth brands prioritise accountability measured through KPIs derived from their purpose/mission statement. Taking a holistic approach allows these organisations to meet the expectations of their consumers.
Setting a precedent in 2023 should be one of your priorities. If you don't have a strong sustainability pledge and strategy, your competitors will. High-growth brands are focusing on true accountability and being transparent with their audience.
Last year the CEO of Patagonia donated the business and its entire profits to the fight against climate change. A bold and incredibly inspirational decision. Patagonia's Instagram feed is a timeline of impactful environmental posts representative of their brand and its values.
These organisations aim to produce responsible products and protect and preserve the earth through innovation and activism, with Patagonia becoming the epitome of this. Their brand speaks for itself. Does yours?
Key takeaway: Sustainability should be a core pillar of every business strategy in 2023. Whatever your industry, every organisation has scope to reduce its environmental impact. Share your efforts with your audience with clear, simple messaging and design. Greenwashing won't wash.
Humanising
Our final branding trend for 2023 is humanising. People connect with people, not emotionless robots. This means making your brand relatable and conveying authenticity. If you want to connect with your customer and build trust, you need to produce content that is thought-provoking and genuine.
Building a relationship with customers and promoting brand loyalty involves coming across as human. How you communicate with your customers is a key part of humanising. Your brand's personality, tone of voice and the language you use are how you connect with your audience. Staff spotlights and sharing employee content on social media can be a great way to do this.
Just like consumers are becoming more concerned with the environmental and ethical practices of the companies they buy from, they are shifting towards unpretentious and honest brands. One-off and handmade products are also seeing favour, especially those made from recycled and biodegradable materials.
All of our top branding trends for 2023 can be tied into humanising. Whether that's improved two-way interaction, conveying meaningful messaging in big ways, combining the past with the present or looking towards an innovative and more sustainable future – the overriding theme is human connection.
Key takeaway: Resonate with your audience by communicating authentically. Humanising your brand is a sure way to improve engagement and promote brand loyalty.
Need help with your branding or marketing this year? Get in touch today!