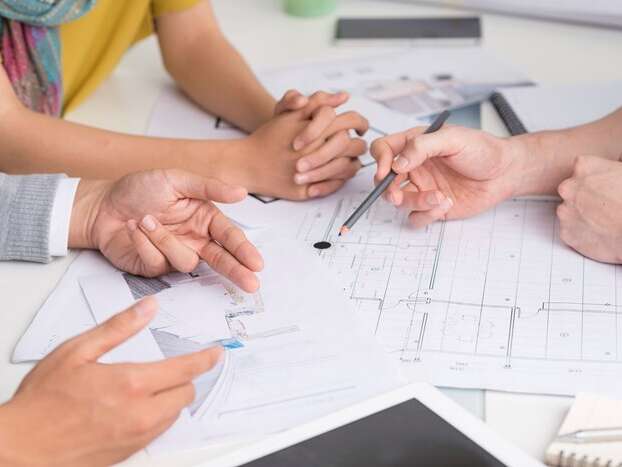 Branding in a nutshell: How to use architecture to build a strong brand
April 28, 2023
Part of building a strong brand is using physical and architectural branding to make that connection with your target audience, in person. As a digital presence is often the primary focus these days, physical presentation is often forgotten. We're here to tell you why you shouldn't overlook physical branding and how you can use architecture to build a strong brand.
What is architectural branding?
Physical branding is not just for the brick & mortar shops on the high street. It can be utilised by corporate B2B and B2C companies to build confidence, trust, and loyalty in the eyes of the consumer. Architectural branding encompasses any and all branding applied to a building. Interior and exterior signage, glass manifestations, wall graphics, imagery and building wraps are all architectural branding that you can and should be utilising.
Why should you use architectural branding for your premises?
Branding your premises should be a top priority. This involves using an array of physical elements to create a cohesive and professional image within the workplace. This can include branded signage, wayfinding, wall murals or whatever suits your environment best. Strong office branding not only helps to build employee passion and engagement with a positive and fresh work environment but also helps to build trust with customers and potential customers when they visit. It's an important aspect of physical branding as it creates an immersive experience and gives visitors a proper feel of what your brand's about.
When a customer sees that a company has invested in its branding, it shows that it cares about its image - it understands its mission, values, and how it should present itself.
What other forms of physical branding should you use?
Physical branding isn't limited to your premises. Event stands are a great way for a brand to make a strong impression at events and trade shows, like RailTex and RSN – and you definitely shouldn't miss out on these, whether as an attendee or an exhibitor! Surprisingly we've noticed this is often an afterthought, whereas it should be one of the main priorities when exhibiting.
Your stands should be easily recognisable at a distance and share a clear message about your brand. Stands should catch the eye of attendees and clearly convey what services or products your business supplies. This motivates the attendee to approach but also remember the encounter with your brand afterwards.
Now that your premises and events are covered, there are a few things that can tie it all together. We're talking about branded items. We supply many of our customers with branded items, which is a testament to its importance in marketing. Branded items should be used within your premises and at events.
By branded items, we mean things like stationary, reusable bottles or event-specific collateral. They're another fantastic way to plant a seed in the customer's mind. These items serve as a subtle reminder of your brand and can help to increase brand awareness and promote brand recall.
Similarly, branded workwear is great for your public image and can be utilised to create a unified workforce. This creates a professional and cohesive impression, which is particularly important for employees who work off-site, as they're representing your company. When a customer sees a team of employees dressed in high-quality branded attire, it helps build confidence in the company and its services. Branded workwear is also beneficial for brand awareness and promoting your company when employees are off-site.
If you've been unsure about investing in branding, this is your sign to make a change in 2023 and create a strong brand that everyone recognises in a second.
Would your business benefit from architectural and physical branding? We conduct full site audits and can make recommendations according to your budget about how you can strengthen your branding.