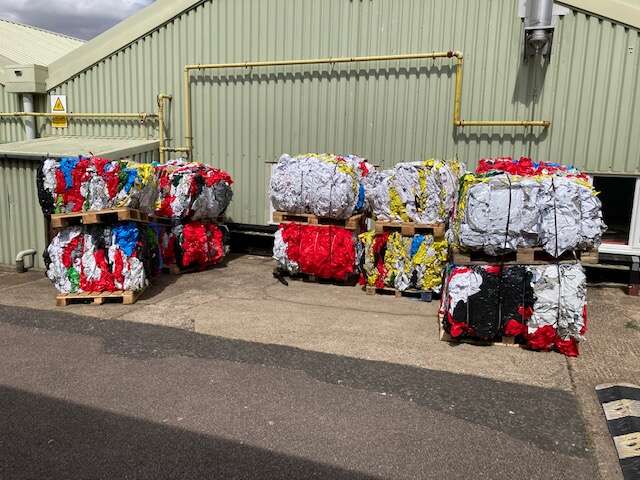 RE:CYCLE - Leading the Way With Recyclable Branding
August 15, 2022
Looking after our planet through a commitment to sustainability has never been more critical. At Aura, we are always evolving our conscious business practices and products to ensure that we enact positive change wherever possible. We consistently look for new, innovative ways to keep lowering our carbon emissions and provide our customers with the best sustainable options.
At the forefront of this is a pioneering recyclable, sustainable system that we've introduced to many of the brands we work with – RE:CYCLE!
The first project where we implemented this revolutionary system was with Menzies' fleet rebranding, making them one of the first distribution fleets in the world to proactively adopt this sustainable materials system.
Many livery wraps are still made from materials using PVC, but RE:CYCLE gives the material a new lease of life as a sustainable product.
As part of our GreenBrand portfolio, this system is zero waste to landfill or incineration and provides a complete lifecycle service through utilising existing materials. Once stripped down, these PVC graphics are then compacted and turned into bales that are taken away to be further recycled.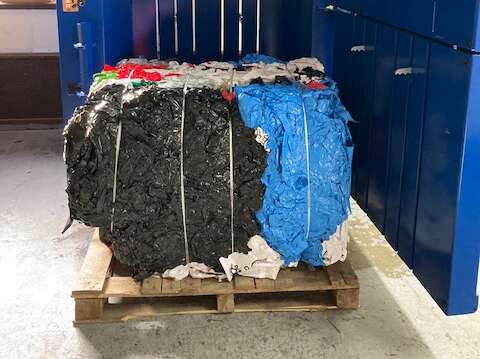 One bale measures approximately 1.2m x 800mm, averaging 130 kilos.
This recyclable film is responsibly manufactured in the UK and provides existing durability and performance, while allowing you to reduce the environmental impact associated with branding. A win for the environment and a win for your carbon footprint!
RE:CYCLE is suitable for vinyl graphics across the fleet sector as well as the rail sector - meaning that your train liveries can also benefit from this highly sustainable system.
We kiss-cut your PVC graphics into the correct dimensions, weed away the face film, compact it using our in-house baler, and our partners take it away for recycling. The paper backing sheet liner process is the same but can be completed out in the field. The excess paper is shredded down, gets turned into pulp, and the contaminants get extracted.
This PVC is then turned into recycled products, such as plastic furniture, traffic cones, and road barriers.

The full process from start to finish includes two phases:
1. Beginning Phase: Any leftover waste in the factory is gathered, compacted, and sent to our recycling partners. We can also gather liner on any 3rd party site.
2. End of Life Phase: After 3-5 years of your livery in service, we'll decommission the self-adhesive graphics and then send that PVC to be recycled.

So far, we have saved at least five metric tonnes of PVC face-film, and ten metric tonnes of backing paper – with plenty more being recycled each week!
Take a look at the video below to see the process in action, as the bales are compacted and then stacked, ready and waiting for collection!
If you're looking to make your branding a part of the future of sustainability, then get in touch with us today about our RE:CYCLE initiative. We'll help you bring your brand to life while helping the environment at the same time!